Known for her girl-next-door looks, Elisabeth Shue is a Harvard educated actress who made her entry into the tinsel town with 'The Karate Kid.' After giving many sleeper hits and mediocre performances in the 1990s, she surprised everybody by abandoning her conservative cinematic image and starring as a prostitute in the movie Leaving Las Vegas opposite Academy Award-winning Nicolas Cage. For her commendable performance in this film, she received an Oscar and Golden Globe nomination. Over the years she starred in various top-notch films cementing her presence in Hollywood. The beauty of this Delaware beauty is only surpassed by her careful and fulfilling acting. We present to you the list of top 12 Elisabeth Shue movies and TV shows. Cheers.
12. Palmetto (1998)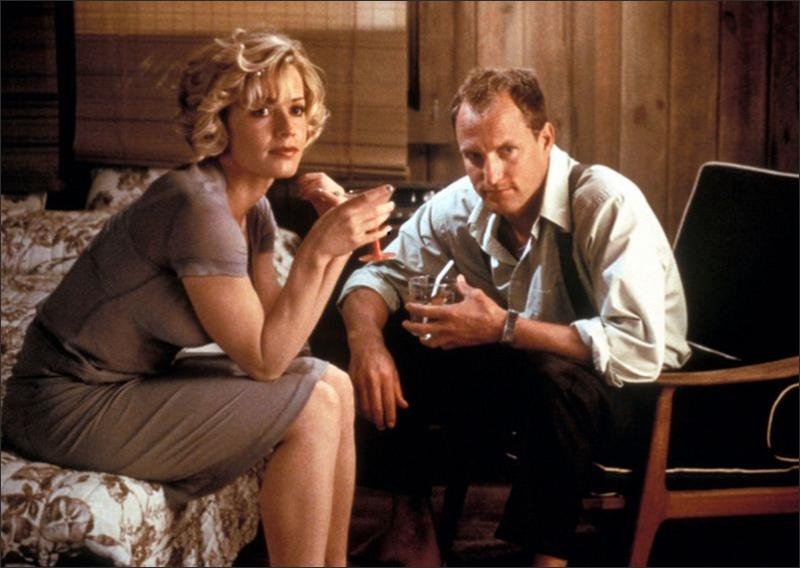 Harry Berber (Woody Harrelson) a reporter who was falsely accused of taking bribes when he tried to expose a government scandal, is out after two years in prison. To take revenge on the people who framed him he is trying to come up with a plan which can vindicate the last two years of his life. In a juicy scheme to earn much-needed money, he is offered a deal to fake Odette's -daughter of the wealthiest man in town- kidnapping, by the beautiful and cunning Rhea Malroux (Elisabeth Shue). Thinking it to be a straightforward deal Harry believes Rhea's sweet talk, not knowing he is soon to be framed for a murder he didn't commit.
11. The Saint (1997)

Simon Templar (Val Kilmer) is a master thief and an expert at donning identities of dead saints which he uses for his nefarious purposes. His sleek style and trade skills earn him a contract with the Russian Mafia. Templar is procured to steal a cold fusion formula that could change the US energy sector forever. However when he meets his mark Dr. Emma Russell (Elizabeth Shue) he falls for the blonde beauty and rebels against his own employers. Will the lover duo be able to stop the Russian mafia from destroying the land of the free?
10. Molly (1999)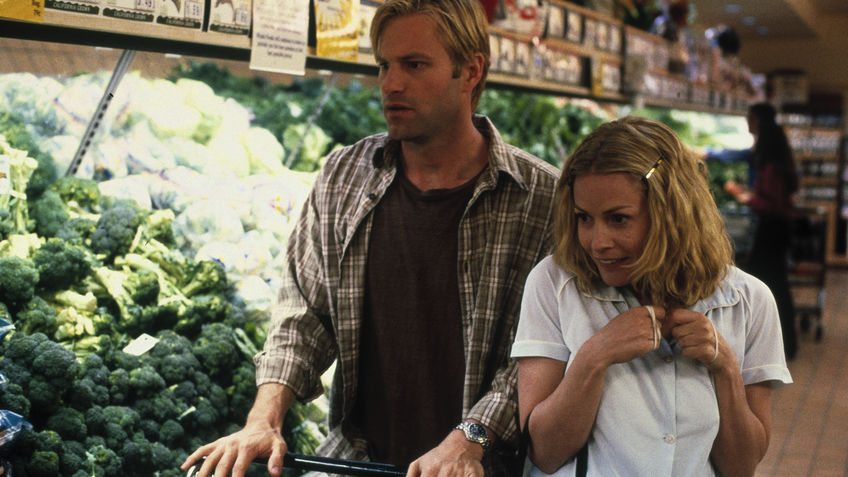 Molly McKay is an autistic girl who has been living in an institution for as long as she can remember. When the hospital has to close down due to budget reasons, Molly is left in her brother's care. Being a successful advertiser and a bachelor Buck McKay's (Aaron Eckhart) life turns upside down while caring for her mentally disabled sister. To escape the problems of his life he elects to let Molly undergo an experimental brain surgery which renders her normal. It's interesting to watch how people sometimes attribute the word 'abnormal' to refer to some human qualities that might be more humane than being normal.
9. The Trigger Effect (1996)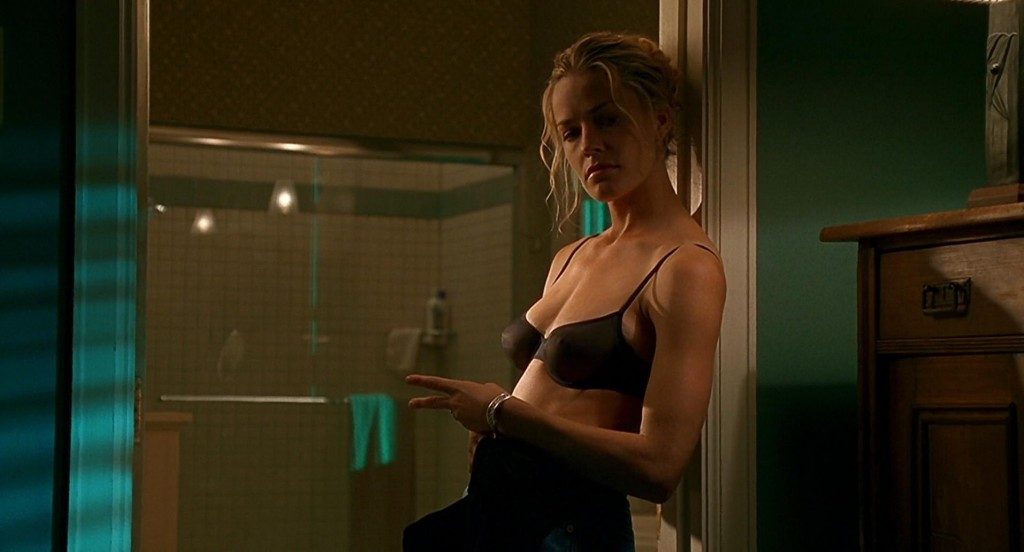 The young couple Annie and Matthew find themselves in a predicament when there is a massive power outage in their locality. With their infant child sick they have no option but to remain at their home and wait for help. However, when many days pass and the tension ensues in the neighborhood leading to a violent bout, the family decides to travel 500 miles away to their parents home. However, their problems are not over as the path that they walk on is as treacherous as their fate.
8. Hollow Man (2000)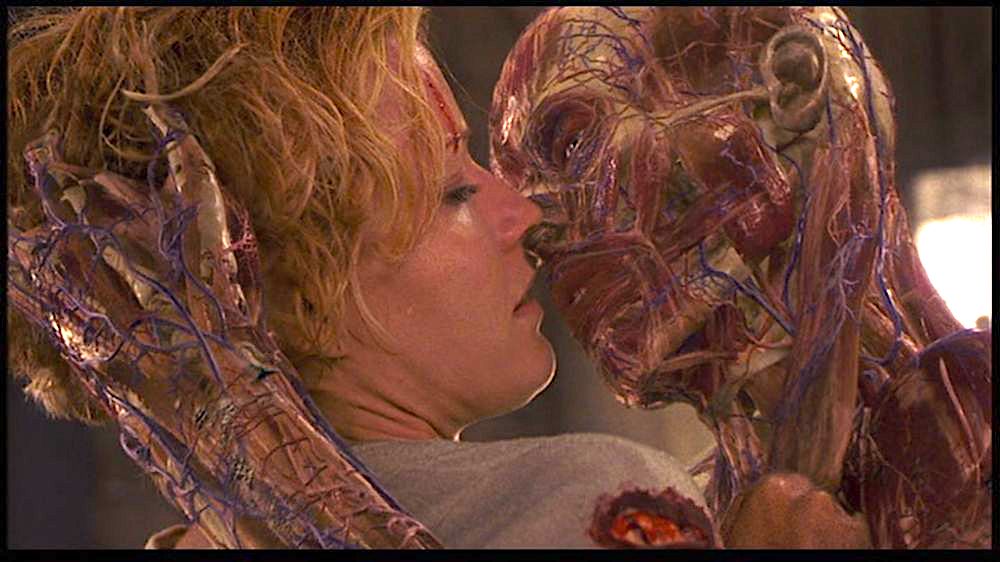 Scientists Sebastian Caine (Kevin Bacon) and Linda McKay (Elisabeth Shue) along with their team are trying to come up with a secret formula that can render a man invisible and then turn him back. When their employers push Sebastian into a corner regarding the funding, the grandiose leader is forced to speed up the human trials. In the absence of a suitable candidate, the team decides that Sebastian for the betterment of science will be made invisible. However, when they are unable to turn him back to his former state, Sebastian slowly starts losing his mind. The brilliant inventor becomes a psychotic man loose on the streets of New York with a power which is every teenager's wet dream.
7. Adventures in Babysitting (1987)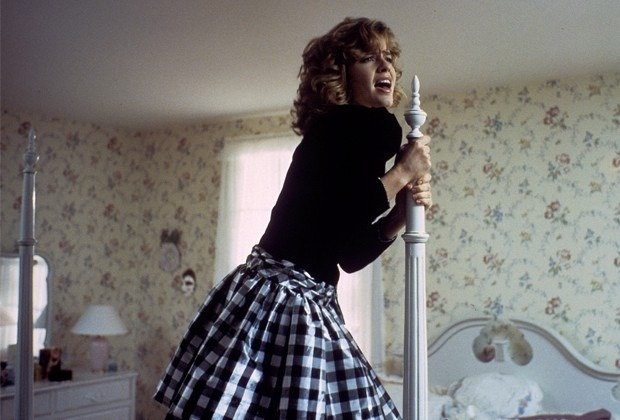 When her longtime boyfriend cancels their anniversary date, teenager Chris Parker (Elisabeth Shue) has no option but to babysit their neighbor's three kids to pass the uneventful night. What she expected to be a lonesome and boring night suddenly becomes interesting when her friend Brenda calls Chris to save her from a predicament at the bus station downtown. Alongwith the three young kids, Chris ventures out onto a journey of self-discovery and an all-adventure night that promises to turn her life upside down.
Read More: Best Movies of Allison Janney
6. Amy and Isabelle (2001)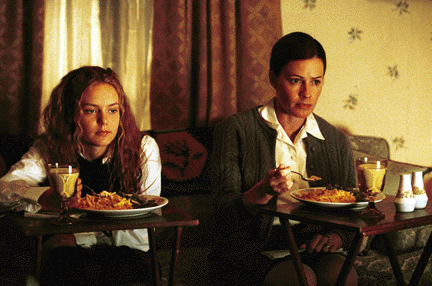 In 1971 Shirley Springs, Maine lives Isabelle Goodrow (Elisabeth Shue), a single mother struggling to make ends meet. With her young daughter Amy (Hanna Hall), she is trying to make a good life. However, after Amy is seduced by her cunning mathematics teacher Isabelle's life starts falling apart piece by piece. By confessing the dark secrets of her past, Isabelle tries to tie the knot with her daughter again so that she doesn't lose her only family. A beautiful portrayal of human emotions, this movie is a must-see for all Elisabeth Shue fans.
5. Cocktail (1988)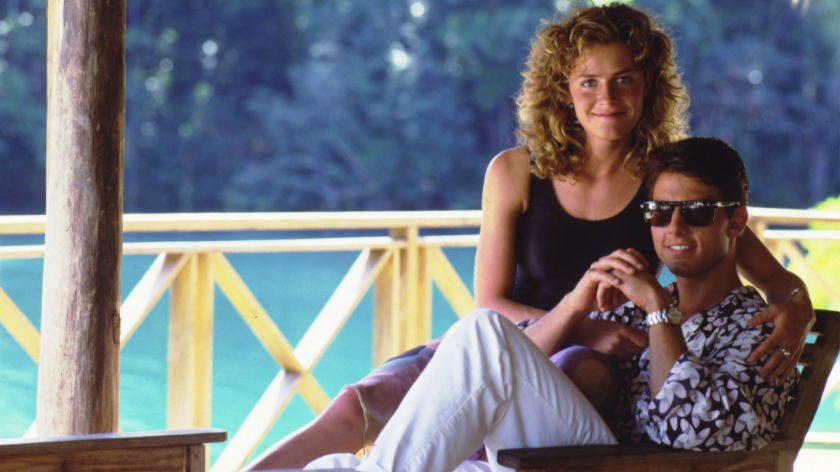 Brian (Tom Cruise) is a talented bartender who has come from New York to Jamaica in search of his purpose in life or something to die for. In that quest, he meets a beautiful and wealthy girl Jordan (Elisabeth Shue). They fall for each other and life becomes bearable. However, on a silly bet with his mentor Doug, Brian ends up sharing his bed with a rich old woman who is in search of some fun. When Jordan finds out about it, she leaves Brian. Now the Casanova bartender must decide if he is happy with the immense wealth he is getting from his sordid affair? Or will his heart pull him towards his true purpose in life?
4. Chasing Mavericks (2012)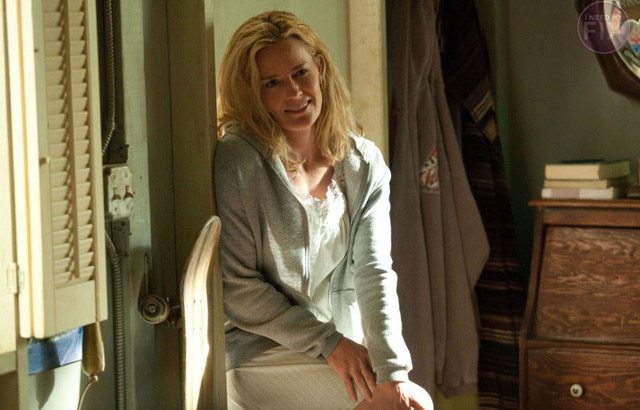 Jay Moriarty is a naturally gifted soul-surfer who wants nothing but to ride the colossal waves right into the hearts closest to him. Since his father left them, his mother Kristy (Elisabeth Shue) has been trying very hard to makes ends meet. When Jay comes to know that the world famous myth of 30 foot big Maverick waves is true, he takes the help of an experienced surfer Frosty (Gerard Butler) to beat the gargantuan waves. A terrific rendering of a true story, this is Chasing Mavericks.
3. The Karate Kid (1984)
Daniel is a troubled teenager who is constantly bullied by a group of fighters fueled by the violet streak of their karate teacher. After getting out of trouble a few times, Daniel is finally saved by an old gardener Miyagi who promises to teach him karate for his self-defense. To defend himself and those who can't protect themselves, Daniel works hard to control his spirit and win the karate tournament against all his bullies. In the process, he also wins the heart of the love of his life Ali (Elisabeth Shue).
2. Back to the Future 2 (1989)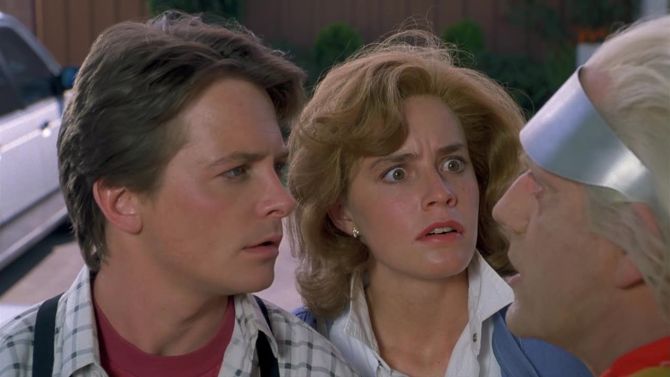 To help their future selves avoid a life-altering predicament, Doc takes Marty McFly (Michael J. Fox) and his wife, Jennifer Parker (Elisabeth Shue) on a visit to the future. In 2015, Marty poses as his own son so that he can prevent him from going to prison. However in a twist of fate -or rather a twist of past- Marty's friend Biff travels back to 1955 to give his younger version something which ultimately changes the timeline when Marty and Doc return to 1985. Now in a confusing time-travel extravaganza Doc, Marty, and Jennifer must go back to 1955 so that they can set the past and future on the right course. An assortment of comedy, love, and fantasy this movie is one of the best Elisabeth Shue has starred in.
1. Leaving Las Vegas (1995)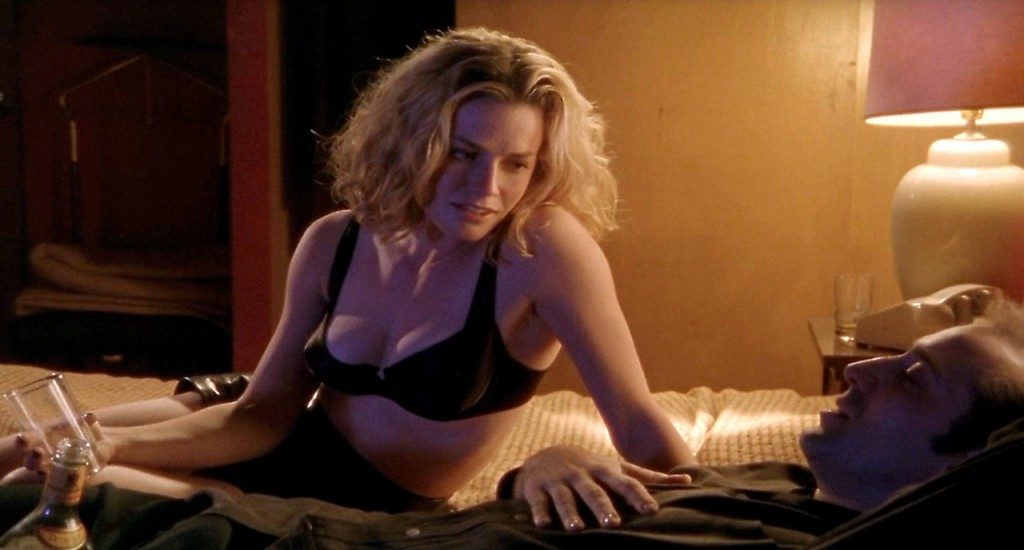 One of the most famous movies which Nicolas Cage and Elisabeth Shue have starred in, Leaving Las Vegas is a widely acclaimed Academy-award winning film. A rich plot portraying the dark elements of the human psyche and subtle satires, this movie is based on Ben Sanderson, a screenwriter who has been defeated in life and has come to Las Vegas to drink himself to death. While there he meets a prostitute Sera (Elisabeth Shue) who becomes his companion in solitude. Together they spend some beautiful time together, with Sera trying to bring him back to reality. The question that stands in the wonderfully crafted climax is whether the drunkard screenwriter will accept her love and come back to the side of life, or having made up his mind to end his life will leave this world devoid of every emotion he has known in life. A man who has gone over the brink can come back but only if he wants to.
Read More: Best Movies of Brie Larson