Elisha Cuthbert is one of the most beautiful actresses out there. Anything less than that is an understatement. Hailing from the cold lands of Canada, she simply mesmerizes everyone with her cute smile. But that's not all. She has time and again proved that she has great acting potential. Opportunities have been limited but she has made the most of them whenever they have knocked on her doors. Movies like 'The Girl Next Door' and 'Old School' are evidence of her versatility and that she is not averse to unconventional roles. Her acting speaks heavily of her boldness and dedication to the character.
Cuthbert has been seen equally on the Television and the movies. Her role, Kim Bauer in the highly popular thriller series '24' proved to be a pathbreaking one for as it put her right in the center of the limelight. Since then, she has continued to hone her acting skills by taking up challenging roles and doing them with a lot of finesse. Needless to say, her career has been very successful and promising too. The road's very long for her and a bright future is all one can see for her. Here's the list of top 12 Elisha Cuthbert movies and TV shows.
12. Goon: Last of the Enforcers (2017)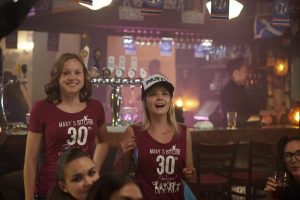 In this sequel to a highly successful sports drama film, Cuthbert plays Eva's outlandish, braggish sister.The protagonist Doug suffers an injury in a highly heated-up game and has to take premature retirement from pro hockey. He soon realizes that he can't live without hockey but knows that getting back at it isn't easy. Amongst an ensemble cast with Seann William Scott as Doug, Cuthbert's role proves to be very short but she makes good use of the screen time she gets.
11. Love Actually (2003)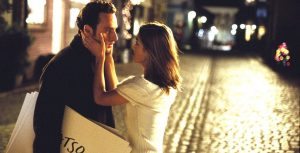 Hugh Grant, Liam Neeson, Keira Knightley, Alan Rickman and Rowan Atkinson are just a few out of the big names in this romantic comedy. Through the course of ten separate love stories, these actors each have given excellent performances. We also have a delightful cameo in the form of Elisha Cuthbert who plays American goddess Carol-Anne who fall for British accent Colin.
10. Happy Endings (2011-2013)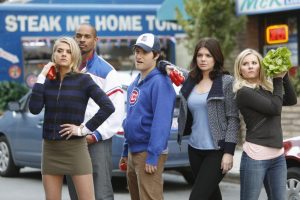 Airing from 2011 to 2013, this comedy sitcom gave us laughs along with a lot of thrills. Cuthbert portrays Jane, a dizzy woman who being the youngest and a dimwit, is often left out in the gang's jokes but also shows occasional signs of intelligence. Mostly, she is the source of all the comedy in the show and credit should go to Cuthbert for playing the role effectively.
9. Time at the Top (1999)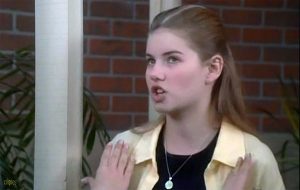 This cable television film based on an award-winning novel by Edward Ormondroyd. Centering on the concept of time travel, it has a 14-year old Susan use a time machine to go back in time to the place causing huge changes in the past and the future. A very young Elisha Cuthbert plays Susan and aces the role capturing teenage emotions perfectly.
8. Lucky Girl (2001)
'Lucky Girl' is a very dark film (not the one having Chris Pine and Lindsay Lohan in it). It is another film where Cuthbert at a young age, shows her bold, fearless side doing roles which most people won't. Playing a high school girl who gets addicted to gambling, she owns the role giving a dark edge to it and clearly specifying the adverse effects of gambling addiction. The film ends with the notion that there is a difference between changing one's behavior and acknowledging a problem and trying to deal with it.
7. Old School (2003)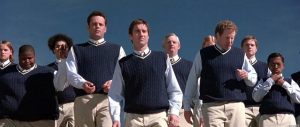 'Old School' is not your average cup of comedy. It talks about college life and how much fun you have at that time. Fraternities are probably the coolest part of any student's college life and this film simply emphasizes that. It has Elisha Cuthbert in a cameo appearance playing Darcie Goldberg, the girl Mitch meets at the housewarming party. Her role is short but she gives an impactful performance in a film with a lot of cult following.
Read More: Jonah Hill Movies