Emily Hernandez was merely 21 when her entire world turned upside down for the worse as she unwittingly walked into the US Capitol on January 6, 2021, alongside her uncle William Merry. The truth is she hails from a small farming community in Missouri, so when the latter had asked if she'd be interested in going to Washington with him for a Trump speech, she tagged along. "I was getting out…," she said in HBO's 'The Insurrectionist Next Door' while revealing the reason behind her yes. "I didn't necessarily want to watch the speech; I wanted to see the area. Just get out of Missouri for a bit."
However, the speech turned out to be a rally once she actually arrived in Washington, yet Emily still went with the flow because she trusted her uncle even if she herself had no interest in politics. That's when the jokes and the mayhem began, only for her to continue following through to "save face" — this included carrying a piece of House Speaker Nancy Pelosi's smashed wooden nameplate. It thus comes as no surprise the few pictures in which she appears to be proudly carrying the same were among the first to immediately be circulated across global news, leading to her positive identification.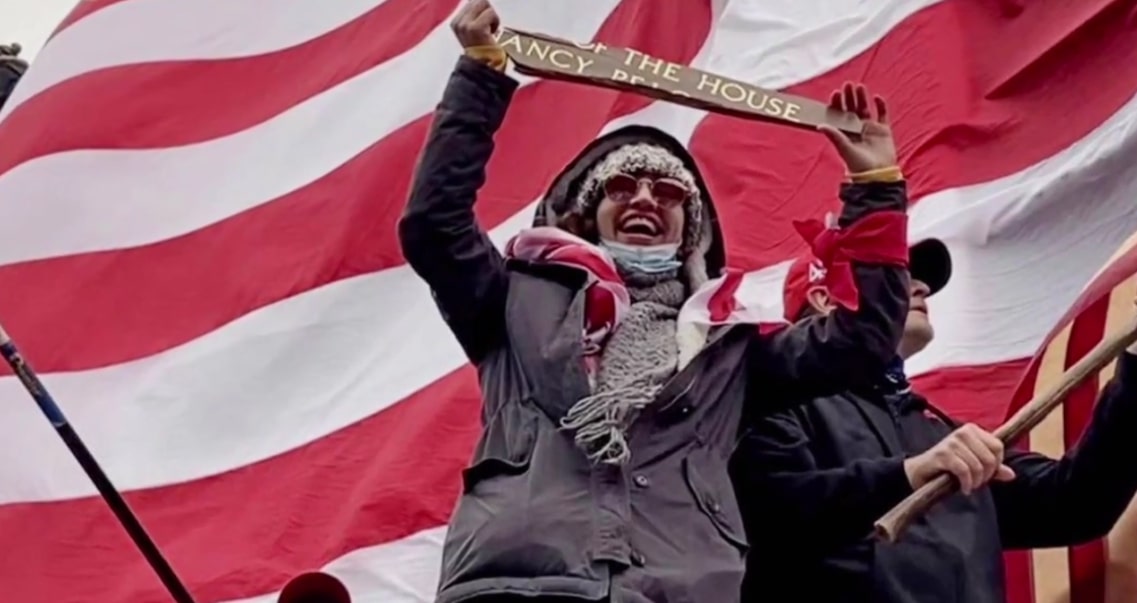 As a result, on January 19, 2021, Sullivan native Emily surrendered to the federal authorities in St. Louis, Missouri, shortly following which she was formally indicted on five different counts. They were disorderly conduct which impedes the conduct of government business; disruptive conduct in the Capitol building; knowingly entering or remaining in any restricted area; parading, demonstrating, or picketing in the Capitol; and stealing, selling, conveying, or disposing of anything of value of the United States.
Where is Emily Hernandez Now?
It was on January 10, 2022, that Emily pleaded guilty to one misdemeanor charge of entering or remaining in a restricted area, for which she was handed down a relatively lenient 30 days in jail. But alas, this did come with one year of supervised release, 80 hours of community service, plus $500 in restitution, just for it to kind of be a little too late as she'd already had another criminal case against her. After all, on the eve of the Capitol attack's first anniversary, on January 5, 2022, she'd caused a car accident.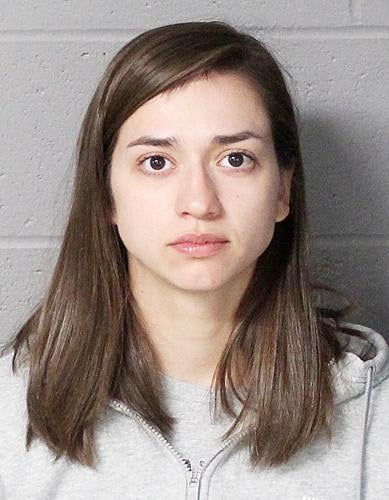 According to Emily's own narrative in the HBO documentary, her life had spiraled following the events of 2021 in such a manner she was left with no real support system that wasn't close family. Therefore, when this got combined with the fact she was also receiving unimaginable hate online from former friends and strangers alike, it drove her to not just delete all her social media platforms but also turn to alcohol as a way of coping.
Though little did she realize this would soon snatch away every bit of her old self as she'd cause an accident on Interstate 44 by driving on the wrong side of the road while completely drunk. The 22-year-old was in her Volkswagen Passat when she crashed head-on into a Buick Enclave, only for it to skid right onto the median before hitting the nearby cable barriers.
32-year-old Victoria "Vickie" Wilson (the passenger) died right at the scene, whereas her husband Ryan Wilson (the driver) was gravely injured. Hence, today, at the age of 24, Emily is at home on a $250,000 bond, awaiting trial on two counts of DWI — one with the special circumstance of causing death and the other with the special circumstance of causing injury.
Read More: Ronnie Sandlin: Where is the January 6th Rioter Now?