In its fifth season, 'Face-Off' continued to enthrall viewers with the captivating world of special effects makeup. The season, which premiered on August 13, 2013, introduced a new group of exceptionally talented artists, each bringing their unique flair and creativity to the competition. Hosted by McKenzie Westmore, the season took on a fresh and exciting dynamic. The contestants, hailing from diverse backgrounds and showcasing a wide range of skills, added an extra layer of intrigue to the show.
Laura Tyler is Now an Esteemed Mentor
After winning the fifth season, Laura made a comeback as one of the returning champions in season 8, taking on a coaching role for the contestants. Today, she is recognized as Laura Dandridge and has forged a successful career as a professional makeup artist, contributing her talents to prominent films and TV series, including 'Insidious: The Red Door' and 'Avengers: Infinity War,' among others. Since 2013, she has been an esteemed member of the 798 Makeup Union, further solidifying her presence in the industry. Additionally, Laura operates an Etsy shop named 'The Morbid Mirth,' where she offers a variety of items, including tank tops, stickers, and mugs, all featuring unique designs.
Roy Wooley is Crafting Creatures Today
Wooley's extensive career before his 'Face Off' journey laid a strong foundation, but it was on the series that he truly captured the hearts of fans and gained widespread acclaim. He was the first runner up and his creations quickly became iconic, earning him a lasting place in the 'Star Wars' universe. Furthermore, he showcased his prowess as a prosthetic makeup artist in notable productions like the 2022 DC Comics film 'Black Adam' and Disney's 'Haunted Mission.' Expanding his skills, he delved into digital sculpting and 3D printing, pushing the boundaries of creature design. Wooley continues to weave his artistic magic at Netherworld, a premier haunt destination in Stone Mountain, while also offering his talents as a commission artist.
Tate Steinsiek is a Clothing Store Owner Today
After landing as the second runner-up on the season, in 2013, Steinsiek embarked on his directorial journey with 'Son of Celluloid.' Four years later, he collaborated with Spirit Halloween, contributing his design and sculpting skills to create the visage of the animatronic character Menacing Moll. In the same year, he ventured into the realm of 'Fangoria,' utilizing his special effects expertise for the films 'Puppet Master: The Littlest Reich' (2018) and 'Satanic Panic' (2019).
Steinsiek continued to expand his directorial portfolio with the 2019 reboot of 'Castle Freak.' His contributions were duly recognized when he received a nomination for a Rondo Hatton Classic Horror Award for Best Article. Additionally, he operates the Ill Will Apparel store, offering a range of printed T-shirts and various clothing options for both men and women.
Miranda Jory is Now Traversing New Horizons
Following her appearance in the series, Miranda has made her mark in the industry with notable contributions to films like 'The Monster Project,' 'Minutes Past Midnight,' and 'Watercolor Postcards.' Currently residing in Los Angeles, she remains dedicated to crafting unique and captivating special looks, refining her skills project by project. While she has been less active on social media lately, we extend our best wishes to her in all her endeavors.
Alaina "Laney" Parkhurst Sadly Passed Away in 2022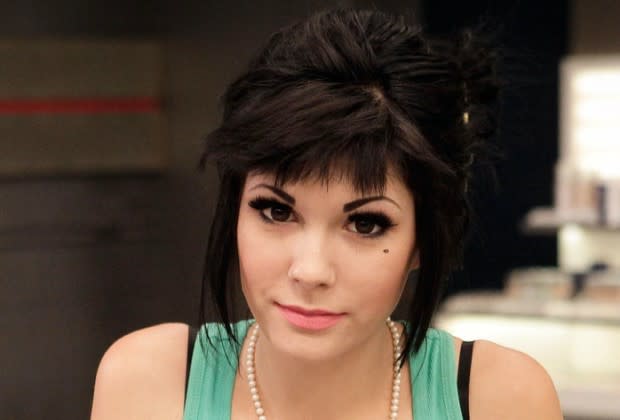 After her voluntary withdrawal from the series, Alaina secured the fifth position among the contestants. Following her appearance, she embarked on a career working with several prominent stars, such as Bella Thorne and Marilyn Manson. Notably, she lent her expertise to rapper Lil Nas X for his music video 'Montero' in 2021, which subsequently claimed the Video of the Year Award at MTV's VMAs. Tragically, in 2022, she succumbed to an accidental drug overdose in Milford at the age of 33. Her family shared in a public obituary that she had grappled with various mental illnesses throughout her life.
Eddie Holecko Serves as a Digital and Talented Sculptor Today
Since his stint on the series, Eddie has continued to thrive as a special effects artist, contributing his talents to the makeup and animation departments of various films. His impressive portfolio includes recent projects like 'Alita: Battle Angel' and 'Lwa: All Saints' Eve.' Currently residing in San Francisco, he has broadened his horizons by delving into digital and traditional sculpture, showcasing his versatility and dedication to the craft.
Frank Ippolito is Now Working in Makeup, Costumes, and More
In addition to carving out a significant reputation in the makeup and special effects department of the film and entertainment industry through his contributions to projects like 'Submerged,' 'ABCs of Death 2.5,' and 'Open House,' he has also ventured into the diverse realm of costume design. Presently, he is a valuable asset at Thingery INC, a hub that provides production, costume, and prop services to enthusiasts. Beyond his professional endeavors, he nurtures a deep passion for motorcycles, savoring the world's diverse cuisines, and doting on his feline companion, Artemis. Now a California resident, he actively showcases his work in galleries and various industry events, earning well-deserved recognition and acclaim for his artistic prowess.
Alana Rose Schiro is Now a Traveling Artist
Today, Alana has evolved into a globetrotting Special Makeup Artist with her base in New York. Her journey on the series catapulted her into a world of limitless creativity, enabling her to craft unique characters for diverse ventures, including ad campaigns, music videos, live performances, and films. Along the way, she honed her skills in Special FX shops and ventured into the realm of fabrication.
Notably, she served as the personal makeup artist for Ghostmane, an artist renowned for his distinctive appearance. Alana has also shared her knowledge by teaching makeup at esteemed institutions like the Cinema Makeup School in California and Xiao Jin FX. You can explore and acquire some of her creations through her Etsy store, and it's a thrilling experience to witness her flourishing in the industry.
Scott Ramp is Now Dabbling in Theatre
Following his triumphant journey on the series, Scott has seamlessly transitioned into a multifaceted artist, making a mark not only as an enterprising special effects and makeup artist but also as an actor. His talent shone in short films like 'Their Boy' and 'Life in the Fast Lane.' In 2022, he tantalizingly hinted at being in the early pre-production stages of directing 'Terra Nova,' a play close to his heart. Additionally, Scott graced the stage in April with his performance in 'A Little Night Music,' a one-night extravaganza at The Elsinore Theatre in Salem, Oregon, underscoring his diverse artistic endeavors.
Lyma Millot is Expanding Her Horizons in El Paso Today
Today, Lyma has evolved into a master makeup artist, specializing in SPFX makeup and costume design. Her artistic prowess has garnered international recognition, and she has taken on the role of an esteemed instructor. Currently residing in El Paso, she actively engages with her audience by sharing her exceptional work on social media platforms. Lyma actively participates in an array of festivals and events, where she captivates audiences with her boundless talent. Her versatile skills extend to aiding in photoshoots, showcasing her dedication to furthering her career, and making an indelible mark in the world of makeup and special effects.
Robert "RJ" Haddy is Now Dabbling in Varied Pursuits
Robert J. Haddy II is not your typical special effects artist; he's a true Renaissance artist with a wide array of talents and creative pursuits. Beyond his mastery of makeup and special effects, he's an actor, director, producer, writer, costume designer, and set designer, among many other roles. He refuses to limit himself to a single artistic realm. Teaching is another area where he excels, sharing his knowledge at public and private schools, conventions, and workshops.
In addition to his artistic endeavors, he runs an Escape Room called "Outta Time," creates unique theatre productions, and operates a shop catering to horror fanatics. Robert J. Haddy II proudly considers himself an artist in the broadest sense of the word, continually exploring new boundaries and mediums to express his creativity.
Adolfo Barreto Rivera is Now a Choreographer
Adolfo Barreto Rivera has transitioned into a multifaceted creative professional. He now operates his studio called Rivera Films Studio in San Bernardino, focusing on producing and directing. While he has embraced his passion for choreography, his primary expertise remains in makeup artistry, which he regularly showcases on his social media platforms. His YouTube channel features his extensive body of work, serving as a testament to his remarkable talent and diverse creative journey.
Rick Prince Has a Rising Career in Films Today
Rick Prince gained international recognition following his participation in the series. He ventured into directing, debuting with the feature film 'Lwa: All Saints Eve,' which not only marked his directorial career but also led to a multi-movie deal where he took on the role of executive producer. Collaborating with season 6 winner Rashaad Santiago, they co-created their new film, 'Beat of the Writer,' with Rick serving as a writer and producer. He also has several upcoming projects in the pipeline.
Samantha "Sam" Allen is Now an Influencer
Samantha Allen has since broadened her horizons, evolving into an influential figure who regularly shares valuable makeup and skincare tips for women that are both accessible and easy to follow. She has harnessed her expertise to create an Etsy store where she offers a range of her products, catering to beauty enthusiasts seeking quality makeup and skincare solutions. As she continues to inspire and educate through her online presence, Samantha's passion for empowering others in their beauty routines remains evident.
Steve Tolin is Now a Studio Owner
Steve Tolin has made remarkable strides in the world of special effects and specialized design and fabrication. He is notably the proprietor of Tolin FX, a studio renowned for its contributions to films like 'Batman: The Dark Knight Rises' and 'Jack Reacher.' Beyond his expertise in film production, Steve expanded his creative horizons by producing the feature film 'It Came from Yesterday,' where he also played a pivotal role in crafting the production design. His journey extended to the world of theater, where he has left a significant mark by contributing to some of the most esteemed productions.
Read More: Face Off Season 4: Where Are the Make-up Artists Now?