'Femme fatale' is simply French for a fatal woman. However, this phrase has a lot of connotations that have been in effect for quite a long time now. The phrase mainly refers to a seductress, a woman so full of sex appeal that any man who comes under her influence is simply lost in her beauty and his desire to obtain her. Femme fatale is a stock character found in numerous works of literature, architecture, sculptures, and paintings throughout history.
However, the character prototype reached the zenith of its popularity during the era of film noir. This was a troublesome era in the western world because of the Second World War and the tension that it created. The high sense of insecurity and fear during this time can be attributed to the flourishing of such villainous characters who would lure men away from their actual goals in life. The character of Brigid O'Shaughnessy, from the film 'The Maltese Falcon' (1941) is a famous femme fatale character. Billy Wilder's famous noir, 'Double Indemnity' (1944) boasts of another such character called Phyllis Dietrichson.
The trend has also continued in modern movies, with films like 'Basic Instinct' (1992), 'Fatal Attraction' (1987), and 'Body Heat' (1981). One franchise which must be mentioned while talking about femme fatales is the James Bond franchise. Most of the girls in James Bond movies, at some point of time, become threats to Bond's life. The characters of Pussy Galore, Vesper Lynd, and others fit the description of the femme fatale perfectly. If you would like to check out some movies which use this femme fatale character, then we've got some recommendations for you. Here's the list of really good femme fatale movies on Netflix that are available to stream right now:
7. Newness (2017)
This 2017 film is a story about two characters, Martin, and Gabriella, and the many ups and downs in their lives. Martin is a widower, who, after many attempts to start a fruitful relationship with a woman, finally meets Gabriella via a dating app. Their first date turns out productive and they develop a liking towards each other. Soon, Martin and Gabriella start dating.
Meanwhile, Gabriella visits Martin's parents and comes to know that he was formerly a married man and that his mother had died from dementia. This creates a rift between them and they cheat on each other. This point becomes an important moment in their relationship, and after this, we see how Gabriella continues cheating on Martin and he starts an acquaintance with his ex-wife. Gabriella by now has met an elderly rich gentleman, Larry, who gives her rich gifts and even invites her to take a trip abroad with him. However, soon Gabriella realizes that her relationship with Larry will not turn out to be a happy one, and expresses a desire to go back to Martin. The movie received mixed to positive reviews from critics.
6. Below Her Mouth (2016)
Directed by April Mullen, 'Below Her Mouth' is a steamy romantic drama about two women, Dallas and Jasmine. Dallas is a roofer by profession while Jasmine is a fashion editor. Both of them go on a date during a weekend when Jasmine's boyfriend, Rile, is out of town. This leads to an intense, steamy affair between the two and Jasmine finally realizes she is attracted towards women. This relationship leads to many complications in Jasmine's life which become the main focus of the film.
An interesting aspect of the film is that it was made with an all-female crew. This decision was taken consciously by the makers to avoid any form of the male gaze on the film whatsoever. Critics have praised the brilliant cinematography of the film, but it must be said that the emphasis at times feels to be more on the graphic sex. But that again might be the point the film is trying to make: to normalize homosexual intimacy and give marginalized sexuality the place to express itself.
5. Nikita (1990)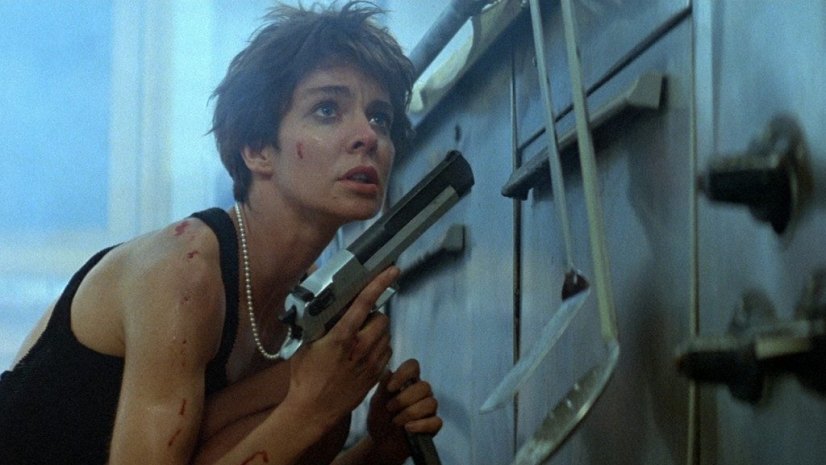 It is very important to talk about 'Nikita' when the topic of discussion is femme fatale. Nikita is an ex-con and now a hardcore assassin. She is not there to seduce a man, she is probably there to kill him herself. The movie begins with Nikita getting arrested due to a robbery gone wrong. She even kills a SWAT officer, which results in her serving a life sentence in prison. There, the authorities fake her death and employ her as an assassin for a secret government organization. She transforms from a junkie to a suave, beautiful, killing machine. However, problems soon arise when Nikita falls in love. Her personal life prevents her from being completely committed to her life as an assassin, and this pits her directly against her bosses. The film ended up receiving mixed reviews both inside and outside France, but Anne Parillaud's performance as Nikita received unanimous praise.
4. Gypsy (2017)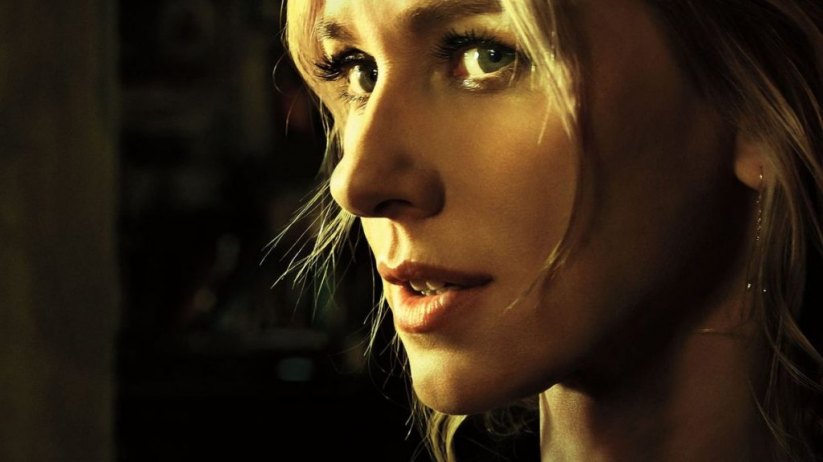 'Gypsy' deals with the story of a therapist, Jean (Naomi Watts), who gets way too much involved in her patients' lives than what can be called healthy. One day, unable to restrain herself, Jean tracks down the girlfriend of one of her patients, Sidney. Sidney is an attractive woman, and slowly the two of them begin to develop an intimacy. This new relationship of Jean naturally harms her settled life as a respectable therapist, wife of a lawyer and mother of a sweet young girl. The series was thoroughly panned by critics, especially for its writing and character development. The character of Jean, who is the protagonist of the series, has been accused of being bland and uninteresting. Netflix decided to discontinue the series after the first season itself.
3. A Perfect Ending (2012)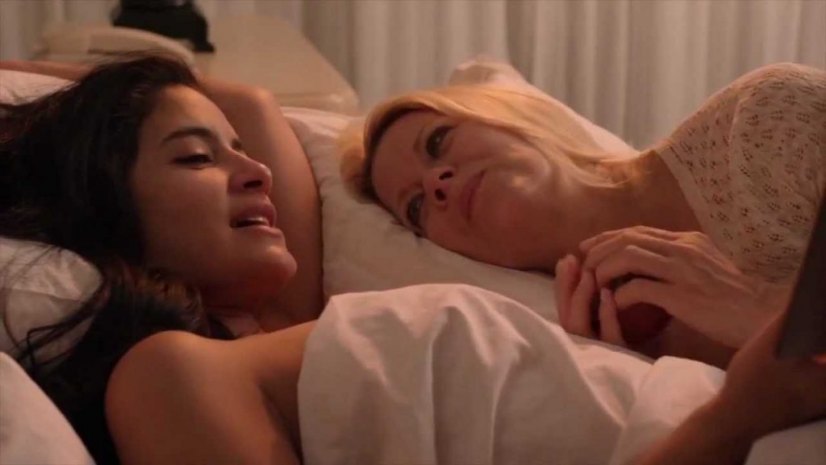 'A Perfect Ending' is written and directed by Nicole Conn. It is a story of two women — Paris and Rebecca. While Paris is an artist now in the escort business to sustain her life, Rebecca is a married woman in her middle age who is suffering from terminal cancer. Rebecca confides in some of her friends that her sex life has become very boring, and they suggest that she should use an escort service which has never failed to satisfy them. It is through this escort service that Rebecca comes across Paris and the two slowly grow close together, and Rebecca finally has some satisfactory sex.
Meanwhile, Rebecca is also facing numerous challenges in her married life because her husband Mason does not want to give her daughter from an earlier marriage an equal share of his property. We also come to know that Mason's ex-wife Jessica has been molested by Mason in the past. Further problems arise for Rebecca when her children discover her health report and presume it to be their father's. 'A Perfect Ending' has received mostly mixed reviews from critics who have said that the film is too cliche or sloppy at certain places despite some of the characters being well-rounded and complex figures.
Read More: Best Witch Movies on Netflix
2. Spartacus (2010-2013)
Starz's series 'Spartacus' chronicles the life of the eponymous famous Roman gladiator. Before he becomes a fearsome gladiator, Spartacus was a family man whose wife and child are killed by the Roman Republic. Spartacus himself has been punished with the death penalty, but he easily manages to execute all the four gladiators who are sent to kill him. This brings him to the notice of the authorities and his death sentence is reverted to slavery. Here begins Spartacus' journey as a fearsome warrior.
One day, Spartacus is forced to kill a friend of his in an exhibition fight, and this disturbs him so much that he begins to have fever dreams in which he realizes his wife was killed by the man he always thought was his savior. The realization naturally leads to Spartacus revolting against his slave status and refusing to keep on fighting as a gladiator. In a gravely unfortunate event, Andy Whitfield, the actor who plays the role of Spartacus, fell prey to lymphoma, and thus had to opt out of the second season. The second season, titled, 'Spartacus: Gods of the Arena', was thus made into a prequel without the character of Spartacus. Eventually, Whitfield passed away and was replaced in the third season by Liam McIntyre.
1. Nymphomaniac Vol. 1 & 2 (2013)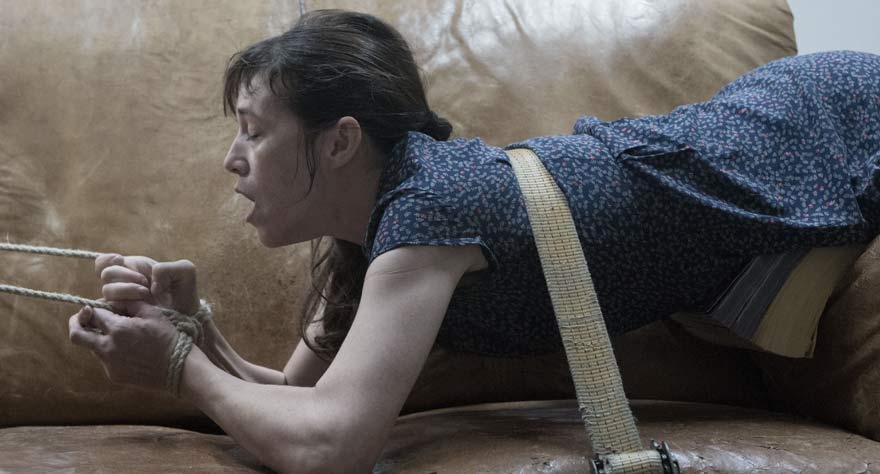 'Nymphomaniac' is a story of a woman who, as the name of the film suggests, has gone through a life of various sexual adventures. The lead character of the movie is a woman called Joe. She is found by a middle-aged gentleman, Seligman, in a battered and bloody condition, who then takes her home to care for her. It is in his home that Joe starts telling Seligman the story of her life. Since quite an early age, she had discovered that she was a nymphomaniac, and this led to various encounters with strange men and of course, unhealthy sexual practices.
The film is divided into two parts: in the first part, Joe tells Seligman about her adventures, and in the second part, she develops an understanding of Seligman as a person and tells the remaining stories accordingly. In between the accounts of Joe, the two of them discuss art and literature. A focus on popular works of art has always been a specialty of Lars Von Trier movies. The film has received mainly positive reviews. Critics have praised the bold filmmaking and an undertone of dark humor that is present throughout the two films. Due to the extremely graphic sexual content, the movie was mainly released in theatres as a censored version. Later, a 5:30 hours long Director's Cut was released. 'Nymphomaniac' is groundbreaking in its portrayal of female sexuality, and can easily be called one of the best works of its director.
Read More: Best Road Trip Movies on Netflix