There are very rare occasions in Bollywood when foreign actors feature in the movies. But whenever they do, there's an incongruous buzz and hype around the film. Mainly featuring in historical dramas, playing stereotypical reflections of ancient Englishmen, they tend to bring a lot of Hollywood audiences as well with them. Prominent films like 'Lagaan' and 'Mangal Pandey: The Rising' have a plethora of English actors in them, many of whom are established stars in the Hollywood industry. Despite not being familiar with the Hindi language, the stars have their own charm, which they exploit to its full potential. The list might not have mega stars of our US counterparts, but still makes for a glittery litany. Here are the 10 foreign actors who have worked in Indian movies (and never returned). Happy reading!
10. Steven Mackintosh (Rang De Basanti)
Makintosh is a well-known entity in Hollywood. Having prominently featured in TV shows and films like 'Lock, Stock and Two Smoking Barrels', the audience is well-versed with his talents. The actor made a brief appearance in the film 'Rang De Basanti' as Mr McKinley. The film's success translated into his stature substantially increasing in the industry here, and back home as well. His effortless ease and contagious charm worked well for his role. His laid presence and immense ability to hold audiences had its effect on the crowd, as the movie became a big success.
9. Michael Maloney (Kisna the Warrior Poet)
The English actor is one of the most underrated thespians around I feel. His eviscerating work in Shakespeare adaptions are truly stunning and pioneering in nature. Apart from that, the actor also has to his name a litany of appearances in mainstream Hollywood films, unfortunately sans any major nominations or awards. The Indian folk had a taste of his royal standards, when he played Peter Beckett in the film 'Kisna: The Warrior Poet'. The film bombed miserably at the box office, failing also to get the critical recognition. But the cast was praised for their efforts to save a drowning ship. Maloney anchored the ensemble well, ensuring a complete effort from their side.
8. Chia-Hui Liu (Chandichowk)
One of the better known actors in India, Hui Lo's unprecedented achievements in the field of acting make him a distinctive name in the list. His very brief stint in Akshay Kumar's lesser warranted film, 'Chandni Chowk to China' fell pretty short of saving its blemishes. His mere featuring in the film sent the Chinese crowd into a frenzy with many even downloading the pirated version of the film, which is illegal in China. He appeared as Hojo, the smuggling mafia, who wants to exploit the situation of the week. His previous work includes iconic films like 'Kill Bill Vol. 1' and 'Shaolin Soccer'. With such films to his name, this one was sure a few notches down.
7. Ben Kingsley (Teen Patti)
I was almost tempted into writing about the film 'Gandhi'. Probably the most known name on the list, Kingsley's illustrious body of work needs no introduction. It just needs some revision, which shouldn't have been needed either (sigh). 'Gandhi', 'Schindler's List', 'Iron Man 3', are all brilliant films, the former two also being two of the best films ever made. He made his Indian début in the film 'Teen Patti', which as the name suggests, involves a lot of gambling. Playing the role of Peter Trachtenberg, apparently the "greatest mathematician living", he made a huge impression right from the word go. In a country which he considers his second home, Kingsley vowed to give his all in making an entertaining performance. And guess what, he didn't. Just messing with you. He did.
6. Sarah Thompson (Rajneeti)
When politicians are involved, you bet there will be money. When money is involved, it translates into them sending their pampered sons to the US. And that, finally, results in a videshi bahu. Translation: foreign wife. Such was the case in Jha's brilliant polticial drama, 'Rajneeti', where the American actress plays Ranbir Kapoor's love interest. The 'Angel' and '7th Heaven' fame actress did an admirable job, easily sifting through languages and scenes involving different actors. Her credible performance won her many admirers, who unanimously declared her a clear winner.
5. Barbara Mori (Kites)
Apart from having one of the more substantial roles in the respective movies, Barbara is also the most ravishing. Her brazen sexual appeal didn't go unnoticed, with the media buzzing with rumors about her and Hrithik Roshan, her co-star. The film didn't do well, both critically and commercially, and despite her good performance she was ignored by the industry. The character of Natasha required her to be at her most vulnerable, emotionally, and she certainly didn't disappoint. The passionate eyes and the glorifying personality made heads turn and ruled the hearts of Bollywood. 'Kites' also won her a decent amount of recognition and awards.
4. Clive Standen (Namstey London)
If Barbara's was the most pretty, his was the most loathed. The film portrayed a typical love story where a small town boy has unrequited love for a girl well above his apparent standards, and her parents decide that she marry a rich, fair, and wealthy boy. Standen played the boy in question, falling in the latter category. He did a reasonably well job, fighting his way through a barrages of hate tantrums with resilient strength. What was more impressive about his performance was that it required him to be emotionally vested in the movie to some extent. And that is what stood out in his performance. The naturalism filled characterization won hearts and made enemies.
3. Isabelle Adjani (Ishkq in Paris)
I have never seen talent wasted like I did in this Preity Zinta produced movie titled 'Ishkq in Paris'. Bollywood always does this. Whenever they get an opportunity to make amends and take important strides in their representation of Western culture and appropriators, they egregiously waste it on their stereotypical image of what already exists. I really don't feel like talking about how they utilized this amazing artist in their movie, because it would make all of us sad.
2. Rachel Shelley (Lagaan)
'Lagaan' is perhaps the only Indian movie which took responsibility and displayed sensibility in utilizing foreign actors. One of the many successful rodents, oh I mean subjects (human rights awareness), was Rachel Shelley, who played the pivotal role of Elizabeth Rusell, the royalty everyone hates. Not because of her own deeds, but of her fathers. The jolly character, who sympathizes with the Indian predicament, is also an inspiration for people around to learn how to treat an individual like a human being. A total winner with regards the crowd, Rachel did an amazing job holding her own in many scenes with our perfectionist, Aamir Khan.
1. Paul Blackthorne (Lagaan)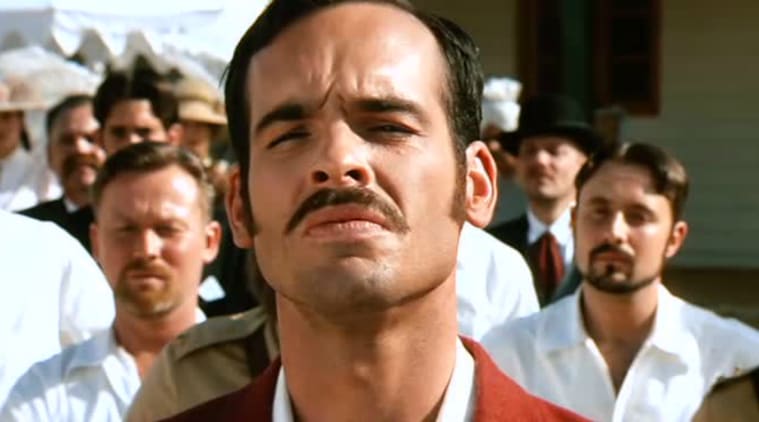 His name will always come first in any list that has Hollywood actors mentioned who did substantial work in Hindi movies. He played the iconic role of Captain Andrew Russell, a British officer, who disregards the existence of Indians and treats them with no humanity. Since the script also demanded a British cast, Ashutosh and Aamir hired Danielle Roffe as one of the casting directors After Danielle and Ashutosh screen-tested many, Shelley and Blackthorne were chosen for the prime roles. Overall, the film cast 15 foreign actors, none of which could match the aforementioned, especially Paul, in their influence on the film. A true display of acting prowess and nuanced vision for a character.
Read More: Best A.R.Rahman Soundtracks