Netflix's 'Get Even' is a teen thriller that follows a twisted tale of murder and mysteries. In its ten-episode first season, it goes through unpredictable twists and turns that leave us surprised every time. The series also uses the setting to focus on the complicated personal lives of its protagonists and works it inside the plot so seamlessly that romance, drama, mystery and death, all become part of a single narrative. Here's all you need to know about the plot of Season 1. If you haven't seen the show yet, head over to Netflix. SPOILERS AHEAD
Get Even Season 1 Recap
Set in an elite school called Bannerman, 'Get Even' follows the story of four girls who come to create a secret group, vowing to fight injustice and bullies in the institution. Kitty Wei is a star-kid who excels in academics as well as sports and is in the school due to a scholarship. Bree Deringer is one of the rich kids who has isolated herself from the other lot and has become an outcast who repeatedly gets in trouble at school. Margot Rivers is a tech genius who is a loner as well and spends most of her time inside her house playing video games. Olivia Hayes is one of the popular girls, who has personal struggles of her own.
All the girls are very different from each other and don't have any common social circles. They come together when all of them are put into detention even when they were not at fault. This leads to a discussion over how bad the environment at their school is and they decide to do something about it. They form a group called Don't Get Mad, where every few weeks they choose their target, who is then exposed in front of the entire school.
They start by exposing the toxic training practice of Coach Creed. Despite their rule of taking a few weeks' break before embarking on another subject, Kitty decides to go after Ronny Kent, after he steals private phots from Kitty's best friend Mika's phone and posts them online. DGM starts their investigation into Ronny, but before they can find some dirt on him, he is killed. Things get all the worse when DGM becomes the primary suspect in the investigation.
The Suspects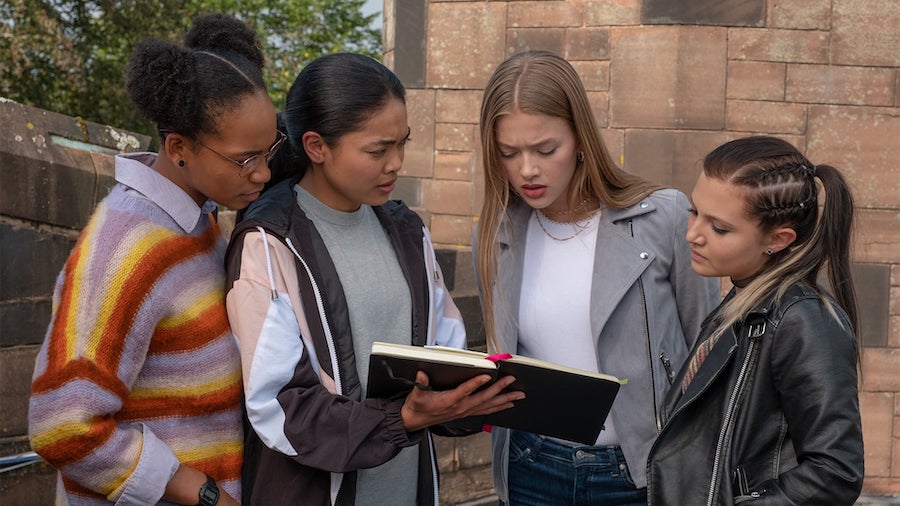 Knowing that they didn't kill Ronny, the members of DGM decide to clear their name by figuring out who the real culprit is. In digging out his bad deeds, they had half copied his hard drive, which leads them to a connection between him and Coach Creed. It turns out that Coach Creed had been in a relationship with Camilla, a student at Bannerman. Ronny knew about it and had been blackmailing the coach all this while.
The DMG gets access to Cam and Creed's private chats and exposes it in front of the whole school. Creed is arrested, and for a while, it looks like the case is solved as well. However, things take a dark turn when Mika is killed too. The cops become pretty sure that DGM is behind her death as well and they become more fervent in their investigation. They zero in on Bree, who had left an origami at Ronny's place while copying files from his computer, but they are not able to concretely connect her or any other girl to the group.
Meanwhile, DGM turns their focus towards Christopher Beeman, the theatre director. They discover that he had been one of the victims of Ronny's cruel acts. He pretended to like Christopher and then broke his heart in his own sadistic ways. DGM thinks about sending a clue about him to the cops, but before they can do that, the cops get a tip from somewhere else. On the examination of his locker, they find a DGM card in his possession and he is charged for the murder of Ronny as well as Mika.
Get Even Finale
While the girls had been fighting the unjust practices in their school, they also went through some complicated times in their life. Bree discovers that her best friend, John, is in love with her and that she might be in love with him too. Olivia discovers that despite all the attention she gets from boys, she doesn't really like any of them. She wants to be with Amber, who is in a relationship with Rex, Mika's brother. Meanwhile, Kitty's academic performance suffers due to her involvement with DGM and over the grief of losing Mika. She also falls in love with Donte, Olivia's ex-boyfriend.
Margot succeeds in overpowering her shy side and enjoys the attention of Logan and Ed. She grows close to Logan and even considers running away with him. However, when she discovers a DGM card in his car, she realizes that he is the real killer. She calls upon her friends to make him confess all his crimes and expose the truth to everyone. In the end, the DGM, once again, succeeds in their mission and brings justice to Ronny and Mika.
Read More: Best Teen TV Shows of All Time