HBO Max's 'Gossip Girl' reboot follows Julien and her clique, who face several troubles after the re-emergence of the titular anonymous blogger. The second season creates a rift between Julien and Audrey while Kate takes the blog in a new direction. However, in the eighth episode, titled 'Y Lu's Mamá También,' Julien and Audrey try to resolve their issues. Meanwhile, Luna and Obie deal with her maternal issues. If you wish to catch up on all the latest drama in New York's Upper East Side, here is everything you need to know about 'Gossip Girl' season 2 episode 8! SPOILERS AHEAD!
Gossip Girl Season 2 Episode 8 Recap
The eighth episode, titled 'Y Lu's Mamá También,' opens with Julien and Obie waking after spending the night together. They agree to give their relationship another chance. Meanwhile, Audrey and Max try to raise Kiki's spirits but to no avail. Elsewhere, Aki reunites with his friend Ingrid while she is preparing for the Tribeca Film Festival. She invites Aki to the festival and encourages him to socialize. Meanwhile, Luna and Florian start dating and spend the morning together. Julien drops a story that implores everyone to stop following Gossip Girl.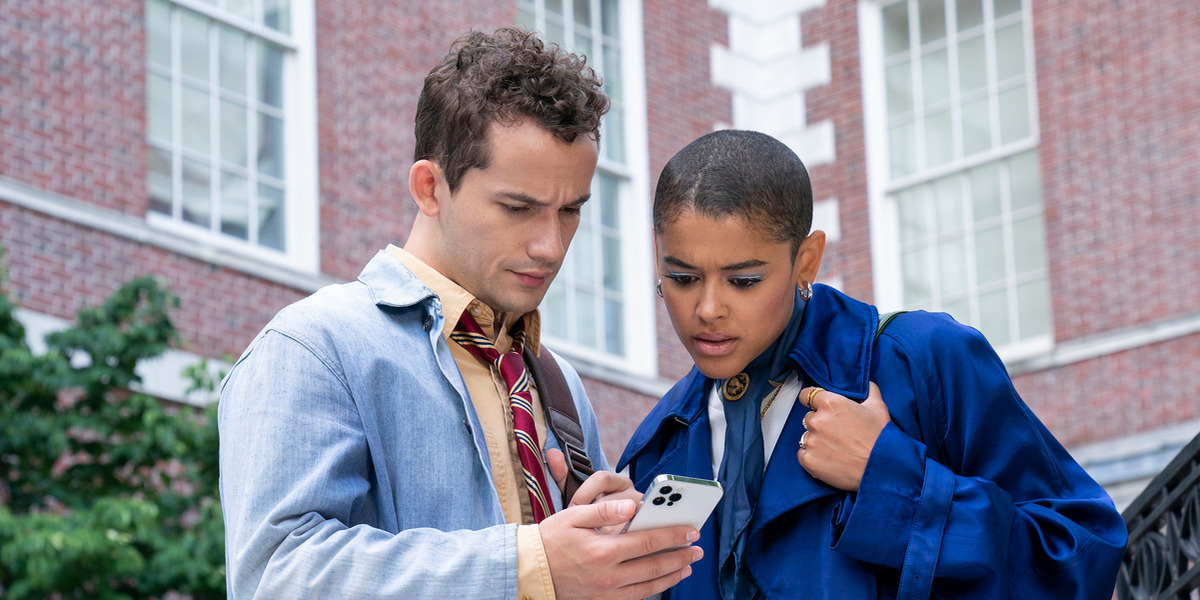 At Constance Billard St. Jude's School, Julien's story receives overwhelmingly positive reviews from everyone. On the other hand, Monet is canceled for sex-shaming Zoya. Audrey comes up with a plan to take down Jessica for hurting her mother. Julien speaks with Audrey privately and tries to resolve their issues. Audrey does not forgive Julien but gives her another chance if she promises to stay away from Jessica and her father.
However, Jessica announces Julien as her brand ambassador on her social media for her new fashion line, and Julien is forced to break her promise. Kate convinces Obie to invite his mother to a Harvard meet and greet, so she can post the incriminating evidence against Helena and have her arrested. While Helena promises Obie that she will return to the USA, she fails to show up. Meanwhile, Monet learns that her mother, Dolores De la Cruz, a famous actress is in town for the Tribeca Film Festival.
Aki receives the chance to moderate a session at the Tribeca Film Festival. However, Audrey and Max fail to attend it in their effort to defeat Jessica. Audrey gives Jessica permission to do whatever it takes to discredit Jessica. However, when Julien shows up at Jessica's store, Audrey uses a mob to discredit both of them. At the film festival, Zoya sees Ingrid kissing Aki and wonders what to do with the information.
One of Dolores' co-actresses asks Luna to style her. After learning of Luna's presence at the film festival, Dolores offers Luna a chance to style her for the red carpet. However, Dolores tricks Luna, leaving the daughter heartbroken. Luna feels unwanted by her mother and confronts Dolores. Meanwhile, Florian refuses to introduce Luna to his circle, leading to their break up. Eventually, Luna punishes her mother by sharing Dolores' secret with Gossip Girl. The blogger reveals that Dolores is not Mexican, as she claims but Spanish.
Elsewhere, the teachers led by Jordan hold an intervention to stop Kate from going to the dark side. However, Kate turns the teachers in their favor by promising that she can make a tangible change in a month to make them approve her new approach. If she fails, she accepts to go down with Gossip Girl and takes full credit for the blog. Jordan and Kate resolve their issues and turn a fresh leaf. Meanwhile, Gossip Girl blames Kiki for causing Jessica's downfall, further affecting her mental health, and she leaves for rehab.
Gossip Girl Season 2 Episode 8 Ending: What Deal Does Camille Make With Kate?
In the episode's final moments, Monet returns home and gives her mother, Camille de Haan. a warm hug. After watching the state of Luna's relationship with her mother and the treatment Luna receives, Monet feels blessed for her mother's presence in her life. Monet apologizes to Camillie for her past actions and recognizes that her mother only has her best interests at heart. Therefore, Camille and Monet reconcile. However, Monet's change of heart has a domino effect, directly affecting Gossip Girl and Kate. Camille visits Kate at her apartment while Jordan is present.
Camille reveals the recent change in Monet's behavior and credits Gossip Girl with her daughter's turnaround. Camille is impressed with Gossip Girl's impact on her daughter's life and wishes for the other students to experience a similar change. Therefore, she encourages Kate and other teachers to continue sharing tips with the blogger. Consequently, Camille also promises to help Kate and Gossip Girl, inadvertently protecting Gossip Girl from the influential people she is trying to take down. If the past is any indication, Kate might be making a deal with the devil and face dire repercussions in the future.
Who Attacked Obie?
Toward the episode's end, Obie is forced to cancel the plan to expose his mother. Moreover, when he returns home with Julien, she expresses an interest in uncovering Gossip Girl's identity and ending the blogger's charade once and for all. As a result, Obie makes an excuse to leave the house and walks around the block pretending to get alcohol. During his walk, Obie types a text warning Gossip Girl about Julien's plan, but he is attacked in an alley by a mysterious goon.
The man kicks and punches Obie before he can send the message. While it is likely that the man is merely a street mugger, it is also possible that Helena is behind the attack on Obie. Helena might have learned about Obie's plans to expose her, leading to the cancelation of her plan to come to New York. Consequently, she might have hired the man to teach Obie a lesson and stop him from revealing the evidence against her.
Read More: Gossip Girl Season 2 Episode 7 Recap and Ending, Explained