HBO Max's 'Gossip Girl' continues its thunderous trial of revelations and secrets, complicating the dynamics between its main characters. The seventh episode, titled 'Dress Me Up! Dress Me Down,' sees Kate working for Georgina while trying to figure out a way to get rid of her. Meanwhile, Audrey deals with the return of her father and his girlfriend. The episode's high-tension drama leads to a new rivalry that will likely take center stage in the future. If you wish to catch up on the episode's events, here is everything you need to know about the ending of 'Gossip Girl' season 2 episode 7! SPOILERS AHEAD!
Gossip Girl Season 2 Episode 7 Recap
The seventh episode, titled 'Dress Me Up! Dress Me Down,' opens with Audrey telling Julien about her father, Will, and his girlfriend, Jessica, arriving in town for a few days. Audrey is nervous about meeting Will and Jessica, given their history with her mother, Kiki. Therefore, Audrey asks Julien to accompany her to breakfast with them. Meanwhile, Georgina Sparks calls Kate and lays out the plans for Gossip Girl's future. She asks Kate to birth a new rivalry that will mirror Serena and Blair's rivalry.
Zoya tries to thank Monet for helping her with the sex tape scandal. However, Zoya runs into Monet's mother, Camillie de Haan, who takes an interest in Zoya. At breakfast with Will and Jessica, Julien is overprotective of Audrey. However, Jessica privately convinces Julien that she is sorry for the past and has Audrey's best interests at her heart. Max fails to impress Will and feels rejected by his girlfriend's father. Will reveals that he is proposing to Jessica, but Audrey asks him to postpone the engagement as the news could derail Kiki's fashion line debut at an awards show.
Kate meets Wendy, and they discuss triggering a rivalry between Julien and Audrey to please Georgina. At Constance Billard St. Jude's School, Camillie approaches Zoya and takes her out for lunch. She asks Zoya to be Monet's replacement at the upcoming awards shows. Kate and Wendy manufacture posts to drive a wedge between Julien and Audrey. Gossip Girl uses fake evidence to prove that Julien knew of Will and Jessica's affair before Will separated from Will, leading to an argument between Julien and Audrey.
Elsewhere, Obie meets with his sister, Heidi, and encourages her to turn on their mother. Obie uses Heidi's help to access Helena's account statements which will prove that she paid the engineers to get clearance on the land in Jakarta. Max meets Will and tries to impress him but fails. To clear the misunderstanding between herself and Audrey, Julien reveals that she was working with Gossip Girl to spread lies throughout the semester. However, the revelation further enrages Audrey.
Jessica asks Julien to do a Stop the Story interview with her so that she can apologize to Kiki. However, during the interview, Jessica accuses Kiki of stealing her designs. The negative PR leads to Julien contacting Eleanor Waldorf to do damage control before Kiki's fashion line launch. Meanwhile, Obie shares the account statements with Gossip Girl and asks the blogger to share them before Helena can leave the country, which will cause her downfall.
Meanwhile, Georgina meets Jordan and instructs Kate to cause a public falling out between Julien and Audrey at the event. She also posts on Gossip Girl, promising a stellar revelation at the award show, increasing the pressure on Kate. Zoya doubts Camille's intentions but decides to attend the event anyway. At the awards show, Julien arrives wearing one of Kiki's dresses to clear the air about the claims of plagiarism. Monet tries to insult Zoya for replacing her by texting Gossip Girl about Zoya's sex tape. However, Gossip Girl reprimands Monet for sex-shaming Zoya.
Gossip Girl Season 2 Episode 7 Ending: Does Georgina Leave Gossip Girl?
Jordan acts as Georgina's proxy and suggests using drugs to cause an illicit affair between Aki and Julien, leading to Audrey and Julien's falling out. However, Jessica arrives at the event wearing the same dress as Julien. When Julien unveils her dress against Audrey's advice, it proves Jessica's claims against the designer. As a result, Kiki's fashion line fails before it can be launched, destroying her career. Audrey and Julien have a public falling out, and Audrey cuts Julien out of her life.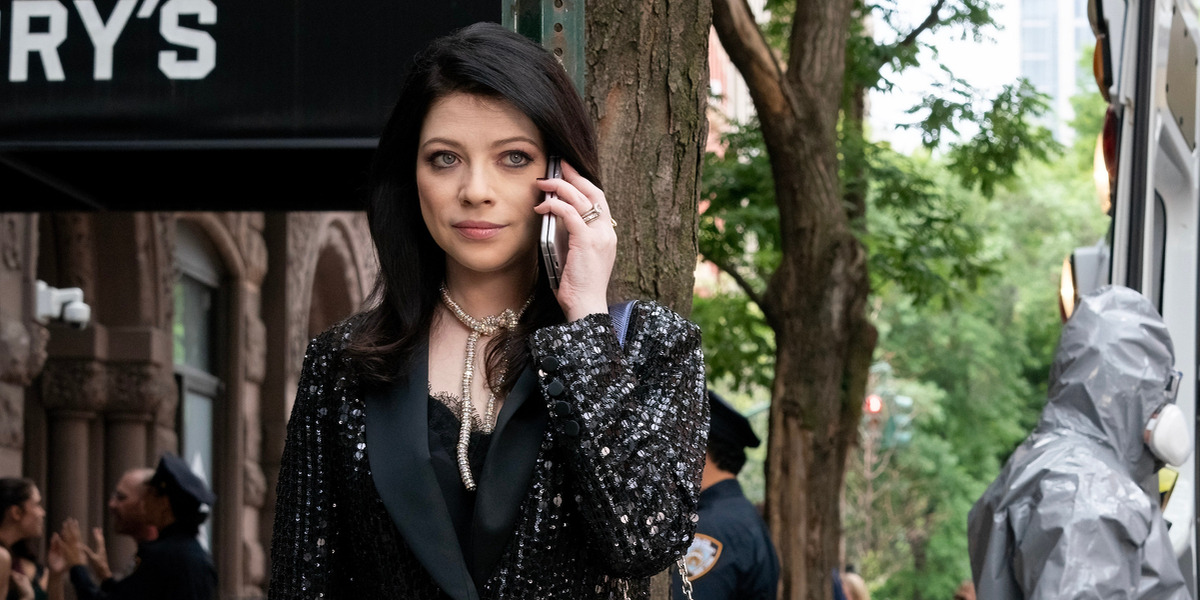 Consequently, Kate and Wendy's plan succeeds without destroying Aki and Audrey's relationship. However, Kate is still concerned about Georgina's involvement in Gossip Girl. Therefore, Wendy comes up with a plan to get rid of Georgina. Kate kisses Jordan and posts it on Gossip Girl, tainting the page's reputation. As a result, Georgina is no longer interested in using Gossip Girl for her benefit. On the other hand, Kate realizes that she has feelings for Jordan and tries to confess. However, Georgina reveals that she slept with Jordan, thus making Kate's feelings for Jordan irrelevant.
Ultimately, Kate succeeds in getting rid of Georgina. However, she can no longer act on her feelings for Jordan. Nonetheless, Kate realizes that she is not using Gossip Girl to its full potential and decides to follow in Georgina's footsteps. She texts Obie as Gossip Girl and agrees to work with him to take down Helena. The episode ends with Obie receiving Gossip Girl's text after he sleeps with Julien, implying that they might be getting back together.
Read More: Gossip Girl Season 2 Episode 6 Recap and Ending, Explained