Investigation Discovery's 'The Night That Didn't End: Murder on the Reservation' chronicles the brutal sexual assault and murder of 21-year-old Hanna Harris, a Northern Cheyenne tribe member, in Lame Deer, Montana, on the 2013 Fourth of July. Because of what happened to her and the lack of resources and help when it comes to other native women like her, Senator Steve Daines announced in 2018 that May 5 would be the National Day of Awareness for Missing and Murdered Native Women. If you're curious to learn more, here's what we know.
How Did Hanna Harris Die?
Hanna DeAnn Harris was born to Malinda Harris and Sam Long in Billings, Montana, on May 5, 1992. When she was only one year old, she survived the tornado that hit her home on July 20, 1993. She attended Hardin Middle School, where she graduated from the eighth grade, and later graduated from Billings West High School in 2010. Hanna was raised learning Northern Cheyenne traditions and had an assertive Catholic upbringing. Her confirmation sponsor in the Catholic Church was Thelma Fisher. She also enjoyed peyote meetings and sweats.
She belonged to a large family that taught her family values and love, offering a helping hand wherever she went. Whenever she got the chance, Hanna traveled to Pine Ridge to see her dad, grandmother, and other paternal relatives. She was always very proud to say that she was also Lakota. She was her Grandpa Ray's baby girl. They would attend Sweat Lodge, High School Ball games, and drive around. On July 4, 2013, the 21-year-old left the Northern Cheyenne Indian Reservation to join the Independence Day celebration in Lame Deer, Montana.
Tragically, she never made it back home after watching the fireworks. Her immediate family promptly reported her as missing, but local law enforcement initially did not give her disappearance the attention it deserved. Four days later, a volunteer search team discovered her severely decomposed remains amid the scorching summer conditions of the Great Plains. Due to the advanced state of decomposition, forensic experts could not determine if she had suffered sexual assault or the exact cause of her death. Her son was ten months old when she died.
Who Killed Hanna Harris?
Hanna's last known whereabouts were on July 4, 2013, when she left home to join friends for drinks and to watch fireworks. A member of the Northern Cheyenne tribe in Montana, her family became deeply concerned when her car was discovered abandoned on the roadside with two flat tires. Tragically, local law enforcement initially did not treat her disappearance with the urgency it warranted. As a result, her vanishing went largely unnoticed until her remains were discovered on the Rodeo Grounds within the Northern Cheyenne Reservation on July 8.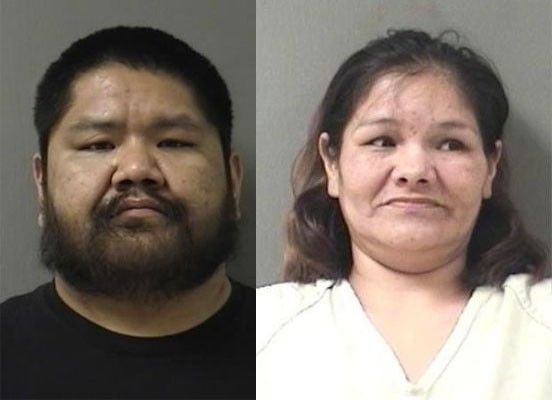 A combination of factors, including a shortage of police personnel due to the holiday and uncertainty regarding the status of the 21-year-old woman as a missing person, resulted in the loss of valuable time and manpower in the search for Harris. However, by the time the search party found the body, Hanna's remains had undergone significant decomposition. Even though her clothing had been partially removed, forensic evidence could not conclusively establish whether she had been sexually assaulted.
But the perpetrators — Garrett Wadda and his common-law wife, Eugenia Rowland — would later admit to rape. Around nine months after she was reported missing, they were arrested and charged with her murder in March 2014. Before the arrest, mounting frustration with the sluggish progress of the investigation prompted hundreds of individuals to gather at a rally on the southeastern Montana reservation. At this event, they passionately called for justice on behalf of Native American victims whose murders remained unsolved across the United States.
Authorities stated Eugenia, then 42, and Garrett, then 36, had been drinking with Hanna on July 3-4, 2013. According to documents filed by prosecutors, Eugenia described the killing to her sister-in-law, Joy Means, while staying at a flop house in Rapid City, South Dakota, in January 2014. The show noted the trio had been staying in a trailer, and Eugenia had blacked out from drinking. Joy told the investigators that Eugenia was awakened by Hanna screaming that Garrett was raping her in another room.
Eugenia stated that she initially attempted to assist Hanna, but a physical altercation ensued in which the 21-year-old struck her. This altercation enraged Eugenia, leading to her and Garrett beating Hanna until she was unconscious. Court reports stated Eugenia told her sister-in-law that they subsequently wrapped Hanna's lifeless body in a sheet and transported it outdoors. Though she admitted to moving the body, Eugenia denied harming Hanna. Garrett was initially charged with murder and aggravated sexual abuse.
Where Are Garrett Wadda and Eugenia Rowland Now?
Eugenia Ann Rowland, of Pine Ridge, South Dakota, pleaded guilty to second-degree murder in late 2014 — just days before her case was to go to trial. She was sentenced to 22 years on February 12, 2015. Garrett Sidney Henderson Wadda, originally of Fort Washakie, Wyoming, pled guilty to being an accessory after the fact for moving Hanna's body on June 4, 2015. Members of Hanna's family criticized the plea deal. His defense counsel requested six-and-a-half years, while the prosecution lobbied for 15 years — the maximum sentence allowed.
Garrett's defense attorney, Vernon Woodward, said his client was passed out when Hanna was killed, and there was no evidence to support Eugenia's statements that he beat the victim before her death. He added, "This girl's family believes he is equally responsible. The government couldn't prove anything, or we wouldn't be in this situation." He was ultimately handed a ten-year sentence in mid-2015. Eugenia, 51, is serving her sentence at FCI Waseca and will be released in May 2033. Garrett, 44, was released from federal prison on January 19, 2022.
Read More: Malquan King and Arelius Hassell Murders: Where is Michael Nolt Now?