Police Officers in Maple Shade, New Jersey, were shocked when Sasikala Narra and her son, Anish Narra, were found murdered inside their apartment. Though Sasikala's husband, Hanumantha Rao Narra, was the one who informed the police after discovering the bodies, he became the primary suspect during the initial investigation. 'Strangeland: Murder in Maple Shade' takes the viewer through the brutal double homicide and portrays how law enforcement officers tried their best to bring the perpetrator to justice. However, if you are interested in the details surrounding the case and want to find out where Hanumantha Rao Narra is at present, we have you covered.
Who is Hanumantha Rao Narra?
Originally from the village of Timmarajupalem in Andra Pradesh, India, Hanumantha resided in a Maple Shade apartment with his wife, Sasikala, and their six-year-old son, Anish. While she was a native of Vijayawada, India, the couple moved to the United States for work and settled in New Jersey. Besides, their son, Anish, began attending Our Lady of Perpetual Help School and was described as a brilliant student with a bright future.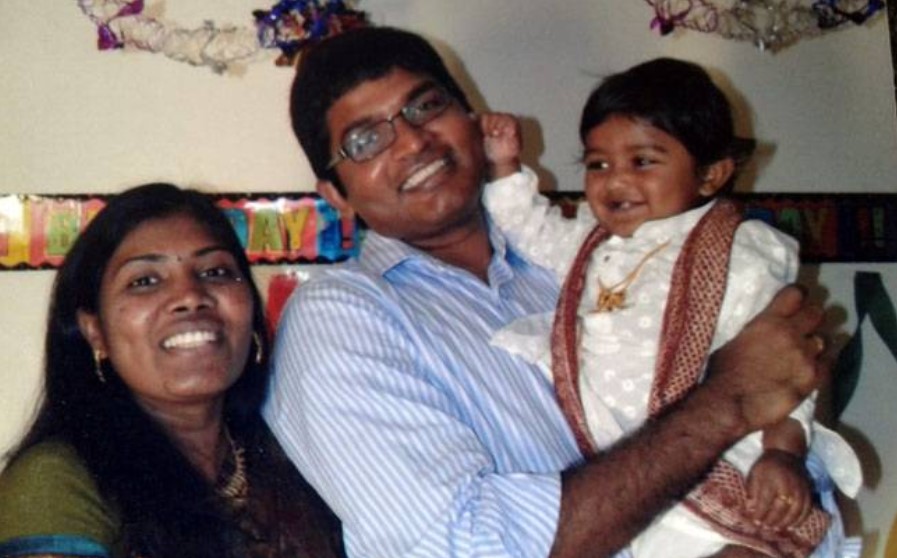 On March 23, 2017, Hanumantha returned home from an after-work party only to find the apartment completely dark and silent. He used his own key to go in and was greeted by the horrific sight of blood splatters all over the walls. Investigating further, he found his wife lying on the bed in a pool of blood while six-year-old Anish lay bleeding and unresponsive close by. Hanumantha called the police immediately after discovering the bodies, and the neighbors came over once they heard his frantic cries.
Even first responders who rushed to the scene claimed that the husband appeared devastated and could not bear to look at his deceased family. Subsequently, Sasikala and Anish were declared dead on the spot, and an autopsy determined that they had been stabbed multiple times to death. The initial investigation into the murders was quite challenging as the police did not have much information to go by. Still, they thoroughly searched the apartment, and since there was no sign of a forced entry, burglary as a motive was ruled out.
Interestingly, a neighbor named Abdul Salam shed further light on the situation as he claimed that Sasikala and Hanumantha had an extremely rocky relationship. He insisted that the latter would often scream at his wife when they fought over minor issues, and she was not allowed to sit beside him during car rides. Besides, Abdul mentioned that he found Sasikala quite sad in the days leading up to the double homicide, and it seemed like something was wrong.
Where Is Hanumantha Rao Narra Today?
Considering Abdul's statement, the police questioned Hanumantha, who immediately insisted on his innocence. He even claimed he was at an after-work party during the murders, and his co-workers corroborated the alibi. Although some, including Sasikala's family, insisted that Hanumantha was having an extramarital affair with a different woman, it has never been proved beyond a doubt. Furthermore, there is no evidence that such a woman was behind the homicides. Nonetheless, with no evidence to tie Hanumantha to the crime, law enforcement officials were forced to let him go.
Following Sasikala and Anish's murders, Hanumantha resided in his friend's house for a while before moving to Englewood, Colorado. In addition, about 46 days after his wife and son died, he filed a claim hoping to collect the life insurance policies for Sasikala and Anish. The policies totaled around $1 million; Hanumantha was the sole beneficiary, yet the insurance company refused to hand him the money because the police hadn't made an arrest yet.
Not just that, New Jersey's slayer statute prevents a person from benefitting financially from a death he is responsible for, so the judge ordered the court to hold the insurance money in escrow. Hence, even though the investigation into Sasikala and Anish's death is ongoing, Hanumantha Rao Narra currently resides in Parker, Colorado, and the police mentioned that he has been cleared of all suspicion.
Read More: Sasikala and Anish Narra Murders: How Did They Die? Who Killed Them?