Netflix's 'Happiness for Beginners' is a romantic comedy movie directed by Vicky Wright that revolves around Helen, a freshly divorced teacher who has just touched 40. Tired of her troubled circumstances, she decides to take a break from it all and reset her life by attending a wilderness survivalist course on the Appalachian Trail. As she arrives to meet with the rest of the hikers, she realizes that Jake, her brother's best buddy, is also participating in the hiking camp.
Thus commences Helen's bittersweet journey into the wild as she learns the value of gratitude and acceptance while getting a possible second chance at love. In the movie, the hiking group arrives at a breathtaking spot called "The Painted Meadow," which plays an integral part in the story. Given the realistic and detailed depiction of outback life in the movie, many are left wondering if such a meadow exists in real life. Well, let's find out more, shall we? SPOILERS AHEAD.
Is the Painted Meadow a Real Place?
As much as viewers would like to believe, sadly, "The Painted Meadow" is fictional and cannot be found in the real world. In 'Happiness for Beginners,' Helen embarks on a hiking trip and attends a wilderness survivalist course on the Appalachian Trail. Along with eight other hikers and an instructor named Beckett, she crosses multiple creeks, rivers, and challenging trails, and they eventually arrive at the final point of their hike — a breathtaking scenic spot that Beckett calls "The Painted Meadow."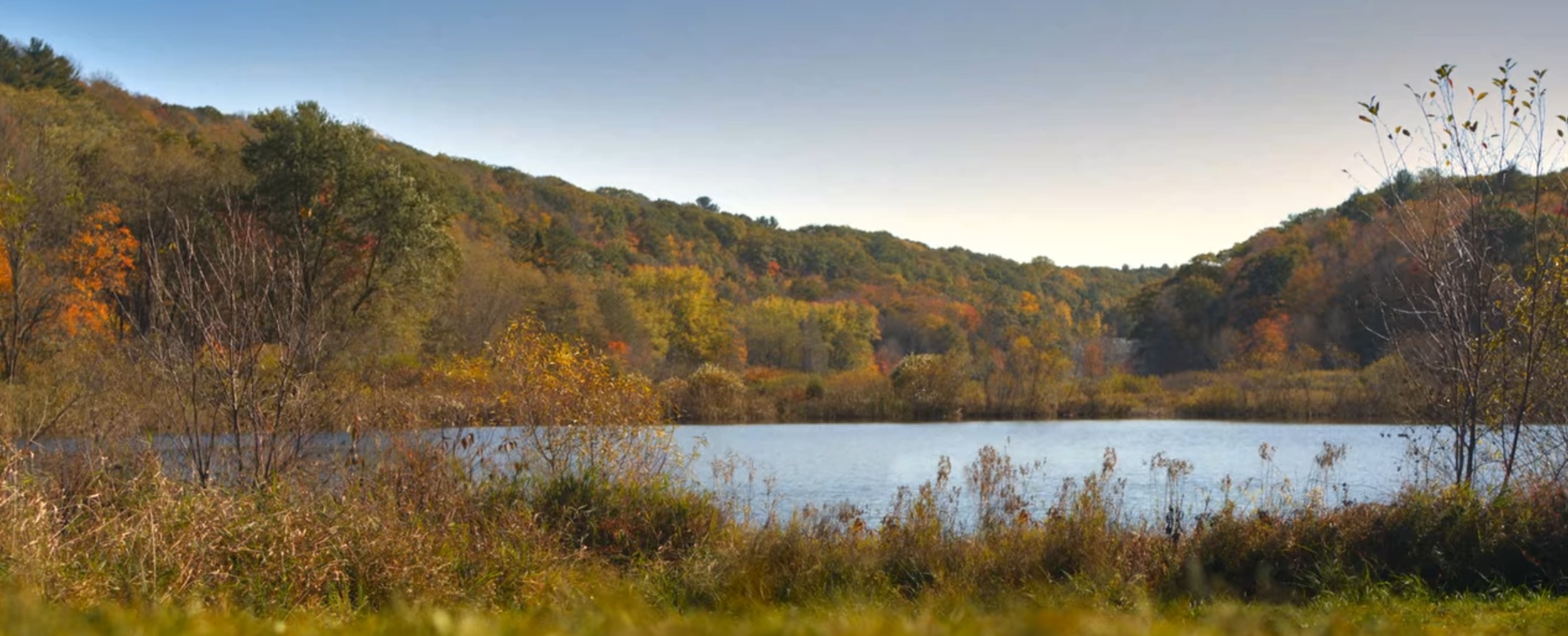 Adorned with bright wildflowers and a beautiful riverside for camping, the place looks exactly like a scene out of a landscape painting, and hence it is named so. In the movie, Helen goes on the Appalachian National Scenic Trail, a visually stunning hiking trail that passes through fourteen states. As the name suggests, it has beautiful creeks and grassy valleys boasting picturesque mountain views. On the contrary, Katherine Center's book, 'Happiness for Beginners' is originally set in Wyoming, surrounded by several hiking trails and open prairie land, creating the perfect backdrop for Helen's journey of self-discovery.
Thus, the book and the movie's "The Painted Meadow" exists in two different locations, and while it is fictional in both cases, it represents the scenic beauty of such hiking trails in general. Interestingly, the makers of the Netflix movie took a different approach from the book while filming and did not visit Wyoming. Instead, the cast and the crew shot the entire movie in and around Stamford, Connecticut. In an interview with Shondaland, Ellie Kemper, who plays Helen in the movie, shared how they lensed the bits involving the wilderness.
"We shot it in Stamford, Connecticut, and a lot of the cast was New York-based, but they put everybody up at a hotel-type facility… What was really incredible is that a lot of that was right outside Stamford. It was an eye-opener for me that to escape to nature, you don't really have to go that far from New York City. Central Park is already in itself an oasis. But if you want more nature, it's an hour outside the city. And then we did go a little bit further north in New York for parts of it…We went to Bear Mountain, and these places are really accessible from the city," stated the actress.
As we can see, "The Painted Meadow" is not a real place but plays a pivotal role in the movie, as it helps Helen ponder how far she has come and allows her to bond with nature and with her groupmates, including Jake. On top of it, Beckett shares how he visited the place as a child with his father, and the meadow is his favorite place on earth. Indeed, the visual beauty of the creek does justice to its name and also creates the ideal setting for Helen and Jake's love to blossom, as they end up sharing an emotional moment there, which becomes pivotal in the narrative.
Read More: Does Jake Become Blind in Happiness for Beginners?