In 'Horimiya: The Missing Pieces' episode 11 titled 'Chocolate,' Miyamura and Hori along with their friends start preparation for Valentine's Day. Meanwhile, one of Sawada's classmates asks her to help her gift chocolates to Shuu, as she appears to have a crush on him. In preparation for Valentine's Day, Hori starts practicing to make something for Miyamura but feels overwhelmed as her boyfriend has a cake shop and she feels that she can never make something better than him. Here's everything you need to know about the ending of 'Horimiya: The Missing Pieces' episode 11. SPOILERS AHEAD!
Horimiya: The Missing Pieces Episode 11 Recap
Since Valentine's Day is coming, everyone is quite concerned about the gifts they will give to their lovers. Miyamura is no different and he takes Sawada's advice to clear his confusion. Sawada tells him that he needs to make sure that the gift's wrapping is aesthetically pleasing- something that Miyamura has not been taking seriously until now. The following day at the school, Remi asks Hori if she is getting a gift for Miyamura.
To her surprise, Hori reveals that she is not getting one for Miyamura since his family owns a cake shop. It turns out she is unsure of making a dessert better than her boyfriend. The last time she made a cake, it was so bad that she seemed to have no confidence in trying again. However, Remi and Sakura motivate her to do something as they argue that Miyamura will really praise her for her efforts alone.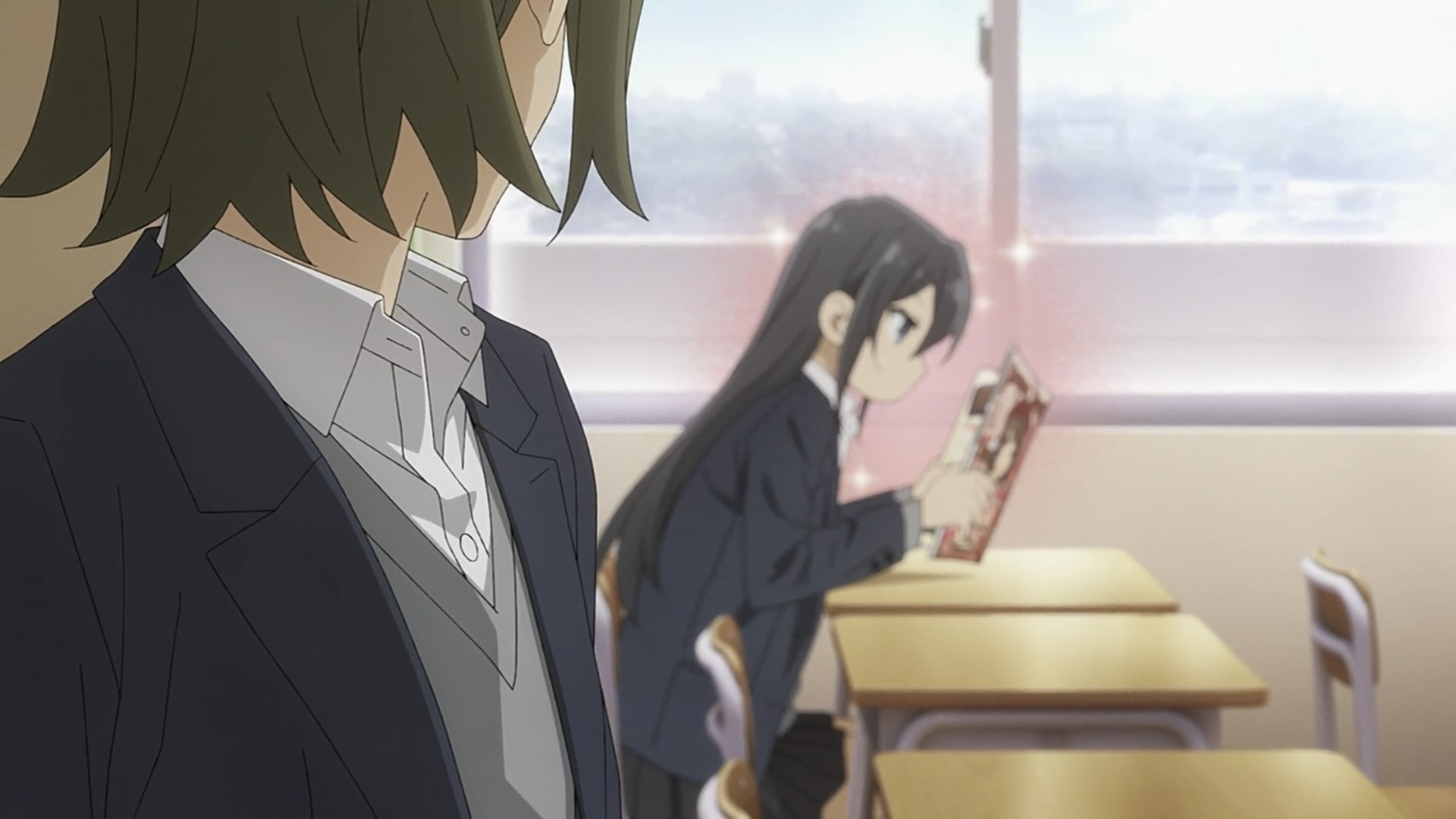 Later that day, Sawada is approached by her classmate who wants to give Iura some chocolates on Valentine's Day. In order to help her, she approaches Shuu and asks him what he likes. This initially gives his friends the wrong idea but when questioned, she is quick to clarify that she will never give Shuu chocolates. Naturally, this confuses Iura, who is unsure why she asked him about his preference in the first place.
In preparation for Valentine's Day, Hori starts baking a dish for her family. When her brother eventually gets to taste it, he tells her that it is not good. Later she discusses the same with Sakura to get her advice. On Valentine's Day, Miyamura interestingly brings gifts for all his friends, making sure that everyone's day is a good one.
Horimiya: The Missing Pieces Episode 11 Ending: Does Miyamura Like the Valentine's Day Gift? Does Sawada's Friend Give Chocolates to Iura?
Later that evening, Miyamura and Hori finally meet each other at the apartment. Naturally, the latter is quite nervous as she has been preparing for this moment for quite some time. She has done her best but is not sure whether Miyamura will like the gift she baked for him. When they finally sit down together, Miyamura serves Hori a chocolate dessert that looks and smells wonderful. When Hori eventually gets to taste it, she is amazed by how delicious they are. This makes her even more nervous since she is not sure that her dessert will even compare to her boyfriend's.
Miyamura mentions that he was not that worried about the taste of the dessert that he made but was instead unsure of the wrapping. This reminds Hori that she even forgot to wrap her gift. She eventually gathers courage and hands over the chocolate ganache she made for Miyamura. To her surprise, Miyamura quickly eats more than half of it without complaining about the taste. He then replies affirmatively when Hori inquires if he likes it. According to Miyamura, the chocolate ganache is sweet enough and he serves some to Hori as well. Miyamura found it cute that Hori was so worried over the present for nothing.
Around the same time, Sawada finds her friend in one of the school rooms with the box of chocolates she has purchased for Iura. It is quite obvious that she could not muster the courage to give it to him. She naturally looks really disappointed and in order to cheer her up, Sawada tells her that she can give the chocolates to her instead. However, she goes a step further and hands over a box of chocolates to her friend as well, showing how thoughtful she is about her feelings.
Read More: Is Horimiya: The Missing Pieces on Netflix, Hulu, Crunchyroll, or Funimation?