Romance is an inseparable part of Bollywood's history and it is quite evident from the number of romantic comedies or romantic dramas that pop out every year out of Bollywood's popcorn entertainment machine. Mushy, coming-of-age or off beat, romance rules supreme in the Hindi filmdom.
Some filmmakers are bold enough to present various shades of romance through their films and in doing so they don't shy away from showing the physical act of love in all its glory. In its own pseudo liberal ways Bollywood has time and again taken the help of kissing scenes to tell stories of passion and desires. We have a long way to go before we get our own 'Fifty Shades of Grey' but till then enjoy a list of the best kisses in the history of Bollywood.
15. Kamal Haasan and Rani Mukerji in 'Hey Ram'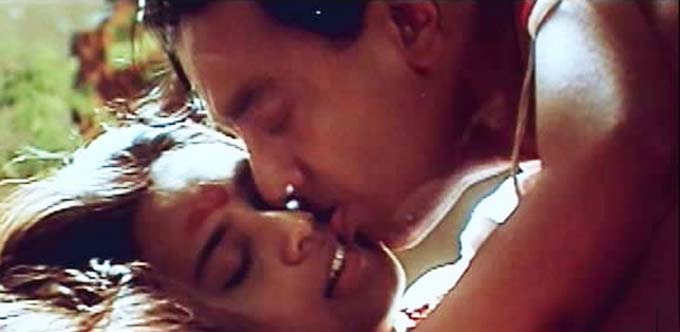 It was the unlikeliest of film to have a kissing scene and that too between an odd couple – Kamal Haasan and Rani Mukerji. However there was one thing in common between both of them and i.e. supreme talent. Their kiss was an organic one, not commercial or a last-minute decision to boost ticket sales. Both the actors displayed the right amount of passion and an appropriate body language, which was enough to take the audiences on a flight of fantasy. Their kiss naturally went on to become the talk of the town and definitely helped in promoting the gem of a film that it is.
14. Mahi Gill and Randeep Hooda in 'Saheb, Biwi aur Gangster'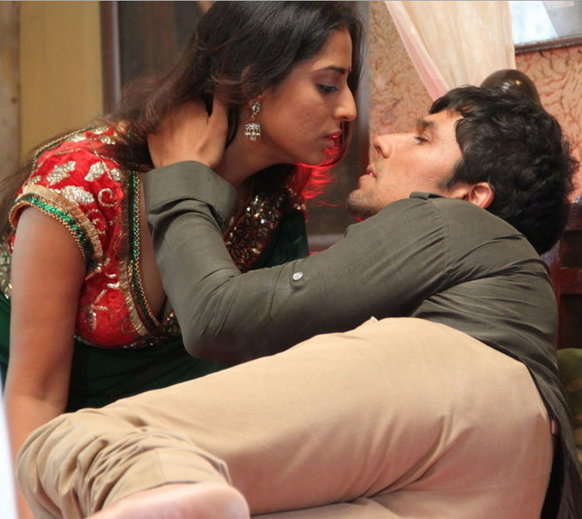 There's an undeniable raw sexual chemistry between them and the steamy scenes in the film are a living proof of that. And the good thing is that they share a lot of intimate moments during the course of the film and the audiences are spoilt for choice. Mahi Gill in her capacity as a cheating wife and Randeep Hooda as a brooding young man who is willing to do anything to climb up the social ladder heats up the screen with their burning desires that hides more than it reveal. Director Tigmanshu Dhulia made sure that their clandestine affair gets ample screen time so that the audiences get what they came for in the first place.
13. Hrithik Roshan and Katrina Kaif in 'Zindagi Na Milegi Dobara'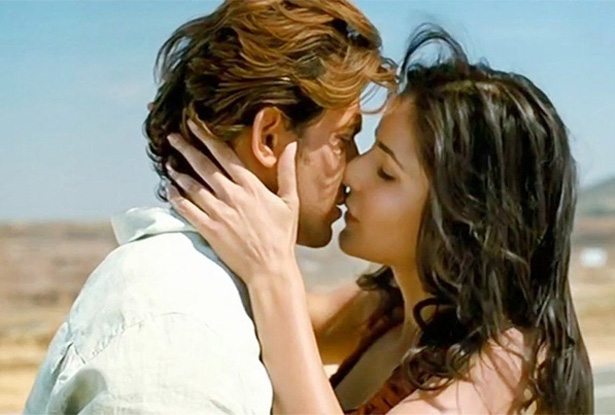 Theirs has to be the coolest on-screen kiss in the history of Bollywood. Katrina rides a bullet just to catch a glimpse of Hrithik before he leaves and initiates a lip lock. Needless to say the kiss became one of the highlights of the film. Hrithik and Katrina are two of the finest looking actors in the Hindi filmdom and their physical perfection is so captivating that you cannot help but fall for them. They share a casual chemistry which only makes their appeal au naturel. They shared a kiss together in 'Bang Bang' too but the one in 'Zindagi Milegi Na Dobara' easily takes the cake.
12. Ranveer Singh and Anushka Sharma in 'Band Baaja Baaraat'
Those who have seen the film will agree with the fact that a kiss between them was long overdue. It was a spur-of-the-moment kiss and was totally worth it for the audience. Ranveer Singh and Anushka Sharma share a nonchalant camaraderie which forms the crux of their relationship from friends to business partners to eventual lovers. Singh in his debut film wasn't at all uncomfortable in courting the lovely Anushka and a proverbial kiss seals their relationship as lovers forever in the film. The fact that they went out with each other in real life too is hardly surprising to anyone.
11. Kareena Kapoor and Shahid Kapoor in 'Jab We Met'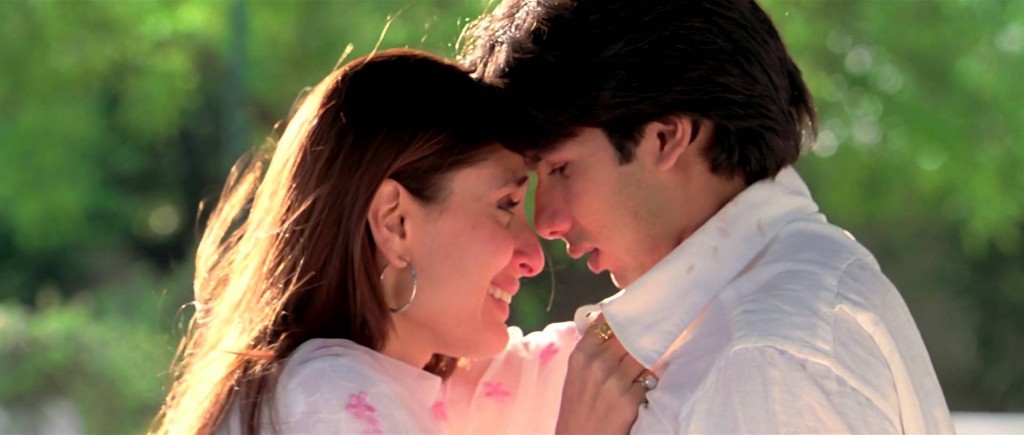 The film released at a time when the rumours of their break up was doing the rounds. Before 'Jab We Met' Kareena and Shahid had shared screen space in three films – 'Fida', '36 China Town' and 'Chup Chup Ke' – but none of them clicked either commercially or emotionally. 'Jab We Met' proved to be the perfect farewell to their much publicized relationship. Everything fell into place with the film; the story, music and the romantic narrative. And that heartwarming kiss in the climax was a total paisa vasool. You could almost feel their longingness and anticipation to be together. The boundaries of real and reel life got blurred in that particular moment and we got one of our favourite Bollywood moments of all time.
10. Kangana Ranuat and Emraan Hashmi in 'Gangster'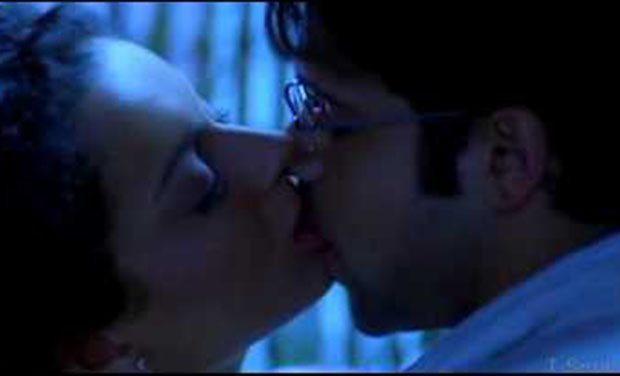 When the serial kisser of Hindi films met Bollywood's literally most daring actress in her debut film some kissing action was bound to happen. Theirs was a passionate, almost forbidden love affair in the film and the kiss comes at a very romantic juncture in their relationship. The otherwise brazen Emraan Hashmi considerably toned down his enthusiasm here but the magic was palpable as the audience fell in love with their chemistry and the film in general. Kangana was quite confident in her first film itself to carry off risqué scenes with the body language of a veteran. There was vulnerability in her role and that combined with Hashmi's flirtatious charm was enough to do the trick.
9. Vidya Balan and Sanjay Dutt in 'Parineeta'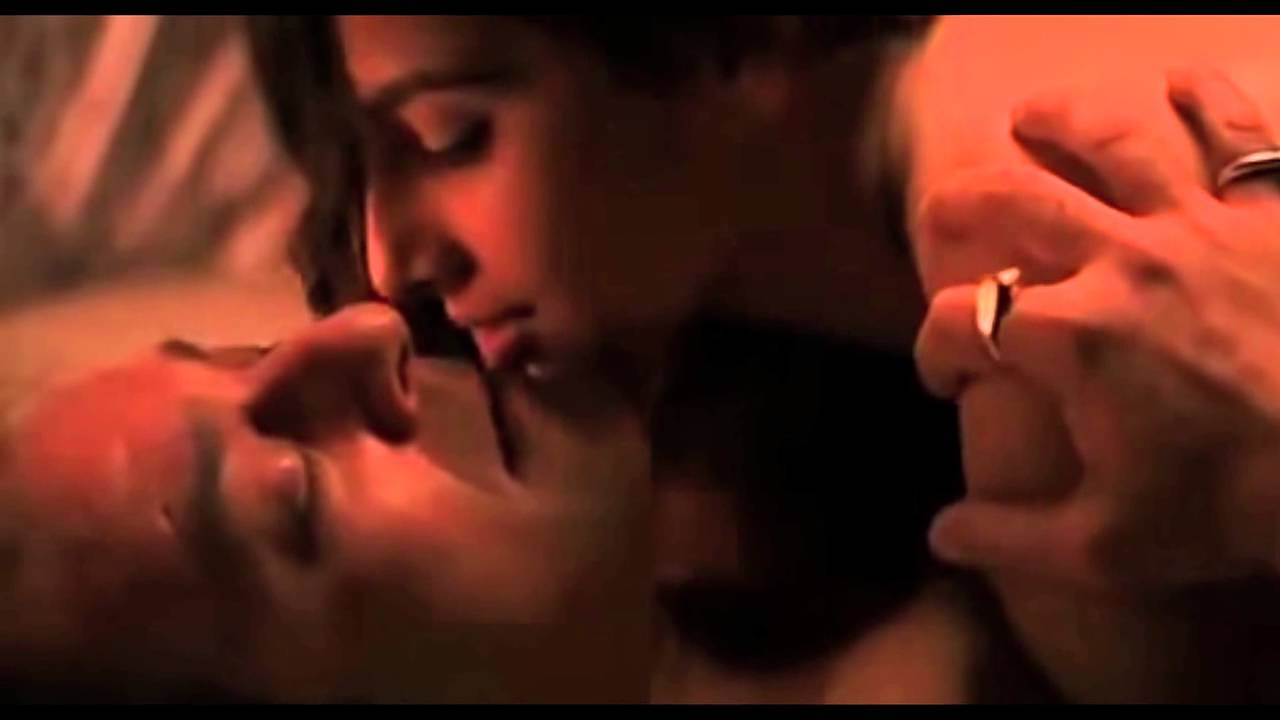 Vidya Balan made a very sartorially demure debut with 'Parineeta' but there was enough spark in her demeanour to set the screen on fire. Her kiss – more of a love making scene – with Sanjay Dutt was authentic and devotional, the kind that one cannot fake even if it is acting in front of the camera. Balan is known for pushing the envelope every time she takes up a challenging role and that was quite evident in her debut feature too. Sanjay Dutt was on the other hand went along quite mechanically about the scene; which he admitted in a magazine interview later. But the Vidya made sure that it became a talking point of the film with her natural sex appeal.
8. John Abraham and Bipasha Basu in 'Jism'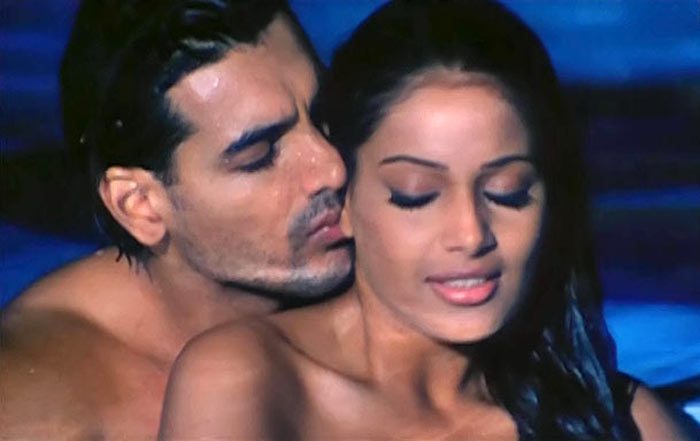 It's difficult to choose one steamy kiss featuring them as the entire film was a montage of their physical expression of love. Not that anyone is complaining though. Bipasha ushered in a new era of sexuality in Bollywood with her dusky skin and body-confident sexuality. John was the only one who could match her in terms of both looks and sex appeal. When producer Pooja Bhatt decided to cast them together in 'Jism' it was a casting coup made in fantasy heaven. And they didn't appoint. Not at all! 'Jism' is the ultimate Bollywood erotica with substance to boast of. The song 'Jadu Hai Nasha Hai' can still give goosebumps to millions of their fans out there.
7. Himanshu Rai and Devika Rani in 'Karma'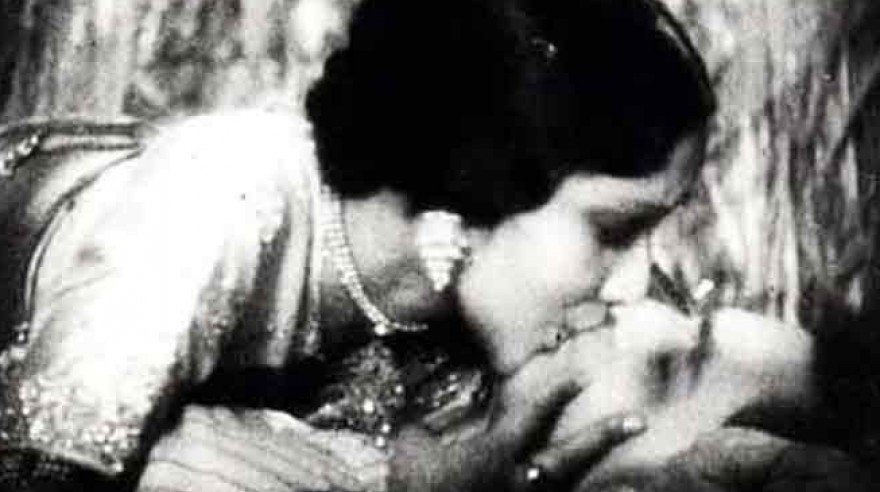 They were considered the 'it' couple of Bollywood in the early days of Indian cinema and continues to intrigue us even after so many years. Their importance can be measured from the fact that they got a mention in this year's 'Rangoon'. As actors they were at the top of their games but their continued public interest lies in the fact that they were the first Indian screen pair to kiss on-screen. And it was no ordinary kiss. It had a running time of four minutes and is considered to be the longest ever in Indian cinema, so far. It helped that they were real life husband and wife and whatever people saw on the screen was real fire and passion.
6. Zeenat Aman and Shashi Kapoor in 'Satyam Shivam Sundaram'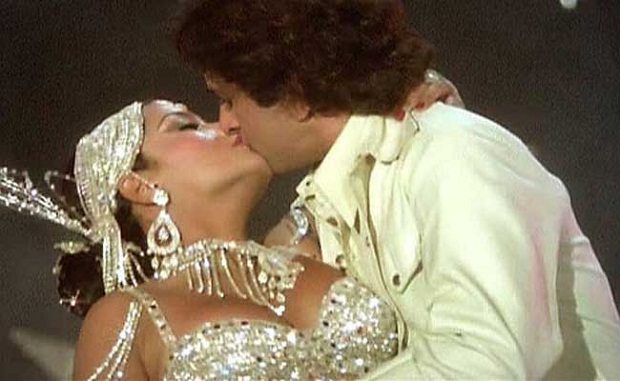 Raj Kapoor is legendary when it comes to depicting his leading ladies in a sensual manner. His collaboration with Zeenat Aman was a much talked about one; she being the hottest Indian actress of the 70s. She was cast opposite Shashi Kapoor and they with the help of Raj Kapoor's balanced direction they unleashed an array of love, devotion and desire on-screen. There is something spiritual about their love, even when they kiss to express it. It was a love of the purest form. Those who have watched the film will vouch for it. Zeenat Aman looked stunning despite playing a girl with a disfigured face and Shashi Kapoor's undeniable acting chops aptly complemented her earthly charms.
5. Madhuri Dixit and Vinod Khanna in 'Dayavan'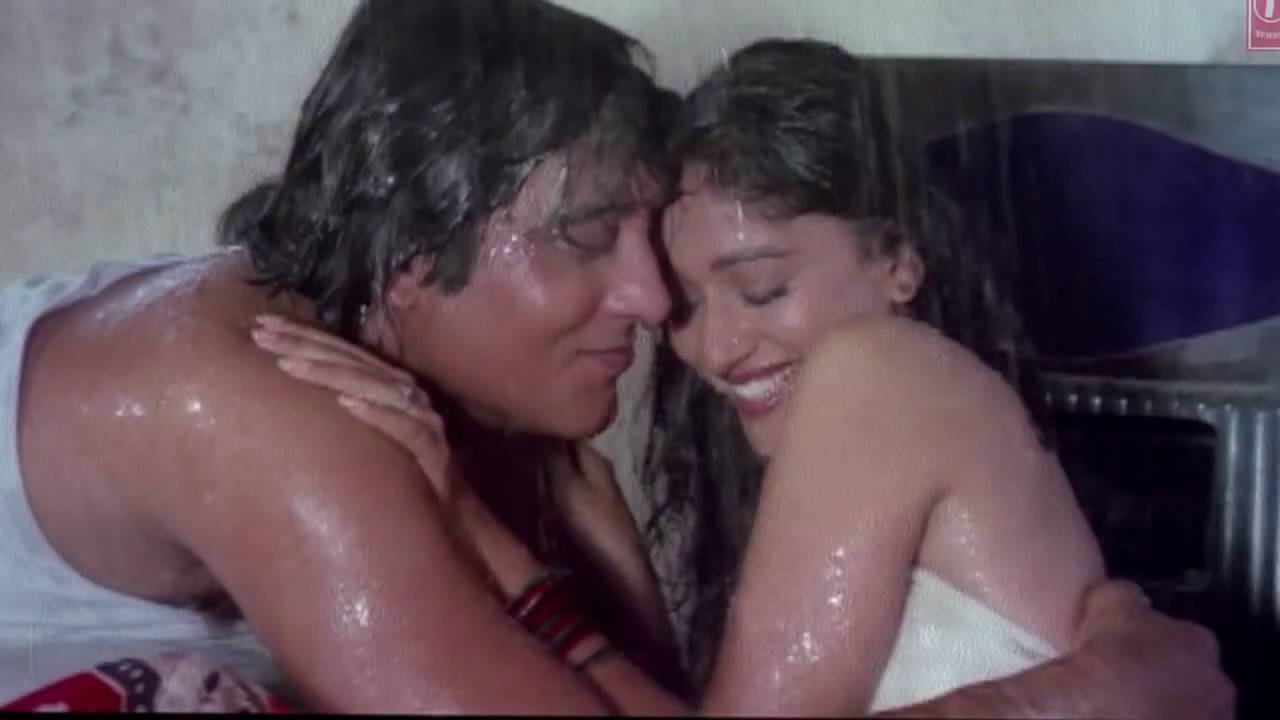 Vinod Khanna was already ruling the roost when he was paired opposite a rising star Madhuri Dixit in Feroze Khan's 'Dayavan'. Khan was known for making his actresses look glamorous on-screen; be it wearing a swim suit or making them gyrate seductively. In this one he shot a long love-making scene between his lead pair which set a lot of tongues wagging. In her own words Madhuri did the scene as she had no idea that one could always say no. If there was any discomfort between the actors while filming it, it clearly didn't show on the screen. Despite their age difference there was an inimitable chemistry which added oomph to the scene.
4. Mallika Sherawat and Himanshu Malik in 'Khwahish'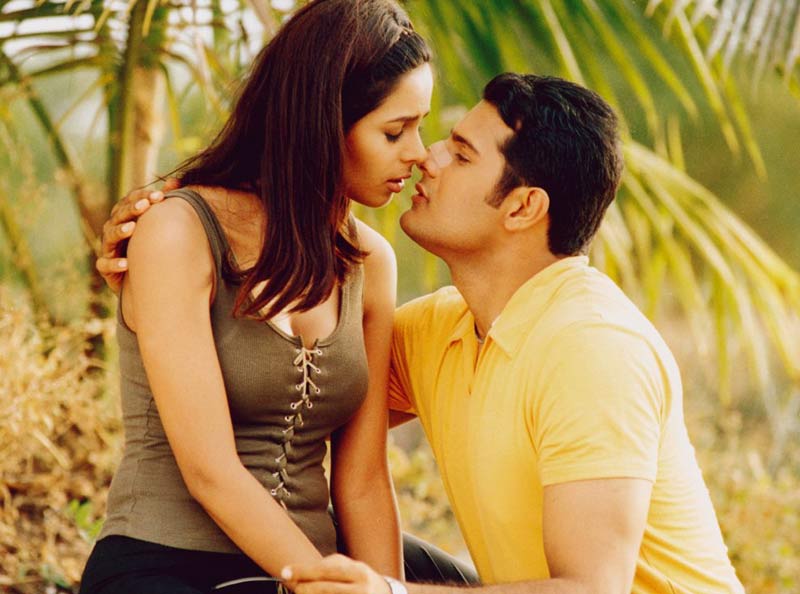 It's not possible that you compile a list of the best kisses in Bollywood and Mallika Sherawat doesn't feature in it. Before she took the nation by thunder with her sizzling sexy act in 'Murder' she showed promise of a sexy future in a relatively small film called 'Khwahish'. Utterly forgettable but the film got etched in the history of Indian pop culture for featuring 17 kisses in a beach scene. Needless to say that it dominated gossip columns for months and turned Mallika into a sex symbol overnight. The impact was larger because no one expected such oomph from a then unknown newcomer.
3. Emraan Hashmi and Mallika Sherawat in 'Murder'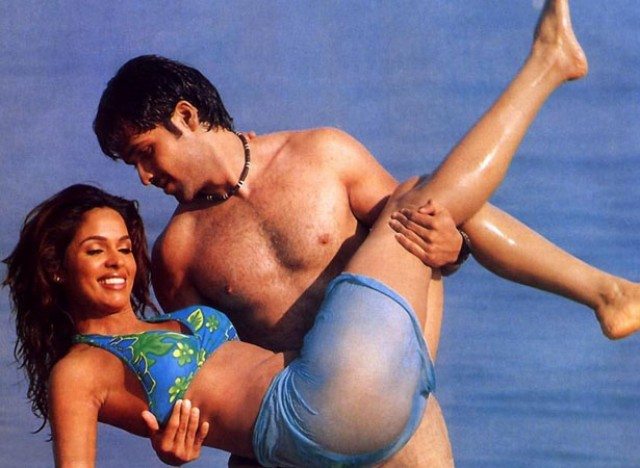 'Murder' is the film that facilitated the sexual wakening of an entire generation. It was an exact copy of the Hollywood hit 'Unfaithful' including the steamy sex scenes. Mallika Sherawat left no stone unturned to sink her teeth into the role of an adulteress who seeks sexual and emotional satisfaction outside her marriage, in the arms of an ex flame. Emraan Hashmi's devilish innocence combined with a raw sexual energy complemented her in frame to frame. No one had seen such liberating display of sexuality in a top-notch Bollywood movie before and the audience welcomed the new change with open arms. Emraan and Mallika both became stars and the former earned the title of 'serial kisser'.
2. Hrithik Roshan and Aishwarya Rai in 'Dhoom 2'
It was a classic case of a Greek god romancing an Indian goddess. The producers of the film 'Yash Raj Films' very secretly guarded every detail of their film and released minor details one by one thus adding to the excitement and anticipation of the film. And to be honest no one expected a kiss between Hrithik and Aishwarya given their prim and proper on-screen and off screen image. Probably that's why the kiss became so special and timely. Legal notices were sent and false rumours were cooked up as to how the Bachchans were infuriated with their soon-to-be daughter-in-law. The impact of the kiss was so much that many fans even imagined as to how beautiful their kids will look if they decide to hook up in real life. They are the stuff dreams are made of.
1. Aamir Khan and Karisma Kapoor in 'Raja Hindustani'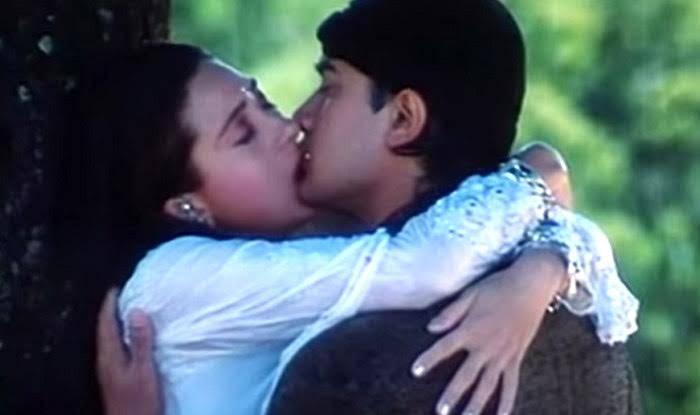 21 retakes. Yes, you heard it right. Mr. Perfectionist Aamir Khan gave 21 takes before got that plot changing kiss in 'Raja Hindustani' right. We all saw the end result and it definitely added chutzpah to the otherwise melodramatic film. Probably it was the only time in Indian movie history that you watched a kissing scene with your elders as Raja Hindustani was a very family friendly movie after all. The kiss was not only an expression of love but was also aesthetically important to carry forward the story. And it was done in a very old school Bollywood manner accompanied by rainfall, thunder and instrumental music. It was hard not to fall in love with the kiss and the film.
Read More: Best Hindi Adult Movies