Investigation Discovery's 'Deadly Women: Ice Cold' looks at three separate cases of gruesome homicides, with Sarah Brennan's murder being one of them. The second case takes the viewers to the turn of the 20th century when Mary Farmer immigrated to the United States from Ireland in search of greener pastures. But just a few years later, Mary was at the center of a murder investigation that eventually led to her conviction. So, let's find out more about her then, shall we?
Who Was Mary Farmer?
Mary was an Irish immigrant who moved to the United States in 1900. After working as a housekeeper, she moved to Buffalo, New York, where she married James Farmer. They had a son together, Peter. Later, they moved to Jefferson County in New York, where James worked at a mill. Just when things seemed to be looking up for the new family, James lost his job, and on the show, it was stated that he started to drink a lot after that.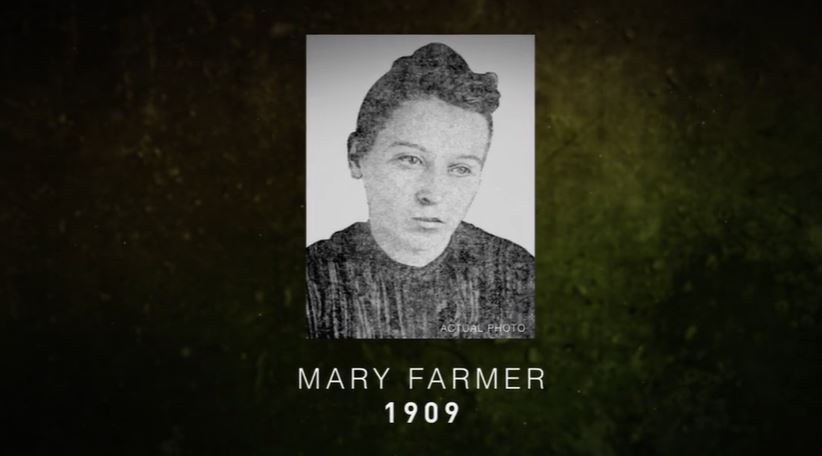 They rented a home from Sarah Brennan, a successful Irish immigrant who lived close by. Sarah lived there with her husband, Patrick. Sometime in 1907, Mary went to the county records office posing as Sarah. Over there, she transferred the ownership of the properties to her name and forged Sarah's signature, finalizing the deal by getting it notarized. Now, Mary owned two properties, albeit illegally. She told James that she bought the properties from Sarah by using money from her uncle who lived in Buffalo.
Then, on April 23, 1908, Mary put her plan into motion. James was off helping a relative while Peter was with a neighbor. Mary was supposed to go with Sarah to the dentist's office, but instead, Mary killed her. She took an ax and hit Sarah multiple times in the head. She then put Sarah's body in a large trunk. After the murder, Mary and her family decided to move into Sarah's home and, in the process, evicted Patrick.
Patrick was not convinced that his wife sold the property to the Farmers. They told Patrick that she had been paying rent to live at the house the Farmers now owned. He was worried about his wife's sudden disappearance, and eventually, the police got involved. They found the large trunk on the property and realized that it held Sarah's decomposing body. Not surprisingly, both Mary and James were arrested in relation to the murder.
How Did Mary Farmer Die?
Mary had also transferred the deed to the property to her son before the murder. She dreamed that her son would have a better, more secure life. Both Mary and James were convicted of first-degree murder in 1908 and were sentenced to death. In March 1909, Mary was scheduled to be executed. But before that, she claimed in a statement that James knew nothing of the murder, effectively absolving him of the crime. James was later acquitted on appeal. But Mary was executed by the electrocution as scheduled. She was in her late twenties at the time of her death. As per the show, their son, Peter, ended up in an orphanage not long after Mary and Peter were sent to prison.
Read More: Where is Carol Dawson Now?