Amazon Prime's 'Shelter' is a young adult thriller series that follows the story of Mickey Bolitar, whose life is turned upside down after his father dies in a car accident. Four months later, now living with his aunt in his father's hometown, he stumbles upon a mystery connected to his father's childhood and death. As Mickey and his friend dive deeper into the mysteries of the seemingly quiet town where nothing exciting ever happens, terrible secrets about the town and its people come to light.
Created by Harlan and Charlotte Coben, the show takes many twists and turns and always keeps the audience guessing. Apart from the mystery, it also delves into issues like grief, loss, and identity, which ground its characters and make them feel more real. It might make you wonder if the show's creators were inspired by a real town mystery and actual people to create this show. Here's what you should know about Harlan Coben's 'Shelter.'
Is Harlan Coben's Shelter a True Story?
'Shelter' is not based on a true story but rather the book of the same name by Harlan Coben, published in 2011. The novel is the first in the series of three novels that focus on the story of the young Mickey Bolitar. 'Shelter' is followed by 'Seconds Away' and 'Found.' The show sticks close to the source material, though it plays around with the timing of the revelations, bringing some mysteries from the later books into the first season.
The idea to write a thriller series focused on young adult characters came to Coben while writing another book. Before Mickey, he had written several books featuring another member of his family. Coben wrote a series of detective novels featuring Myron Bolitar, Mickey's uncle. In 'Live Wire,' the tenth book in the Myron Bolitar series, the author dove into Myron's life by concocting a mystery around his brother and sister-in-law. This is where Mickey's character factors into the story. While writing the book, Coben felt his story could be expanded and needed his own book. This was when he decided to write 'Shelter.'
The seed of the mystery had already been sown in 'Live Wire.' The disappearance of Mickey's father was the hook, from where the story expands and factors in the disappearance of other people in the town. Discussing why he usually writes about disappearances, Coben revealed: "I'm big on missing people in general. Most of my books are disappearances. I find disappearances more interesting. Agatha Christie had murders. I like disappearances. There's always hope with a disappearance, isn't there?" Serving as the co-showrunner and executive producer of the show, Coben wrote the script for the show with Ed Decter and his daughter, Charlotte Coben.
While bringing the story to the screen, the writers decided to move things around and make some changes to the books to make the series more thrilling and fast-paced. Adrian Greensmith, who plays Arthur "Spoon" Spindell, revealed that he approached Coben about the portrayal of his character in the show. "I remember having a phone call with Harlan about 'Just what are we doing? Like, what is this? In terms of, like, are we doing the books, or is this different?' And he was very clear about it: 'Forget the books, we're making something new. This is a whole new product,'" the actor said.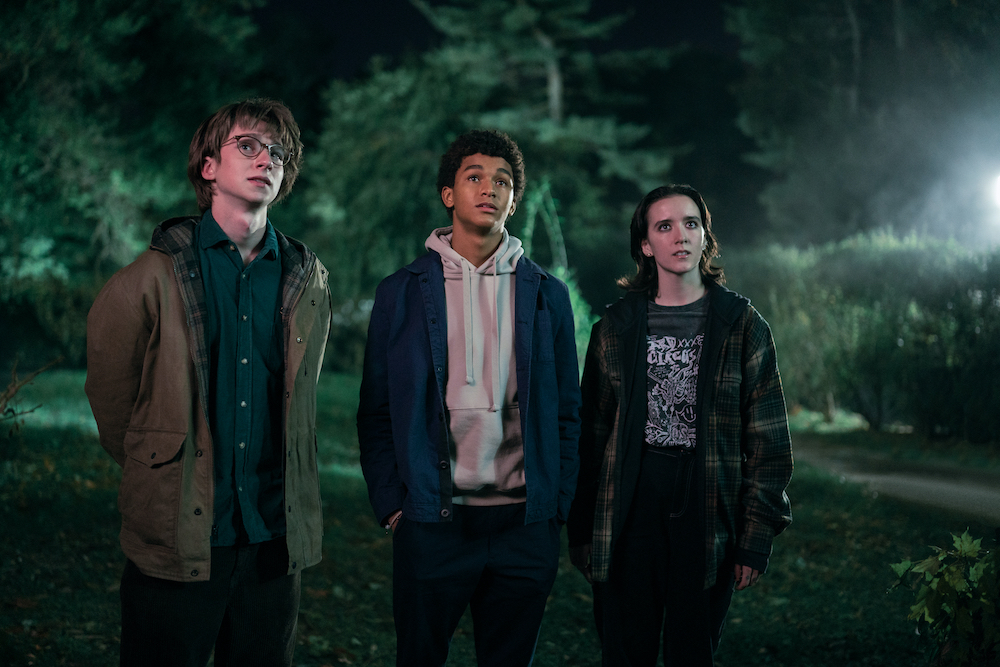 The arrival of the actors added more dimensions and life to the characters. Jaden Michael, who plays Mickey, revealed that he connected with his character on a deeper level, especially regarding his grief. The actor lost his father when he was nine; sharing this loss with Mickey helped Jaden find a space for the character and the expression of his feelings. However, he also mentioned that there are a lot of differences between how he handled his grief and how Mickey does it. To better understand Mickey's arc, Jaden talked with "a lot of people and friends who have lost someone and have gotten over it."
While the story and characters go through many ups and downs, especially in their personal lives, Coben's primary motive for creating such thriller shows is to keep the audience entertained. "I am always trying to be suspenseful, page-turning, binge-watching… whatever that is. I don't write things that are slow. I don't write things that take time to build," he said. With all this in mind, it's clear that 'Shelter' is an entirely fictional story created by the author to transport the audience to a world of mystery and intrigue while staying in touch with reality regarding the characters' emotions.
Read More: Best Mystery TV Shows