Portrayed by Mark Dacascos, Kong Pak is an important character in the Max (formerly Cinemax) series 'Warrior.' Introduced in season 3, he is the former head of the Jiang Yao Tong, which merges into Mai Ling's Long Zii. It is indicated that Kong Pak and Li Yong (Joe Taslim) have been friendly rivals for a long time, and Mai Ling's rapid expansion of her Tong turns them into comrades. However, it doesn't take long for Kong Pak to align himself with the elders of the Tong against Mai Ling. If the events depicted in season 3 episode 8 have made you wonder whether Kong Pak is dead in 'Warrior' and Mark Dacascos has left the show, we got you covered. SPOILERS AHEAD.
Is Kong Pak Dead?
Yes, Kong Pak is dead in the third season of 'Warrior.' Kong Pak is a good and honorable man but severely lacks ambition. Moreover, a part of him seems to dislike the notion that he now has to answer to a woman. Shortly after his Tong's assimilation into the Long Zii, Kong Pak joins the elders in trying to convince Li Yong to take control of the Tong from Mai Ling. This course of action ultimately proves to be his undoing.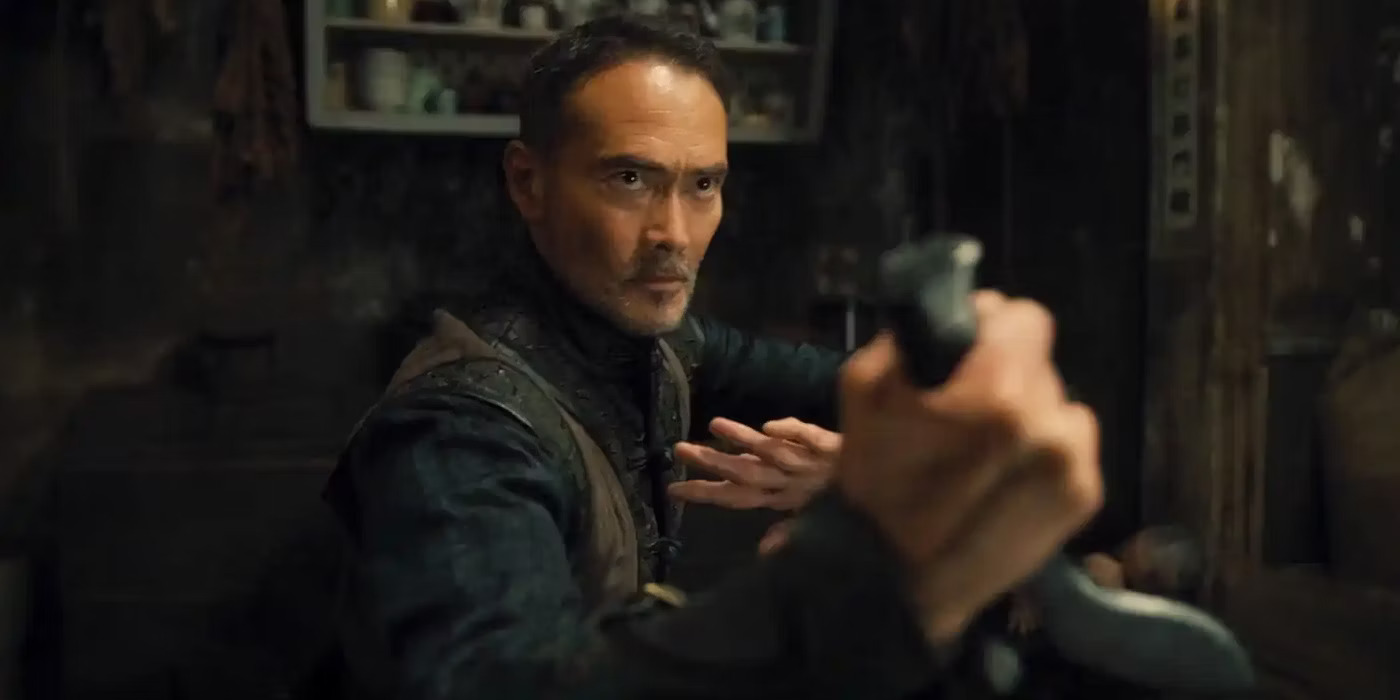 In episode 8, Mai Ling and Li Yong get married in a traditional ceremony. Afterward, Kong Pak takes Li Yong to speak to the elders, and they once more try to convince him to take over the Tong. Kong Pak and the elders argue that Li Yong can now do so as he is Mai Ling's husband, failing to realize the depth of the man's love and loyalty. Li Yong is ultimately a follower; he has no desire to be the leader. This is one of the reasons Mai Ling chose him as her lover, along with his martial arts skills and sense of honor.
While the newlyweds make love on their wedding night, Mai Ling's agents go around Chinatown, killing the Long Zii elders. One of them attacks Kong Pak, but he survives and comes to confront Mai Ling. When Kong Pak tries to attack her, Li Yong has little choice but to intervene and kill his friend and old rival. Afterward, Li Yong employs Chao to get his friend's body to China.
Did Mark Dacascos leave Warrior?
With his character dead, it's safe to assume that Dacascos has left 'Warrior.' Dacascos is an accomplished actor and martial artist whose career spans nearly four decades. According to series creator Jonathan Tropper, they knew they needed an actor who could be a convincing rival to Taslim to play Kong Pak but didn't think they would get someone like Dacascos.
"…We knew we were going to have to do a search for someone like Mark, because we knew that actor was going to have to play next to Joe Taslim," Tropper told CBR. "If you don't have the martial arts skills. If you're faking it, and you're next to Joe Taslim, it's not going to look very good. So, we knew we needed somebody who could go toe-to-toe with Joe Taslim and look every bit as good as Joe Taslim looks doing martial arts. Then it was going to be a game of who can we get, who can we afford, who's willing to come? Mark was always at the top of my list, but I didn't believe that somebody with his career that we would have. We aren't a high-budget show, and I didn't think we'd have what we needed to pay him or that he'd have the time with all his other scheduled jobs to show up and spend six months in Cape Town."
Besides 'Warrior,' Dacascos has appeared in Food Network's 'Iron Chef America,' 'The Crow: Stairway to Heaven,' 'Mortal Kombat: Legacy,' 'Kamen Rider: Dragon Knight,' 'Cradle 2 the Grave,' 'Hawaii Five-0,' and 'John Wick: Chapter 3 – Parabellum.' His upcoming projects include the films 'Glass Dragon' and 'Legend of the White Dragon.'
Read More: Warrior Season 3 Episode 8 Recap and Ending, Explained