In Prime Video's 'Upload,' death isn't the end of your story. It is just the beginning of a new way of life, something you've chosen and paid for already. If not, then you are dead for good. In Nathan's case, this choice is made by his girlfriend, Ingrid, who sends him to Lakeview, a posh afterlife that only the rich can afford. As opposed to the people who have become so dependent on technology, there are the Ludds. They have denounced all forms of tech unless it is used to attack the establishment that has capitalized even death. One of them is Matteo.
Matteo was introduced in the second season as a love interest for Nora, who had just left behind her job and her life in New York to escape the death threats posed on her life by the same people who'd killed Nathan. The third season finds them in the thick of it, and Matteo ends up with a terrible fate. Does this mean he is gone for good, or will we see him again? Let's find out. SPOILERS AHEAD
Why Does Detective Sato Kill Matteo?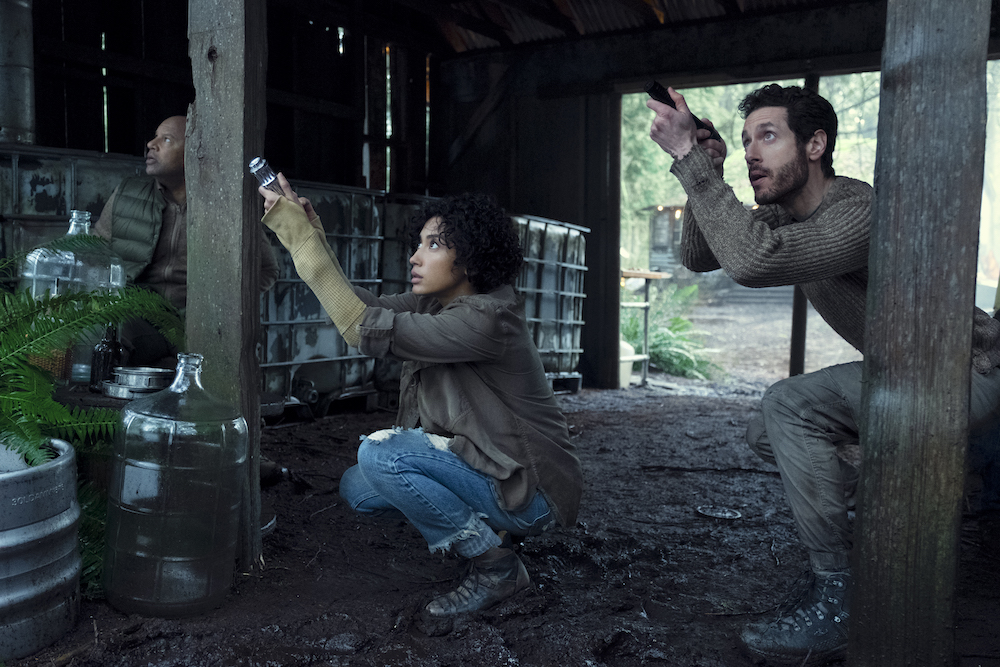 In trying to bring Freeyond down, Nathan and Ivan go to the Freeyond facility to crush it from the inside, while Nora and Matteo go to another place where people are lined up to get uploaded. Before this, they had notified Detective Sato, whom they'd met in the morning and believed was a good guy, about the nefarious secret scheme that Choak and the other billionaires were cooking up in secret. They hope that Sato will help them in the crisis, but trusting the detective turns out to be a mistake.
When Nora and Matteo fail to convince people not to get uploaded, their task is made easy by Nathan, who releases a video from Freeyond that was not supposed to be for the public just yet. While the uploading stopped, there were still a lot of people who'd already had their heads exploded, thinking they'd be going to the promised afterlife. Nora and Matteo try to save them by saving their hard drives, but they are interrupted by Detective Sato.
It turns out that Sato isn't such a good guy after all. When he received Nathan's message, instead of doing something about it, he got a deal out of it. Choak and the billionaires got him on their payroll, and his first task was to stop Nathan and Nora. He tracks Nora and arrives at the Freeyond facility. His orders are to stop her and kill her if things get out of hand. To warn Nora he means business, Sato shoots Matteo in the chest, grievously injuring the guy.
Did Nora Upload Matteo Before He Died?
When Matteo is shot, Nora's first thought is to upload him. It is the only way to ensure that he is not completely lost. While Matteo had been a part of the Ludds, who were entirely against upload, he didn't actually mind the concept. He just wished it to be free for everyone and not be limited to only rich people. To show that he wants to be uploaded, he keeps repeating "Upload," indicating to Nora that time is running out on him and she needs to act faster or he'll be dead for good.
While Nora prepares the setup, Sato holds her at gunpoint and tells her to stop, or he'll shoot her too. Precious time is lost in Nora trying to talk to the detective and keeping him from shooting her as well. However, she knows that no matter what she says, Sato will not let her go. He has been paid by Choak to get the job done, and nothing she'll say will match the money he got for it. She has to get Sato out of the equation because even if she uploads Matteo, Sato reveals that he will throw away all the hard drives.
Nora makes it look like she is ready to start the procedure, but when the machine is switched on, instead of pointing it at Matteo's head, she points it at Sato. The machine blows off his chest, and the detective dies. By this time, Matteo has bled out. When Nora turns the machine towards him, she discovers that there isn't enough time to save him. They have to settle with saying their final goodbyes. Matteo takes his final breaths, and with not getting uploaded, his death is final.
Read More: Here Are All the Upload Filming Locations