Portrayed by Molly Burnett, Grace is an important character in 'Law & Order: Special Victims Unit.' Introduced in season 24, Grace lost her mother when she was very young and grew up alongside her brother Teddy in Queens. When the Manhattan SVU encounters her, she is serving with the Bronx gang unit, under the command of Captain Mike Duarte. After the Dominican gang BX9 attacks a family visiting New York from Ohio, the two units collaborate to bring the perpetrators to justice.
Grace eventually drew the attention of Olivia Benson after forming a connection with a teenage victim and was offered a position in the SVU. Her tenure at her new workplace hasn't been without its share of issues. During the Elias Olsen incident, a kidnapper and murderer, Muncy's actions jeopardize the prosecution's case against the man, but she redeems herself later. If the recent events in 'SVU' has made you wonder whether Molly Burnett has left the show, we got you covered. SPOILERS AHEAD.
What Happened to Grace Muncy?
In season 24 episode 22, titled 'All Pain Is One Malady,' which is part of a crossover event with 'Law & Order: Organized Crime,' Muncy reveals to Joe Velasco that she has been offered a promotion. Thomas "Tommy" McGrath, the Chief of Detectives, approached her to congratulate her for her work on the Elias Olsen case and offered her a position in the DEA task force. When Velasco asks what she said in response, Muncy explains that she said she would think about it, prompting McGrath to give her a few days.
Even though they have been together for a very short period, a special bond seems to have developed between Muncy and Velasco. When she asks whether he is sad that she might be leaving, Velasco denies it, though he later tells her that she is his only friend. He also promises her that he will not tell anyone about this.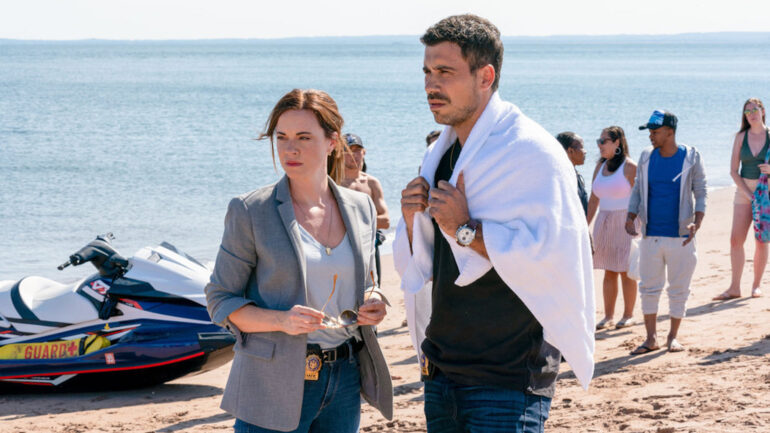 Later in the episode, Muncy confides to Churlish about the promotion. At this point, Muncy is still unsure whether she will take the promotion, even mentioning Benson being good to her as one of her reasons. In response, Churlish observes that Benson doesn't exactly do well with people leaving her, referring to what happened with Rollins. Ultimately, she tells Muncy that others will adapt to the change, as will she.
Want more #SVU? Check out this bonus scene from last night's #SVUxOC crossover season finale pic.twitter.com/GobP4x72I7

— Wolf Entertainment (@WolfEnt) May 19, 2023
It seems that Muncy makes the decision to accept the promotion off-screen. There is reportedly a scene where Fin hugs her and tells her he will miss her as she cleans up her desk. Wolf Entertainment, the production house behind the 'Law & Order' franchise, shared an extended clip of Muncy's departure which includes her saying goodbye to Velasco.
Is Molly Burnett Leaving Law & Order: SVU?
Yes, Molly Burnett is leaving 'Law & Order: SVU.' The departure comes as a surprise for many fans as she has been part of the show for less than one season. In a March 2023 interview with TV Insider, Burnett spoke about how much she enjoyed portraying the character.
"Oh, my gosh, yeah! In real life, I'm a goofball," the actress said. "Muncy's a lot cooler than I am, and she's definitely not afraid to get into a fight, like I would be. [Laughs] To be able to pretend like you're cool on camera is so much fun! But I was FaceTiming my father on set and I showed him my badge and my gun and I was like, 'Look, Dad,' and I pulled the gun out and the holster comes out, too. He shook his head and said, 'How are you playing this cool police officer?' [Laughs] I went, 'I honestly have no idea!' But Mariska's really been helping me dig in to Muncy and owning my power. It's been a really cool journey so far that I feel grateful to be on."
Burnett is quite active on social media but hasn't posted anything about her departure. It's possible that the showrunners are looking to bring back Kelli Giddish's Amanda Rollins in future seasons. Rollins appears in the last two episodes of season 24 and admits she misses her old job with the SVU. The fans catch Burnett in her upcoming film 'New Me.'
Read More: Is Kelli Giddish's Amanda Rollins Pregnant in Law & Order: SVU?