Directed by Jon Gunn, 'Ordinary Angels' is a heartwarming drama film that tells the story of a struggling hairdresser named Sharon Steves who, against all odds, manages to unite an entire community. The movie's plot revolves around the idea that angels aren't just celestial beings but can be ordinary people who make extraordinary impacts. Set against the backdrop of the worst snowstorm in Kentucky's history, Sharon's life takes a turn when she meets Ed Schmitt. Ed is a single father trying his best to care for his two daughters, with the youngest critically ill and in dire need of a liver transplant.
The faith-based film boasts a talented ensemble cast, including Hilary Swank, Alan Ritchson, Nancy Travis, Tamala Jones, Amy Acker, Skywalker Hughes, and Emily Mitchell. With the Oscar-winning actress Swank leading the cast, the film delves deep into the human spirit's resilience and the miracles that often go unnoticed. But as we get engrossed in the narrative, one can't help but wonder: Is this tale rooted in reality? Let's explore whether "Ordinary Angels" is based on a true story.
Is Ordinary Angels a True Story?
Yes, 'Ordinary Angels' is based on a true story. The screenplay, written by Kelly Fremon Craig and Meg Tilly, is actually inspired by a harrowing incident that took place in a small town in Kentucky during a catastrophic snowstorm in January 1994. Initially predicted to be a minor snowfall, the storm unexpectedly dumped over two feet of snow, paralyzing the city of Louisville and resulting in the tragic deaths of two individuals. Amidst this chaos, 'Ordinary Angels' narrates the tale of how the life of a critically ill 3-year-old Michelle Schmitt Cobble was miraculously saved.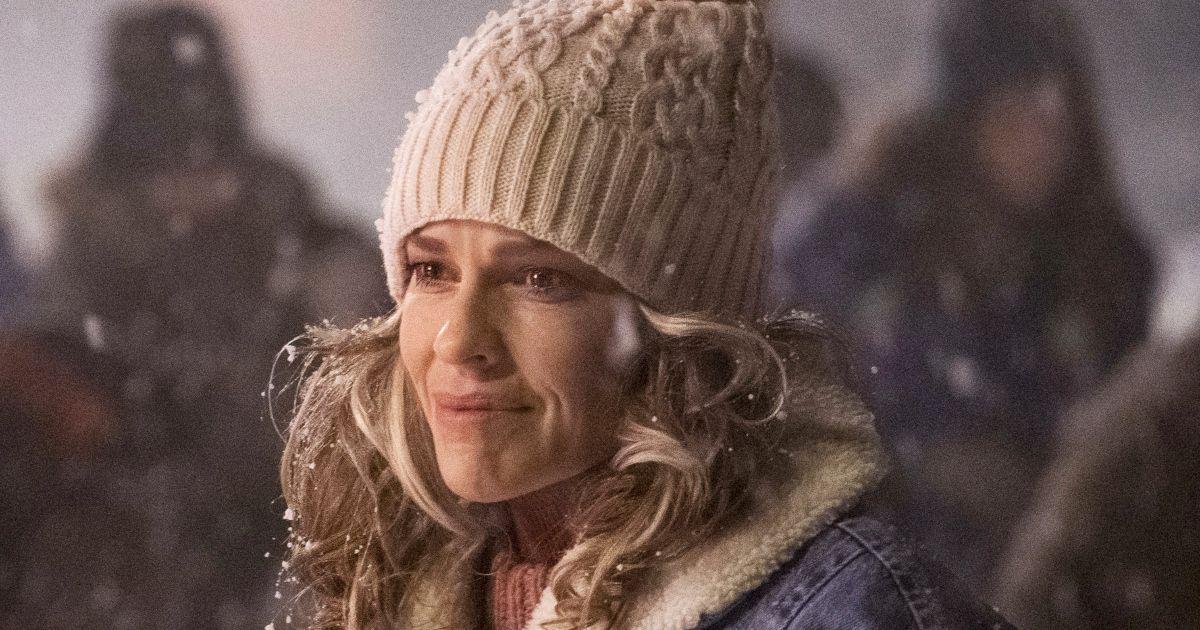 In the story, Ed Schmitt (Alan Ritchson) is in a frantic race against time to secure a liver transplant for his daughter Michelle. Hilary Swank plays the role of Sharon Stevens, a compassionate hairdresser who becomes the beacon of hope for the Schmitt family. Determined to help, Sharon mobilizes the entire community to assist the Schmitts in reaching a hospital located 600 miles away in Omaha.
As reported by Christian Headlines, Jon Gunn, the director, encapsulated the essence of the film by stating, "The story of Sharon Stevens and the Schmitt family is a powerful reminder that helping others is how we heal ourselves. I can't think of a message I'd rather share with the world right now and I'm honored to be telling it with such a fearless and talented cast." Reflecting on her role, Swank told TODAY, "I was drawn to this beautiful true story because it's such a powerful reminder that angels reside everywhere among us. And that faith, hope, grit, and positivity are all powerful fuel for miracles."
The narrative also holds personal significance for Swank, who took a hiatus from her acting career between 2015 and 2018 to care for her father during his recovery from a lung transplant. Emphasizing the film's message about the significance of organ donation, Swank stated, "It's also a story about the power of organ donation — something incredibly near and dear to my heart. I couldn't be more thrilled to be a part of this story and message." Sharing his perspective on the film, Alan Ritchson expressed, "I'm an optimist. I believe the best in people. I believe that sometimes we just need to be reminded of the power of what we can do together. This is why I was drawn to 'Ordinary Angels.'"
'Ordinary Angels' beautifully interweaves elements of reality to craft its poignant narrative, reminding viewers of the boundless capacities of human kindness and determination. The film is a testament to the resilience of the human spirit and the extraordinary feats we can achieve when we come together as a community. It serves as a poignant reminder of the real-life heroes among us, who often go unnoticed but whose actions leave an indelible mark on the lives they touch.
Read More: Best Christian Movies of All Time