Created by Craig Rosenberg, 'Based on a True Story' is not really a true crime series despite its name. Instead, it's a social satire that critiques the public fascination with true crime media. In the show, Ava Bartlett (Kaley Cuoco) is a true crime junkie; she and her friends have this group where they obsess over murders and crime and religiously consume true crime media.
When Ava discovers that their new plumber is an on-the-loose serial killer, the Westside Ripper, she convinces her husband that they should set up a podcast and invite the murderer as a guest. It initially receives a poor response from the audience, prompting Ava, her husband, Nathan, and their serial killer friend to travel to Las Vegas to attend the CrimeCon 2023. Some of the best true crime podcasters are there, including the Lipinski sisters (June Diane Raphael and Jessica St. Clair), together known as the Sisters in Crime. If you are wondering whether the Sisters in Crime is an actual podcast, we got you covered.
Is Sisters in Crime a Real Podcast?
No, Sisters in Crime is not a real true crime podcast, at least not how it is depicted in the show. We are never given the first names of the Lipinski sisters but are only told they are the best in the business, whose podcasts have been downloaded millions of times. Because of the satirical aspect of the series, the Lipinski sisters have been portrayed rather negatively.
In real life, a true crime podcast called Sisters in Crime is hosted by sisters Ashley and Lexi. But there doesn't seem to be any connection between them and the fictional Lipinski sisters, and the similarity in the name of their podcasts appears to be purely coincidental. Ashley and Lexi posted their first podcast in November 2022 on iHeartRadio. Since then, they have made podcasts on the Idhao College Student Murders, Casey Anthony, the disappearance of Madeleine McCann, John Wayne Gacy, Darlie Routier, and the Colorado dentist arrested for poisoning his wife.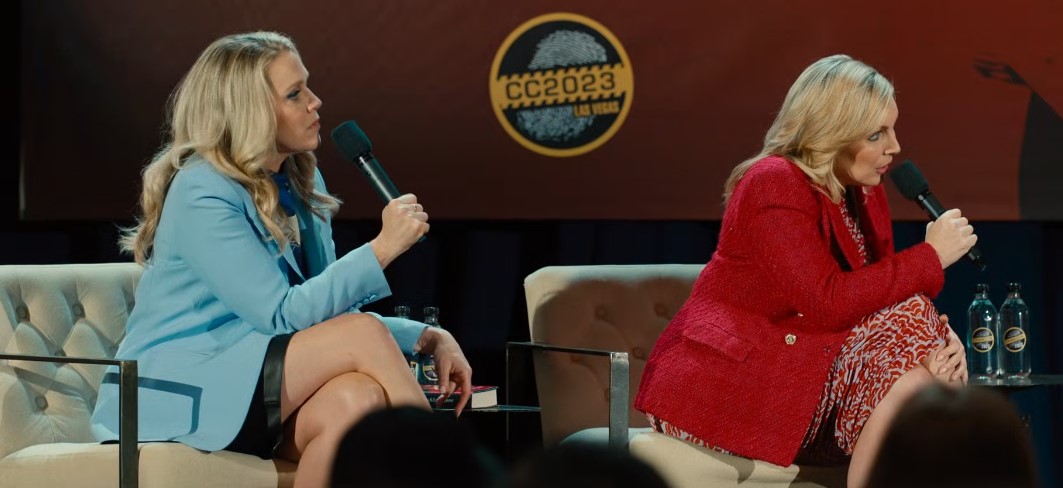 There is also a writing organization named Sisters in Crime, which aims to bring more equity and inclusion for women crime authors in the publishing sector. Their website states, "Crime writing has room for—needs—new voices, different perspectives, and new twists on stories with secrets and discoveries, of guilt and innocence, justice and injustice. Sisters in Crime welcomes anyone as a Sibling who loves crime fiction: all genders, all genres, all stages of writing, all ages writing for all ages, and readers." Established in 1986, the organization currently has more than 4,500 members. Within the US legal system framework, it seems that term is sometimes used to refer to female criminals.
Read More: Was Kaley Cuoco Pregnant During Based on a True Story?