In Peacock's 'Based on a True Story,' actress Kaley Cuoco portrays Ava Bartlett, who is several months pregnant at the start of the series and remains so for the entirety of the first season. Ava and her husband, Nathan (Chris Messina), have been married for ten years and live in Westside, Los Angeles. With their first baby on the way, they feel they aren't financially prepared to raise a child. A deep sense of unfulfillment also starts to creep into their minds. Ava is a true crime junkie. After discovering that they have a serial killer in the neighborhood, she convinces her husband to set up a podcast, so they can interview the killer and tap into the ever-expanding true crime market. If you are wondering whether Cuoco was pregnant while filming the first season of 'Based on a True Story,' we got you covered. SPOILERS AHEAD.
Was Kaley Cuoco Pregnant?
Yes, Cuoco was pregnant while filming the inaugural season of 'Based on a True Story.' Cuoco was five months pregnant at the start of the production, and by the time the filming concluded, she was only a few weeks away from giving birth. Cuoco and actor Tom Pelphrey had their first official outing together in May 2022 when they appeared at the Hollywood Walk of Fame ceremony of producer Greg Berlanti. Earlier that month, the couple announced their relationship on Instagram.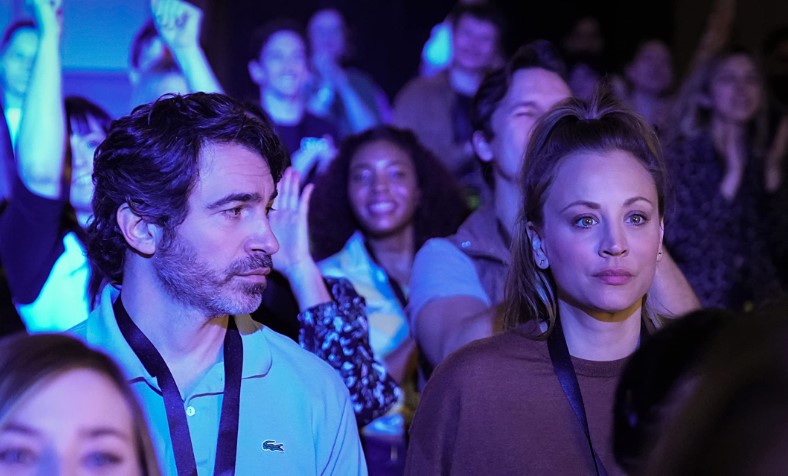 According to Cuoco, the news that she was pregnant caught the 'Based on a True Story' team by surprise. "I went to do some chemistry reads with the producers and some actors, and it was then that I told them, 'Hey, what do you guys think about if Ava was pregnant?'" Cuoco recalled in an interview with Vanity Fair. "They looked at me and were like, 'Oh, my God, are you serious?' I'm like, 'Yeah. Sorry!'"
It seems that Cuoco enjoyed her time working on 'Based on a True Story.' As her character is pregnant as well, Cuoco and the production team didn't have to hide her baby bump. "It was honestly awesome to write it in because I never had to hide anything," the actress told the same outlet. "I could still eat what I wanted and wear what I wanted, and it worked for the character, which is so rare—that you can keep eating for a role."
Certain scenes in the series, including the ones involving sexual encounters, required stunt doubles to step in. "[With my] working nine months pregnant and running around," Cuoco stated, "four pregnant blondes were walking around at all times." She gave birth to her and Pelphrey's daughter, Matilda, on March 30, 2023. "Introducing, Matilda Carmine Richie Pelphrey, the new light of our lives! We are overjoyed and grateful for this little miracle. Thank you to the doctors, nurses, family and friends who have helped us immensely over the last few days. We are blessed beyond belief. @tommypelphrey didn't think I could fall even more in love with you, but I did," Cuoco wrote on Instagram.
Read More: Is the Westside Ripper Based on a Real Serial Killer?