Created by Aaron Korsh, USA Network's 'Suits' is a legal drama series that revolves around employees of a highly respected law firm. Mike Ross is an associate with the company who actually had to drop out of law school but got the job because of his photographic memory. Working for reputed closer Harvey Specter, the duo tackles some of the complicated cases that come their way while trying to keep Mike's secret hidden from everyone else.
Starring Patrick J. Adams, Gabriel Macht, Rick Hoffman, and many more, the show premiered in 2011 and completed its run of nine seasons in 2019. Over the years, it has gained a massive fanbase who can not help but be in awe of the various characters and just how they handle each and every challenge that comes their way. However, many of the viewers are also eager to know just how the show came to be. Is it inspired by real-life events? Well, we are here to share what we know about the same!
Is Suits a True Story?
No, 'Suits' is not based on a true story. However, the inspiration behind the show does come from the life of creator Aaron Korsh. Prior to his career as a writer, he was part of the finance world, having majored in the subject in business school. In fact, he even worked as an investment banker on Wall Street in New York and learned a lot about the world of finance, law, and the corporate ground of New York City. "It was originally written that they were investment bankers on Wall Street. I worked for a guy named Harvey, I had a good memory, and I had a dalliance with marijuana," Korsh shared with Collider.
After Korsh left his job as an investment banker, he actually entered the world of comedy, so working on 'Suits' was a novel experience for him. "After the strike [2007–2008 Writers Guild of America strike] was over, I needed to write a piece of material to get staffed. My last show had been Notes From the Underbelly, which unfortunately got canceled during the strike." Korsh disclosed to The Hollywood Reporter. "I wrote a spec piece that I originally intended to be a half-hour Entourage-type based on my experiences working on Wall Street, but as I wrote it, I started realizing it wants to be an hourlong show."
Initially, the creator and his agent had planned on working with Universal Media Studios, though they were a bit surprised that the company in question was not approaching NBC for the show. While trying to figure out the route they finally wanted to take, Korsh's agent approached Alex Sepiol at USA Network and convinced him that he would like the show due to its characters, even if the show was not precisely a procedural drama. Indeed Sepiol was quite on board with the plan, leading to the creation of the show that has become so beloved over the years.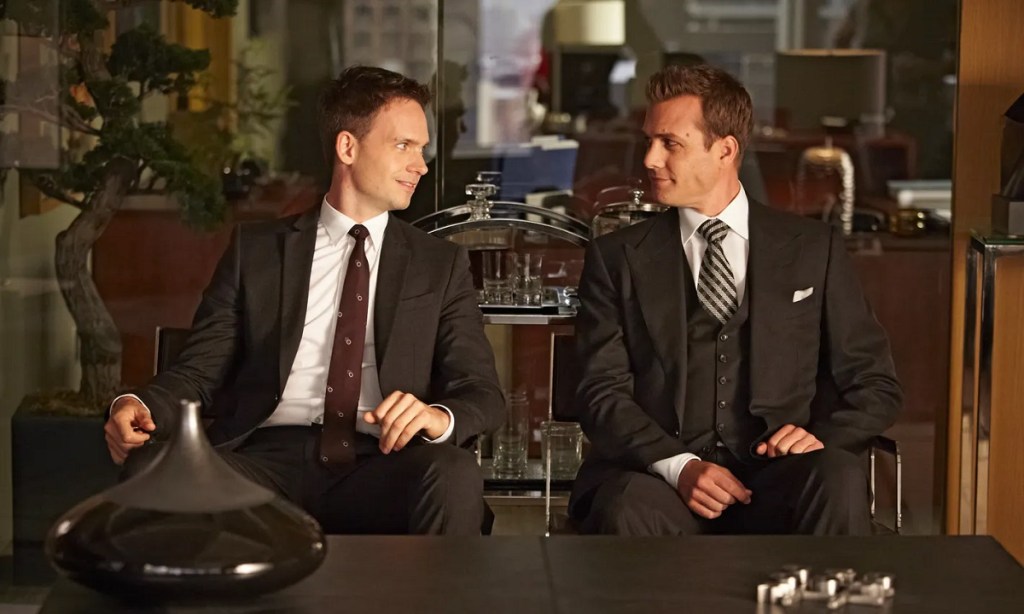 That being said, the journey that Mike's character goes through in the final version of the show is much different had the show been set in the world of finance as the creator had initially imagined. "He (Mike) didn't take LSATs for people, he was just a super smart guy," Korsh disclosed while talking about the character's original arc. "Through when he gets hired, it's basically the same. It was interesting because when it's Wall Street, he was only faking going to Harvard, he wasn't faking a law degree. To work on Wall Street, to be a mathematical genius, there is no degree you need to have, whereas to practice [law], you need to pass the bar. We decided to embrace and use it."
One of the critical issues that the showrunners and Korsh himself wanted to focus on was the type of clients that were featured in the series. "The challenge is, you've got a corporate law firm, but you don't want your clients to be hateful. The challenge was to figure out how to credibly give us sympathetic clients without making it seem unrealistic that this type of law firm would take those types of clients," Korsh explained. "It took us a couple of cracks how to do that. Sometimes we had to abandon how we constructed the first couple of episodes."
In other words, the stories and characters in 'Suits' are indeed a work of fiction. However, the inspiration behind the concept comes from creator Aaron Korsh's own experience in the world of finance. Though he himself has confessed to not having enjoyed working on Wall Street, his time there certainly left a huge impact on him, given how he used it to model a show that has since garnered a massive fanbase, with people falling in love with the characters of 'Suits,' Mike Ross, Harvey Specter, Donna Paulsen, Jessica Pearson, and many many more.
Read More: Where Was Suits Filmed?