'The Last Stand' is a 2013 action crime film that doesn't pretend to be anything more than an action film. Kim-jee Woon's directorial debut in the west also marks the return of Arnold Schwarzenegger's to the big screen after completing his tenure as the Governor of California. Arnold takes on the role of Ray Owens, the sheriff of a sleepy little border town called Sommerton Junction. The small-town sheriff and his deputies become embroiled in a stand-off against a vicious gang and their boss as he tries to escape across the border near Sommerton Junction in a modified sports car.
Joining Schwarzenegger in this film are Forest Whitaker, Luis Guzman, Jaimie Alexander, Johnny Knoxville, Genesis Rodriguez, and Eduardo Noriega. The premise of 'The Last Stand' is both exciting and memorable, and one can't help but wonder whether the story was inspired by any similar real-life events. Worry not, for we are here to satisfy your curiosity!
Is The Last Stand a True Story?
No, 'The Last Stand' is not based on a true story. Written by Andrew Knauer and Jeffrey Nachmanoff, the film is somewhat a reminiscence of Akira Kurosawa's 'Seven Samurai' in its depiction of a small group of individuals coming together to defend against a much larger and formidable force in order to protect their way of life. The well-timed humor and action sequences only add to the overall enjoyability of 'The Last Stand.'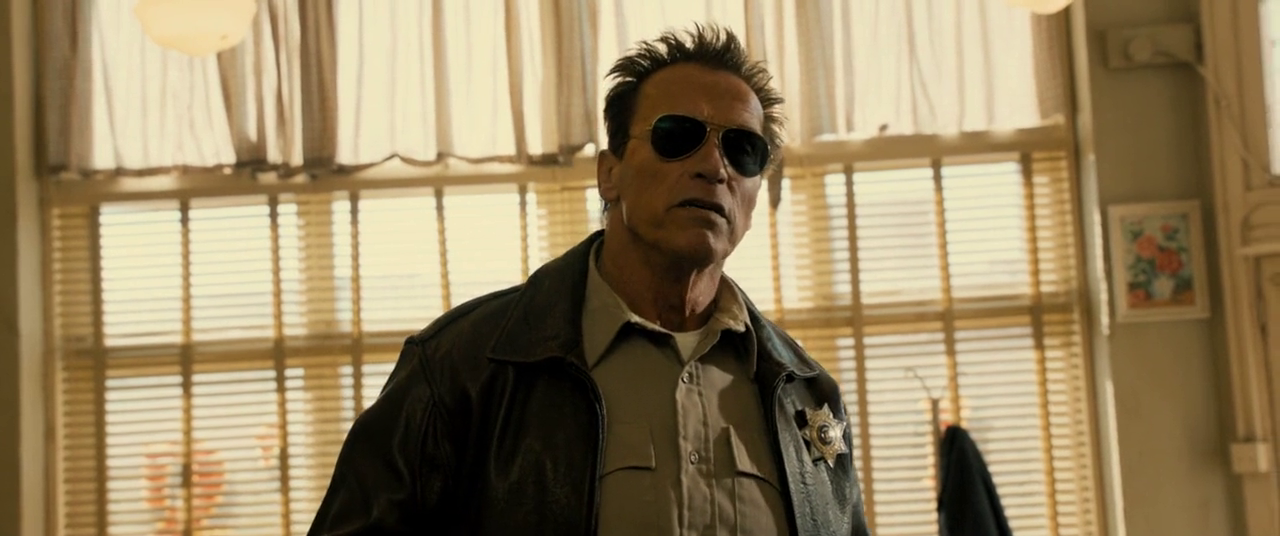 Once an officer with the Narcotics department of the LAPD, Ray Owens settles at Sommerton Junction to enjoy a quiet, peaceful life. His days consist of patrolling the town and keeping an eye on his very enthusiastic deputies, who get into all sorts of mischief when their boss isn't around. Ray's peaceful and quiet life comes to an end when a farmer who lives on the outskirts of the town is murdered.
Later, he finds out from FBI Agent John Bannister (Forest Whitaker) that a notorious Cartel boss has escaped custody and might be going through Sommerton Junction to cross over to the neighboring country of Mexico. Within minutes of this conversation, Ray is involved in a firefight with the gang, which steals his resolve to stop the criminals in their tracks by any means necessary.
'The Last Stand' plays out like a typical Schwarzenegger action film – with plenty of explosions and enough firepower to be fit enough for a small militia. But it's different at the same time because the actor isn't playing somebody who is eager to jump into the fight. In an interview with IGN, Arnold Schwarzenegger explained what kind of character he is playing and how it is different from his other action roles. "I play a much more vulnerable character in this film because the character is supposed to be just before retirement, these are his last few years of work and all this."
The actor added, "So I played that part also, the vulnerability part, and you know getting old and oldest because I have gotten older since the last time I did a movie like 'Terminator 3,'" said the actor. The film also touches upon serious topics like PTSD, albeit briefly, through Frank Martinez. As a retired US Marine who is back home, Martinez can't seem to do anything except drink and wind up in jail. Rodrigo Santoro portrays the character with tiredness in his body movement and eyes that makes one sympathize with him.
Meanwhile, the villains are there to embolden Ray and his deputies, who strive to emerge victorious. While it's not very thought-provoking, 'The Last Stand' delivers exactly what it promises – a simple but fun ride with lots of cheesy lines and plenty of gunfights for everyone who loves action films.
Read More: Where Was The Last Stand Filmed?