An older sibling is often protective of their younger sibling, and Ishaan Chaudhary was the same for his beloved younger sister, Aisha Choudhary. Sadly, the latter was a budding Indian author and motivational speaker who passed away from Pulmonary Fibrosis in 2015 at age 18. Netflix's 'Black Sunshine Baby' documents Aisha and her family's courageous and resilient battle with her terminal illness and how she inspired millions worldwide. It also features Ishaan's experiences and how he became his sister's biggest support system. If you wish to know more about him and what he is up to currently, we have you covered.
Who is Ishaan Chaudhary?
Born in Delhi, India, in the early 90s, Ishaan Chaudhary is the second child of Aditi and Niren Chaudhary. The couple had a daughter named Tanya before him. Unfortunately, she passed away from Severe Combined Immune Deficiency (SCID) at five months of age. When Aditi gave birth to Ishaan, the family was quite worried about his health, yet luckily, he was healthy and had no serious medical problems. Their third child, Aisha, followed just a few years later, but she was soon diagnosed with SCID as an infant.
Thus, Ishaan accompanied his beloved sister and their parents to London to get her treated. From an early age, he saw a lot of changes in the family, be it in location or finances, yet he always was a happy and understanding child. After six-month-old Aisha had a stem cell and bone marrow transplant, Ishaan got separated from her and Aditi for nine months, living in Delhi with his father and grandparents. Being without his mother for such a long while was difficult for him, yet he displayed wisdom beyond his age and understood the situation.
Thankfully, the Chaudharys reunited when Niren and the young boy shifted base to London, and the latter did his schooling there. Ishaan always doted on Aisha and was the quintessential elder brother who would defend her from bullies at school. During his time in London, he became inclined towards music and started playing instruments like the drums. In 2007, Aisha's health was stable, so the family moved back to Delhi, India, and her sibling enrolled in high school there.
Ishaan became a pillar of strength for his sister, often cheering her up whenever she felt sick. Hence, when he moved to the US in 2010 for college, it was a big blow for Aisha, as she felt saddened to be separated from her brother. Nevertheless, the two constantly stayed connected through texts and calls, with him supporting her through her most challenging moments. When Aisha was fifteen, her health suddenly deteriorated again, and she was diagnosed with Pulmonary Fibrosis, which badly affected her lungs and breathing capacity.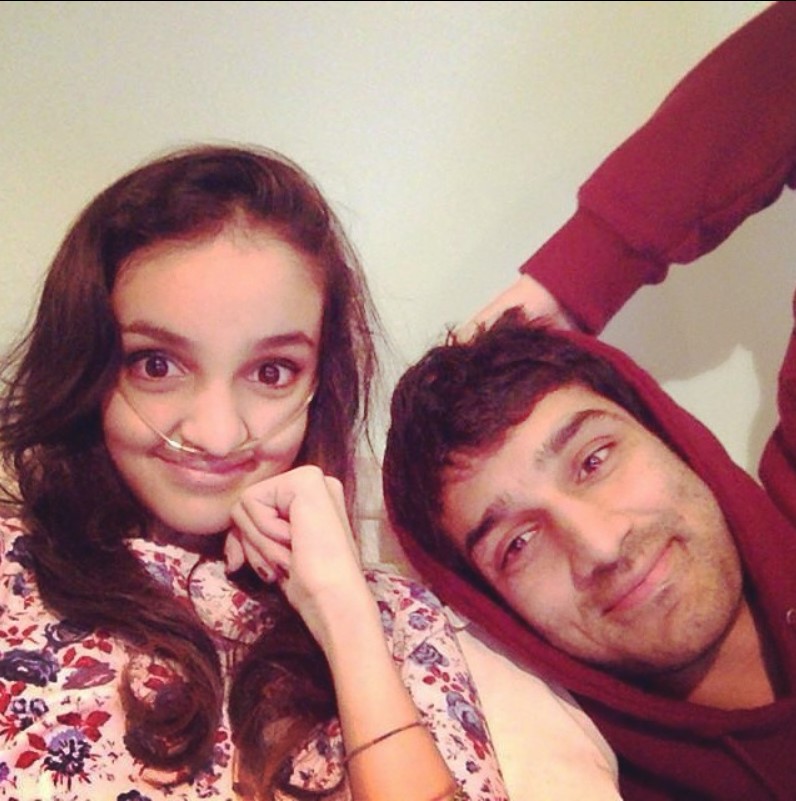 This worried Ishaan, and he volunteered to come and visit his sister, but she adamantly told him to focus on his graduation. As Aisha's energy levels were affected, she lost touch with her art and turned to creative writing as a means of expression. Ishaan divulged in the documentary how she shared each quote she penned with him online and how he still has all of them in a document today. Meanwhile, he pursued his passion for music and decided to foray into music production.
Ishaan reminisced in the documentary how Aisha was his biggest cheerleader and critic, who would eagerly listen to all the songs he created. In 2014, he was visiting home when she fell severely sick, and he decided to extend his trip to be with her. Sadly, Aisha's condition worsened, and she breathed her last on January 24, 2015. Ishaan held her hand throughout her final moments and was extremely heartbroken at losing his little sister.
Where is Ishaan Chaudhary Today?
In September 2018, Ishaan Chaudhary and his friend, Will Curry, debuted as the musical duo MEMBA. With their amazing Trap, Electronic, and Future Bass-infused tracks, they have been enthralling several fans worldwide. MEMBA has performed at various prestigious music events, including Coachella, Bonnaroo, Electric Forest, Ultra, Holy Ship!, and Glastonbury. Furthermore, they have toured with several acclaimed artists and have two successful albums to their credit.
In 2019, Ishaan created a unique track in tribute to his late sister. Titled 'For Aisha,' it captures their beautiful memories together and immortalizes her essence. Ishaan admitted that it was probably the toughest project of his life, yet his hard work and love for his sibling bore fruit. The song was included in the 2019 Hindi drama movie, 'The Sky is Pink,' helmed by Shonali Bose. Based on the Chaudharys and their journey, the movie and Ishaan's song garnered lots of praise and touched the hearts of countless people.
In September 2021, Ishaan tied the knot with Evan Giarrusso, AKA EVAN GIIA, a renowned vocalist and musician. The couple met in 2016 in New York and bonded over their love for music, and she even collaborated with MEMBA on her hit song, 'Heat of The Moment' the same year. Not just that, Evan lent her voice to 'For Aisha' and has constantly performed alongside her husband and Will. Currently, Ishaan is based in Brooklyn, New York, and is well-connected with his parents. In January 2023, he even got Aisha's name as his first tattoo in her memory and profoundly misses his sister to date.
Read More: Aditi and Niren Chaudhary: Where Are Aisha's Parents Now?