MTV's 'Ex on the Beach' is back with a whole new look that promises its viewers better, bigger drama with better twists. On 'Ex on the Beach Couples: Now or Never,' fans are introduced to six couples who enter paradise with their lovers only to be faced with their ex! They must make the bold choice between their current lover and ex before saying, "I do."
Jake O'Brien and Holly MacAlpine have been dating since 2018, and their relationship is not free from turmoils. Even after years of dating, Holly fears that Jake might be popping the questions due to his latent feelings for his ex-girlfriend Pala. if you are curious to know everything about Holly and Jake, we have got you covered.
Everything We Know About Jake O'Brien
Hailing from Sydney, New South Wales, Jake O'Brien is a fitness enthusiast who has been battling several physical injuries and cancer. In 2019, Jake met with a serious accident, which left him severely injured. The road accident could've been fatal had he not worn protective gear. During his time of peril and agony, Holly stood beside him as his rock supporting him through his journey of recovery, though at the time they had been going out for few months. Jake was also battling with Osteochondritis dissecans, a rare joint disorder where cracks form in the articular cartilage and the underlying bone.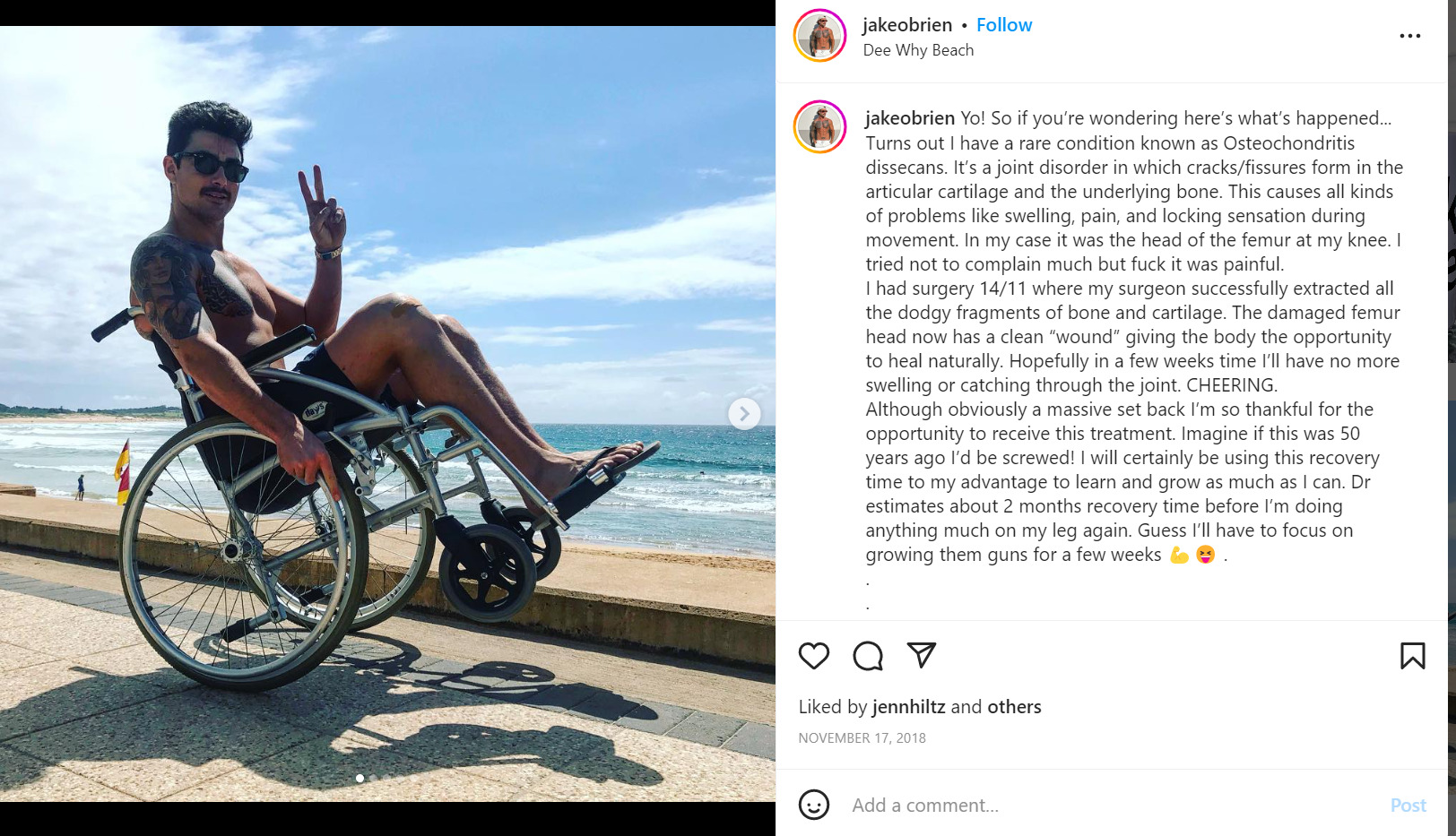 He underwent a successful surgery which got him stronger than ever. Despite having all his physical ailments, Jake has pushed harder each day to fasten his healing process and continue his work. Interestingly, despite having such severe issues, Jake is a fitness trainer, fitness coach, and massage therapist. He aspires to inspire people through his story and push people to reach their goal body. Though he felt that he wasn't ready for commitment for a lifetime just yet, after featuring on the show, he realized Holly was the "one" for him, and he knew what they needed to do. He also engages in holistic meal planning and is an avid follower of eating and staying healthy. His e-book 'Total Body Recomp' talks about the importance of holistic meal planning and diet plans.
Everything We Know About Holly MacAlpine
Holly MacAlpine is a model and television personality who hails from Sydney, New South Wales. She fell in love with fitness enthusiast Jake O'Brien in 2018, and since then, she has never left his side. The 25-year-old has supported him through all his struggles and has been a pillar of support. The incredibly beautiful model is also a fitness and fashion enthusiast. She posts great fashion content that inspires her fans to try out new styles.
The pair also appeared on the sixth season of 'The Amazing Race Australia,' where they performed incredibly well. Holly loves to travel with her boo; they have visited Amsterdam, the Netherlands, London, the United Kingdom, and others. The only problem she faces in her relationship is Jake's delay in popping the question. On the show, we see her being insecure about his ex-girlfriend Pala, and we hope they pass through every problem just like they have and start their forever soon.
Read More: Liam and Leylah From Ex on the Beach: Everything We Know