Investigation Discovery's 'The Perfect Murder: Disappearing Act' chronicles how Jana Koklich mysteriously disappeared from Lakewood, California, in mid-August 2001. While the authorities never found her body to date, they uncovered enough circumstantial evidence to determine she was killed and bring the perpetrator to justice. If you're interested in finding out more about the case, including the killer's identity and current whereabouts, we've your back. Let's begin then, shall we?
How Did Jana Koklich Die?
Jana Carpenter-Koklich was born to the late Democratic state Senator Paul Carpenter of Cypress and Janeth Carpenter in California on January 1, 1960. Family and friends described Jana as an only child who had been her parents' pride. According to her family, she had abandoned plans to attend law school when she met her husband, Bruce David Koklich, to help him succeed in his business.
Paul's girlfriend, Doris Morrow, recalled how Jana had been content staying in the background and doing the hard work as Bruce concentrated on the company's public relations. Doris said, "She wanted Bruce to shine." Jana and Bruce worked as realtors with RE/MAX International Inc.'s Seal Beach Office in California. They lived in Lakewood and owned a real estate and computer software company.
According to her colleagues, Jana was a hard-working and meticulous woman with a penchant for punctuality. Hence, it was concerning when the 41-year-old missed an early morning appointment with her personal trainer on August 18, 2001. Her husband filed a missing person's report with the Los Angeles County Sheriff's Department at approximately 3:00 pm on August 20. While Jana's body was never recovered, the police hypothesized she might have been shot dead inside her bedroom in the early morning hours of August 18.
Who Killed Jana Koklich?
According to the episode, her friends last saw Jana when she went to an Eric Clapton concert with them on August 17, 2001. Bruce told the investigators she returned to their 2200 block of Lewis Street in Lakewood, California, residence late that evening. Police interviewed her companions to learn she had not been drinking at the concert, citing her early morning appointment with her personal trainer the following day. However, Jana's trainer stated she never called to cancel the appointment and never arrived as scheduled.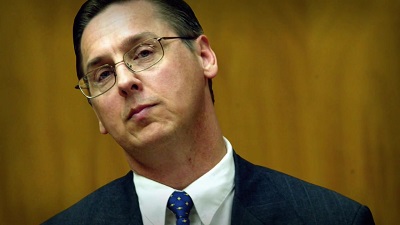 It was a little concerning since Jana had not missed an appointment with her trainer in two years. Another uncharacteristic activity on her part was not responding to her mother's several messages on the answering machine at home throughout the day on August 18. However, Bruce explained Jana had a busy schedule from August 18 – 20 due to work-related obligations and might have overlooked the calls and appointments. He alleged he last saw his wife when he departed from their residence between 6:00 and 6:30 am on August 20.
According to Bruce, he looked at several properties and arrived at their office in the 3900 block of Atlantic Avenue at approximately 8:30 am. His testimony included attending a funeral from 9:30 am until 11:00 am when he returned to the office. However, he became concerned when Jana did not arrive at work by 11:00 am and tried reaching her by calling her cell phone and their residence. He eventually drove to his house after Jana failed to answer. A co-worker accompanied him and saw Bruce deactivating the burglar alarm before entering.
Once they realized Jana was missing, Bruce called an unidentified friend from the Long Beach Police Department, and they filed a missing person complaint with the Los Angeles County Sheriff's Department. The investigators conducted a massive search, given her high profile as a former senator's missing daughter, but found no evidence regarding Jana's whereabouts. The police discovered her white 1996 Nissan Pathfinder SUV was also unaccounted for until the car was located more than a week later on August 27.
Authorities discovered the missing car parked in a vacant garage in the 2400 block of California Avenue in the Signal Hill area of Long Beach, California. It was a predominantly African-American neighborhood situated approximately four miles from the Kokliches' residence. The investigators were concerned when they discovered the vehicle's backseat was soaked in her blood. According to the episode, a group of teenagers claimed they had found the SUV unlocked and abandoned at approximately 8:00 am on August 20.
The boys stated the car's front windows were rolled down, and Jana's purse, cellular phone, keys, and a gun were in plain sight. They rifled through her personal belongings, discarded the bag and phone on top of an apartment building, sold the gun, and took the car for a joyride. However, they realized a week later that the vehicle was linked with a homicide and came forward with their evidence. According to reports, a local minister advertised for the return of the gun in exchange for a $100 reward and anonymously received the weapon.
While Bruce tried to portray that his wife might have been a victim of an alleged carjacking and talked about witnesses seeing her on August 20, Jana's parents claimed Bruce had hurt her. Paul told reporters in 2001 that he believed Bruce murdered Jana because she wanted a divorce, and he did not want to split their marital assets. He would have lost 51% of their jointly-owned business in a divorce. He also had taken out a $1 million insurance policy on her life. However, Bruce was finally arrested and charged with Jana's murder on January 31, 2002.
The police found a pillow and sheet missing from the couple's bedroom. They also discovered a small amount of Jana's blood in the bedroom. According to the episode, the investigators also found it suspicious that Bruce did not seem to grieve for his missing wife or partake in the search operations. Instead, he allegedly visited prostitutes throughout his marriage and didn't support Jana's wish to adopt a child. After her disappearance, he solicited several female acquaintances for sex, including his eighteen-year-old niece.
Where is Bruce Koklich Now?
Bruce's first trial began in February 2003 when he was charged with first-degree murder. He testified and claimed innocence, while his defense counsel told the jury the prosecution lacked concrete proof. Due to the lack of physical evidence or the body, the trial ended in a hung jury and was declared a mistrial in March 2003. Bruce again went to trial in late 2003 and was charged with second-degree murder.
While he did not testify a second time, the prosecution tried to build a case with circumstantial evidence. According to the prosecutors, they had no concrete motive but cited Bruce's refusal of polygraph tests, his lewd and suspicious behavior since his wife's disappearance, and possible financial gain. His defense counsel reiterated the same story of Bruce being innocent, but the jury convicted him of second-degree murder in October 2003.
He was sentenced to fifteen years to life. The 64-year-old remains incarcerated at the California Institution for Men though he has been eligible for parole since July 2017. Jana's family and authorities remain hopeful he might disclose where he disposed of Jana's body someday in exchange for parole. According to reports, Bruce had been denied parole the last time in November 2021.
Read More: Joey Lynn Offutt: Found or Missing? Is She Dead or Alive?