The 'Dateline: Missing in America' podcast tries to unravel the mystery behind the mysterious disappearance of 23-year-old Jasmine Robinson from her grandparents' residence in Archer, Florida, in February 2019. She was six months pregnant at the time and was due to deliver her first child in May 2019. While the investigators began investigating her disappearance, they were shocked to find one twist after another. If you're interested in finding out more about the case, including who might have been responsible, here's what we know.
What Happened To Jasmine Robinson?
Jasmine Nykiesha Robinson was born on February 6, 1996, and raised in Archer in Alachua County, Florida, by her grandmother, Rosa "Miss Rosa" Robinson. Archer has a population of a little over 1,000 — that type of small, idyllic town where everyone knew each other. Her sister, Shantavia Robinson, recalled how their tightly-knit family grew up centering around their grandparents and described Jasmine as a fun and loving person. The sister added, "She was just a sweet person with a kind heart. [She] was my best friend — she was my everything."
Jasmine graduated from Williston Middle High School, where she played high-school basketball, earning the nickname "Beezy" for her prowess on the court. However, things began to go downhill from there. She was arrested on September 13, 2018, while trying to transfer money to herself using Venmo from a stolen phone during a Florida-Kentucky college football game at the Ben Hill Griffin Stadium. The phone's owner, a University of Florida student, reported her credit card, driver's license, and Gator 1 Card were also in her phone case.
The student reportedly used the "Find My iPhone" app to locate her stolen mobile at Southwest 175th Terrace in Archer, Florida — where Jasmine lived with her grandparents. According to reports, three unsuccessful attempted transactions totaling $1,624 were made on the student's Venmo, and the money was sent to an account bearing Jasmine Robinson's name and details. Police sources stated the student's credit card was also charged $12.50 at the stadium.
Jasmine was charged with grand theft and illegally using a credit card and was released from the Alachua County Jail on a $2,000 bond. She pleaded not guilty to the charges on November 8, 2018, and was supposed to appear in court on February 28, 2019, but suddenly went missing ten days before. According to reports, she was working her usual shift at McDonald's on February 18 and called her grandmother to pick her up since she did not have a car. Miss Rosa claimed Jasmine seemed upset with something but had refused to divulge it to her.
After returning home, the two went into their separate bedrooms, and that would be the last time Miss Rosa would see her beloved granddaughter, "Jazz." According to reports, Jasmine called her aunt around 8:00 pm, and the two talked for a while. That was the last time her family had seen or spoken to her. Miss Rosa woke up the following day to find her granddaughter was not at home to wake her up or prepare her breakfast. She grew increasingly concerned after Jasmine did not attend her scheduled doctor's appointment or show up for work.
Shantavia explained, "She (Jasmine) wouldn't have skipped her doctor's appointment. And for her to miss work and stuff like that, that's not her either." After calling friends and family, the elder sister contacted the Alachua County Sheriff's Office and reported her baby sister, Jasmine, missing on February 20, 2019. According to the family, the missing woman was six months pregnant with her first child — a girl she planned to name Jamillia. She was due on May 10, 2019.
Is Jasmine Robinson Dead or Alive?
Shantavia stated she was worried and said, "Because not hearing or seeing my sister, you know, that's very unusual. I don't know where she could have been because Jasmine never goes anywhere and stays off like that. Especially not by calling anybody or — you know." Miss Rosa recalled, "Jazz was a good kid. She was at school — she was in a lot of things at school. And even to the –. She would go to Sunday school, this church on the Jonesville Road out there."
Shantavia stated she spoke with her younger sister for the last time on February 18 morning via video call. She recalled Jasmine was in a bad mood about receiving phone calls at work, which she claimed was part of an ongoing argument with an individual — her unborn baby's alleged biological father, a 56-year-old married man named Christopher Wiggins. Police sources stated Christopher was a nine-time convicted felon with a lengthy criminal record, including cocaine possession, robbery with a firearm, and felony battery.
Detective Chris Weitzel of Alachua County Sheriff's Office alleged, "I know he was arrested after the disappearance of Ms. Robinson for an armed robbery, and he was sentenced to 11 years in prison for that." According to the arrest report, Christopher and the other two defendants robbed a Bojangles restaurant in Florida on February 13th, 2019. They took hostages at gunpoint and later left the scene with nearly $2,000. Detective Weitzel confirmed he had a heated social media exchange with Jasmine four days later.
According to him, Jasmine outed Christopher, the man she believed was the father of her baby, to his family on Facebook Messenger on February 17. The detective further alleged Jasmine received upsetting phone calls at work the following day and vanished later that night, on February 18. Christopher was arrested for the armed robbery in July 2019 and sentenced to 11 years in prison. Her friends and family believe he is behind Jasmine's disappearance.
Shantavia claimed Christopher had wanted Jasmine to abort the baby and was even willing to pay for the abortion. However, the young mother-to-be was keen on keeping the daughter, which would have required him to pay child support. Another bizarre aspect regarding the unexpected pregnancy was Jasmine's preferred sexual orientation — her family claimed she was a lesbian. Detectives have also named Christopher as their prime suspect since Jasmine seemed to have gone out of her grandparents' home to meet someone she knew.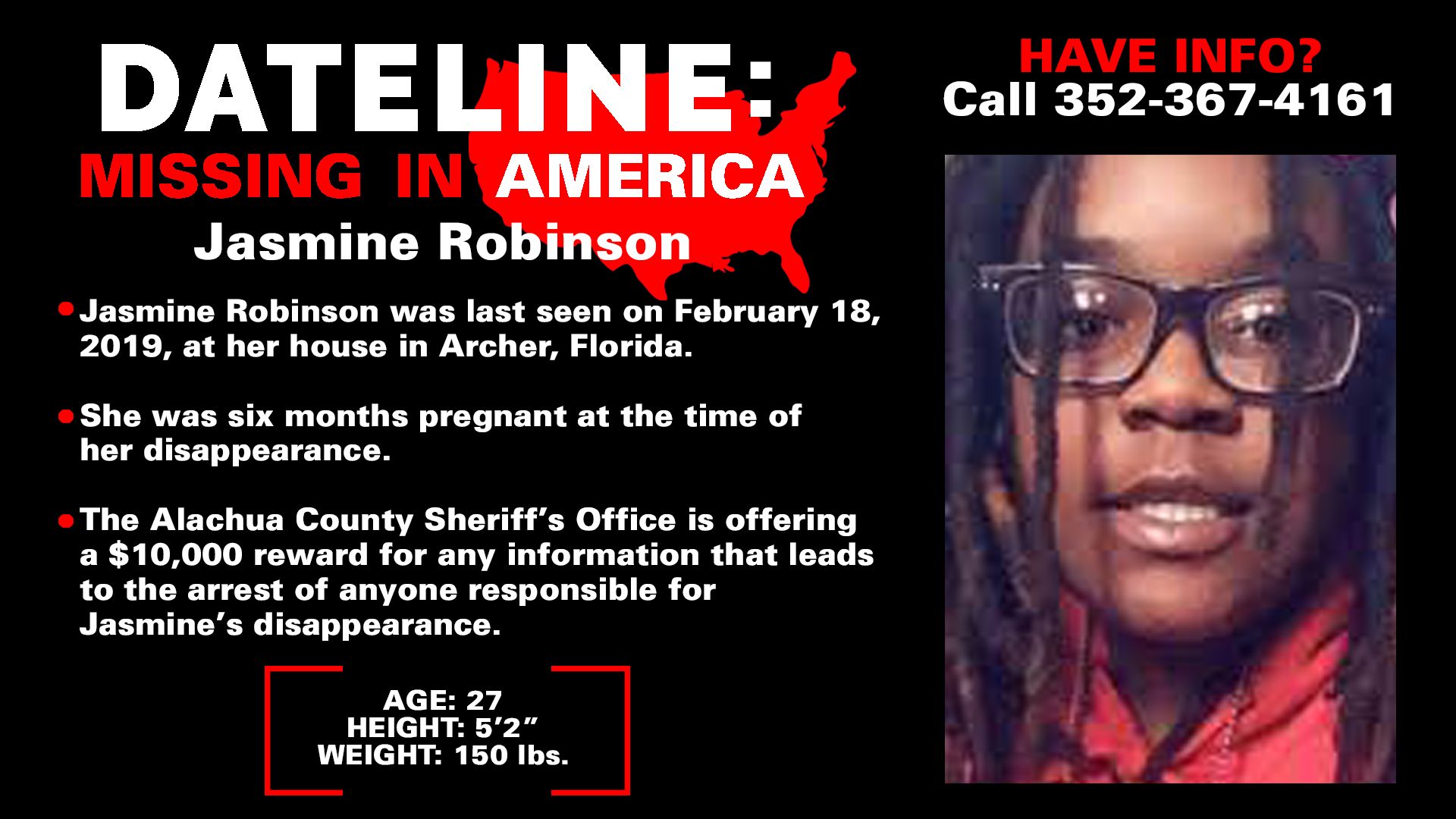 Detective Weitzel stated she left her money and personal belongings at home, only taking her cell phone with her. The authorities have tried to trace Jasmine's location with her cell phone data, conducting searches in northern Alachua County and in neighboring counties, including Levy County, Florida — just south of Jasmine's residence. The case remains open with an active search warrant issued due to her missing her court hearing. The Alachua County Sheriff's Office is offering a $10,000 reward for any information leading to arrests of those responsible.
Read More: Rhonda Krehbiel Murder: Where is Chester Higgenbotham Now?