Jennifer Lawrence, one of the most celebrated and accomplished actresses of her time, is among the highest paid performers in Hollywood. She has also featured on Time's 100 most influential people in the world list in 2013 and in the Forbes Celebrity 100 list in 2014 and 2016. With quite an impressive resume, she embarked into the world of acting by appearing on the sitcom, 'The Bill Engvall Show'. Her first film role was in 'Garden Party', followed by performances in 'Winter's Bone' and 'X-Men: First Class'. Lawrence's breakthrough role was that of Katniss Everdeen in the 'Hunger Games' franchise, which established her as a star. Along with that, she has acted in dramas like 'Silver Linings Playbook' and 'American Hustle'.
For her role in 'Silver Linings Playbook', Lawrence received the Academy Award for Best Actress, making her the second-youngest winner of the title. Additionally, she has won a BAFTA Award for Best Actress in a Supporting Role for 'American Hustle' and Golden Globe Awards for 'Joy' , 'Passengers', Mother!', and 'Red Sparrow'. Adding to her long list of accolades are seven MTV Movie Awards, six People's Choice Awards, one Satellite Award, and a Saturn Award. The versatile artist excels in a variety of genres such indies, super-hit comedy-dramas, and hugely popular action franchises. A knack toward choosing the right films combined with a dynamic personality make Lawrence a favorite among fans. With that said, here's the list of really good Jennifer Lawrence movies on Netflix that are available to stream right now:
2. Silver Linings Playbook (2012)
'Silver Linings Playbook' is definitely one of those movies where Lawrence has delivered one of her finest performances. Released in 2012, this comedy-drama is about mental health issues and emotional struggles. Lawrence portrays the character of Tiffany opposite Bradley Cooper who plays the role of Pat Solatano Jr. Pat is a patient suffering from bipolar disorder and is institutionalized in a health center in Maryland for minimum eight months, under the court's order after he beats up his wife Nikki in a fit of rage. However, his mother Dolores gets him discharged earlier and brings him back to their home in Philadelphia. He is granted this early release only under the condition that he moves in with his parents, which he does.
Meanwhile, Nikki has since left Pat and has sent a restraining order against him. Pat has been prescribed medications but he refuses to take them because they make him feel weird. According to his philosophy, he can be normal, simply by adopting a healthy way of life and focusing on the "silver linings" in his life. In the midst of all this, he wants to get his old job back and reunite with Nikki. This is when he meets Tiffany at a dinner invitation in his best friend Ronnie's home. Tiffany is the the widowed sister of Veronica, Ronnie's wife, and comes with her own problems. Both of them meet in these fragile mind states and start a love/hate friendship — the roots of which are based on them helping out each other to achieve their personal goals. Towards the end, they re-evaluate their relationship and assess their choices. You can watch this movie here.
Read More: Best Femme Fatale Movies on Netflix
1. Winter's Bone (2010)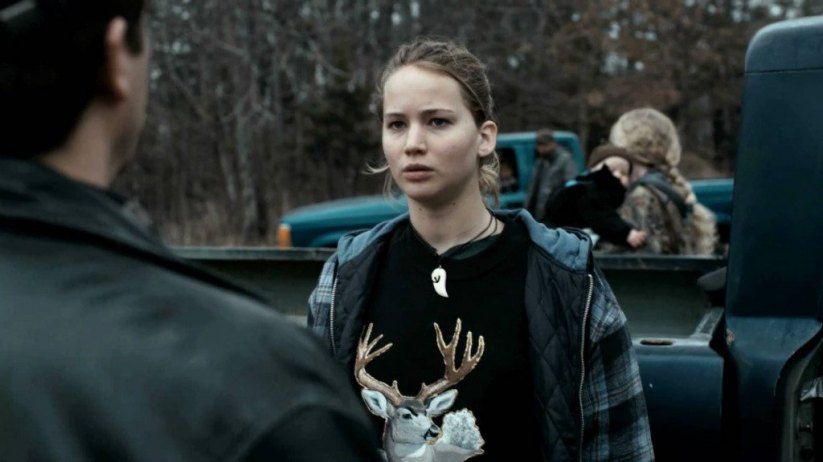 'Winter's Bone' earned Lawrence her first Oscar nomination at the mere age of 20, giving viewers an early glimpse of what the young actress was capable of. Her character portrayal of Ree, with the perfect amalgamation of steely courage and quiet determination, earned her immense critical acclaim and is often cited as her breakthrough performance. The story of this movie unfolds in the Ozark back country, where 17-year-old Ree lives with her ailing mom and two younger siblings, aged 12 and six years. While she spends most of her time caring for her mentally ill mother, the patriarch of the family, Jessup is rarely present in their lives. He earns his living primarily by running a methamphetamine lab.
Ree, who does not have any financial support, has to rely on herself to run the house and make ends meet. She receives frequent help from her neighbor Sonya. Things become more complicated when her father is scheduled for a court appearance for his illegal business. He skips bail, putting their house and property up as bond. Now, in order to ensure that the family does not end up on the streets, Ree needs to find Jessup so that he makes his court appearance. As Ree embarks on her quest, she discovers that people know about his whereabouts but they are hesitant to reveal the information in front of her. Gradually, rumors arise that Jessup is dead, but without a dead body, she cannot prove anything. Ree, therefore, persists in extracting the secrets from these silent onlookers, which might actually help her in finding her father and securing her home. You can watch this movie here.
Read More: Best Agatha Christie Movies on Netflix