Jesse Eisenberg is one such rare actor working in Hollywood today who augments the senses of a movie that he is part on, barely by his beguiling presence. His first feature was the 2002 comedy-drama film 'Roger Dodger' and since then he has done extensive amount of films, having immense qualities in wide range of categories, a massive achievement for an actor of his age and experience. The soothing screen-presence and groovy body language has been an inherent quality of him, which he often employs in a skillful and effective manner.
He makes his co-actors to look in a state of comfort by his cool, yet gripping style, thus also aiding to the easiness of the narrative. This hardworking, passionate, and authentic actor has proved to be a unique and enchanting figure among the modern day actors and is one with great potential to do quality, anomalous roles. With that said, let us look at the list of top 12 films of Jesse Eisenberg:
12. Now You See Me (2013)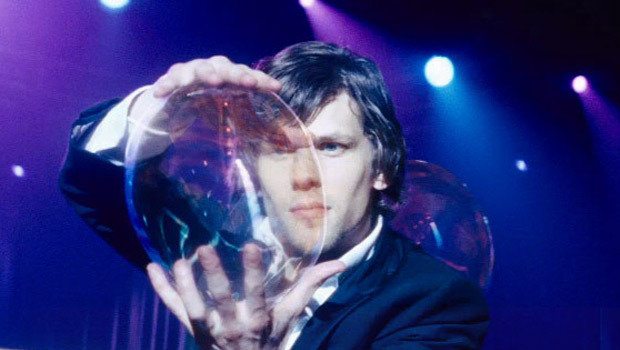 'Now You See Me' is a fun, easy to enjoy movie. It is also one of the good magic movies. The film does a great job of being flashy with grand spectacles without taking itself too seriously. The four main magicians who work together have great balance in character, and tons of crowd appeal. What this movie lacks in a meaningful message, it makes up with amazing tricks and twists that will leave the audience unable to guess the next move. Jesse Eisenberg was excellent thereby proving his A-list status.
11. Café Society (2016)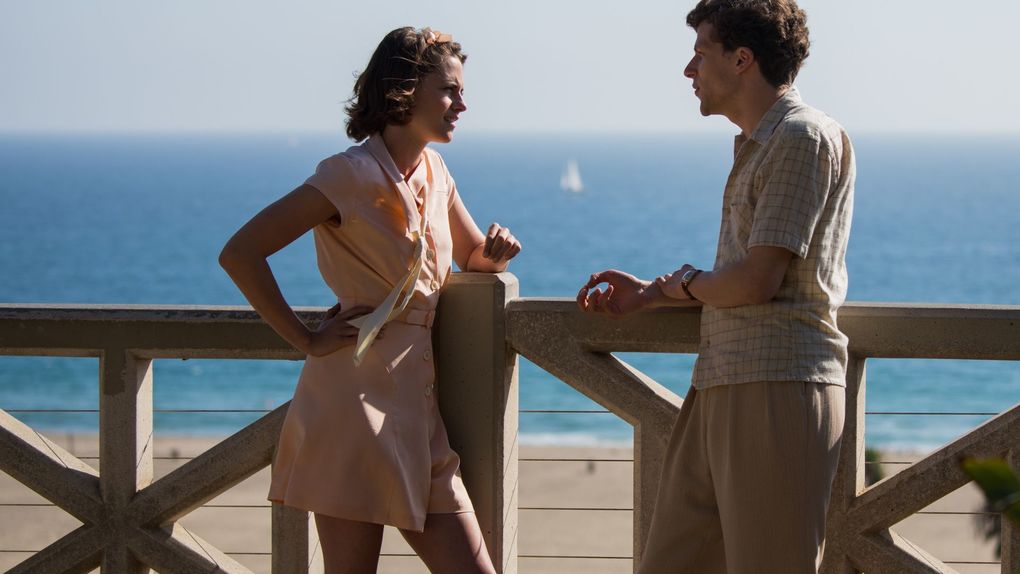 'Café Society' is a beautifully shot and genuinely enchanting period comedy with some amusing characters that you can relate to on an emotional level. It is obviously not one of Woody Allen's best work, but you will have a blast watching this. It displays Old Hollywood and New York with equal degrees of dreamy warmth. The visuals seep off the screen and create an atmosphere so lovely to spend an hour and a half in, that when it is over you feel a longing to return. Jesse Eisenberg, whose character Bobby brings together the two worlds of New York and Los Angeles, excellently leads the cast.
10. Solitary Man (2009)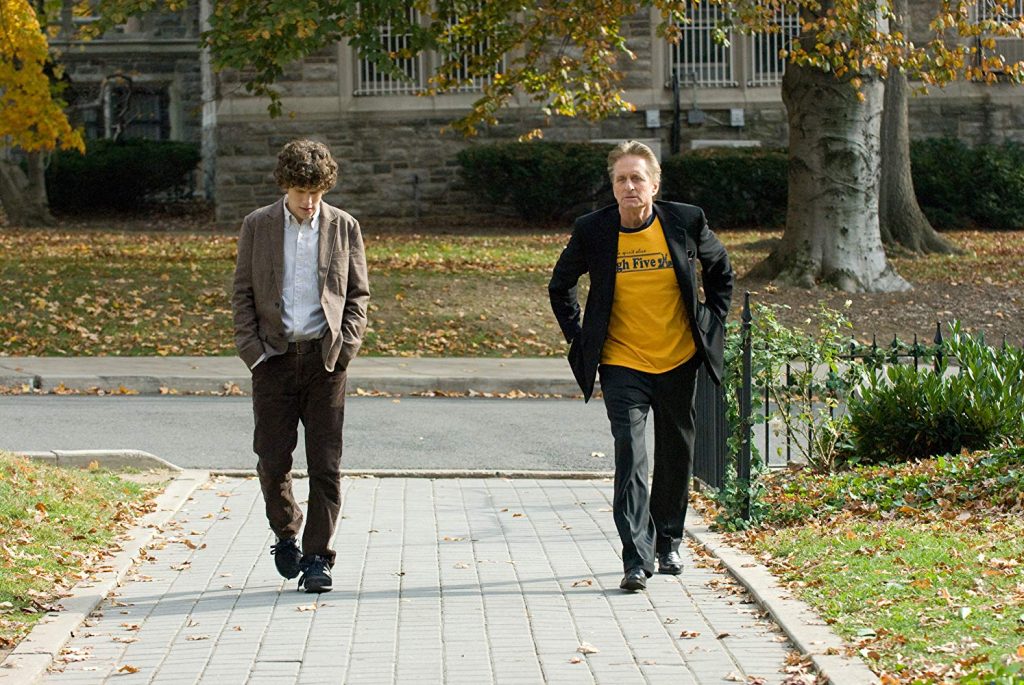 It is rare for an American film to give us a despicable protagonist from beginning to end, but that is one of the notable achievements of 'Solitary Man'. You could almost feel the frankness of the character evolving. If you have ever enjoyed Michael Douglas in a movie before, this movie is worth seeing. His performance as a morally flawed rake who is somehow ingratiating, if not exactly charming is a subtle but real revelation of his acting skills. He obviously delivers in a movie built around a singularly unpleasant main character that needs a flawless central performance to succeed. Jesse Eisenberg also does his role perfectly well.
9. Louder Than Bombs (2015)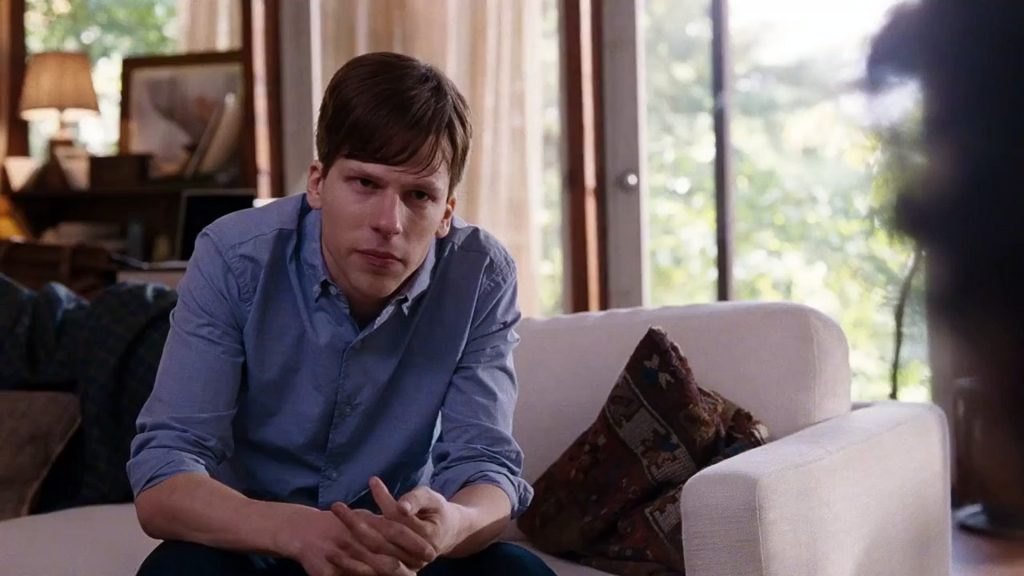 'Louder than Bombs' follows a family three years after their mother dies as an article is going to be written about her for an exhibit. The family (a father and two sons) are united and have their fair share of troubles and problems together. Thus, the film focuses to tell how they are going to cope with their loss, especially the little brother who has differences with his father. We are meant to experience all these conflicting viewpoints and perspectives not be given cheap life lessons. One of the rare kind of roles in his entire career done with terrific composure and focus.
8. Roger Dodger (2002)
'Roger Dodger' deals with a rather unsuccessful womanizer who is taking his teenage nephew to a night out and teach him about approaching and scoring with the women. That leads to quite a few amusing, true and wonderfully pathetic observations about flirting, sex, men and women. While the camera work is somewhat experimental and shaky at times by trying to be voyeur instead of cinematic observer it also gives the movie a realistic feel. Jesse Eisenberg, whose wide-eyed innocence and youthful decency provide an effective counterpoint to the brash but empty Roger. This movie is definitely one of those hidden comedy gems that you may want to try out.
7. Adventureland (2009)
An honest and believable teen comedy-drama, 'Adventureland' is a fine addition to the coming-of-age genre, especially because it treats its characters and story with a great deal of respect, never resorting to cheap laughs or excessive melodrama. In addition, this movie proves that, despite her dull acting in the Twilight Saga, Kristen Stewart is actually talented as an actress. What actually makes the movie enjoyable is the old cars, groovy soundtrack and reminiscent cultural references despite its label as a comedy. Jesse Eisenberg plays the role of a nerdy, vaguely nebbish, and uptight character who is believably awkward.
Read More: James Franco Movies
6. Night Moves (2014)
'Night Moves' is a film that has the darkness of a Hitchcock film, on top of the thrilling topic of the day around eco-terrorism. It constructs a lean narrative that seems to indicate that the planning and execution of this act of terrorism is less an outgrowth of any specific ideology in the character's hold, but rather a desperate attempt to find something to believe in. Despite its flaws, it manages to maintain tension throughout heavily slow-paced narrative. Jesse Eisenberg plays as an ethically torn young farm worker that is trying to make a difference but is really struggling to do something that is profound and will make his mark on society and stand up for what he believes in.
5. The Squid and the Whale (2005)
Set in the 80's, 'The Squid and the Whale' tells the story of a couple of teenagers who see how their family falls apart. A marvelous and dark screenplay, characters that rarely change. The movie is about self-absorption, how the actions of most people stripping to the deepest motive, which will inevitably be a self-serving motive. The most enlightening thing about this movie is its uncanny objective views of people so confused and wrapped up in themselves. Overall, the film is a wonderful new installment in the breed of independent films. Jesse Eisenberg plays Walt, the oldest son, in a terrifically gawky, skillfully immature performance.
4. Zombieland (2010)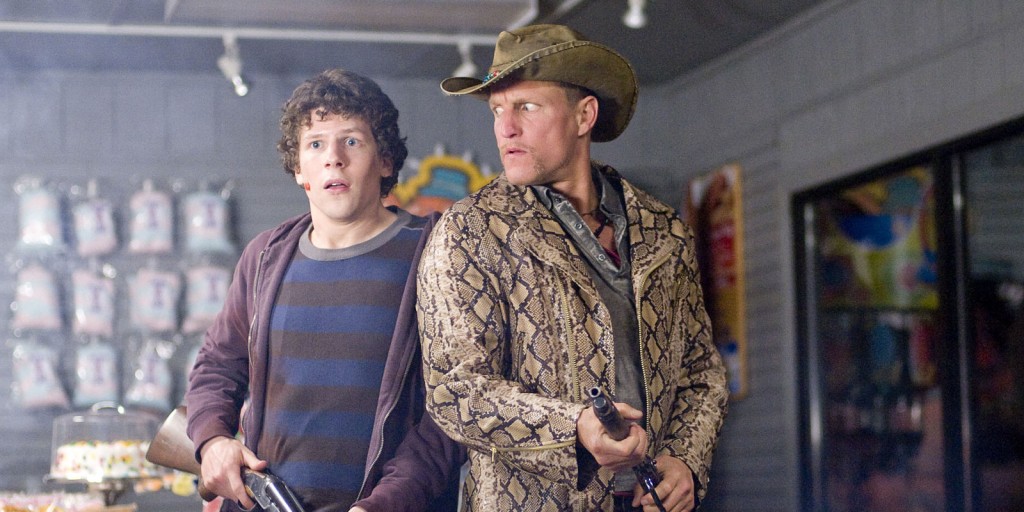 In the horror comedy 'Zombieland' we focus on two men who have to find a way to survive a world overrun by zombies. The film marvelously captures most of the love most audiences have for the zombie scenario. The jokes come often and are amusing, with pop culture references aplenty. Other than that, the special/practical effects do look convincing for the budget as well as the gore. There is plenty of blood, gunshots, wisecracks and zombies. The film has a nice balance between character development, the humor, and the action. Even though it was tricky role, Jesse Eisenberg gives a hilarious feat, blending and creating an extremely joyful atmosphere along with the other characters. Check out more zombie movies here.
3. The End of the Tour (2015)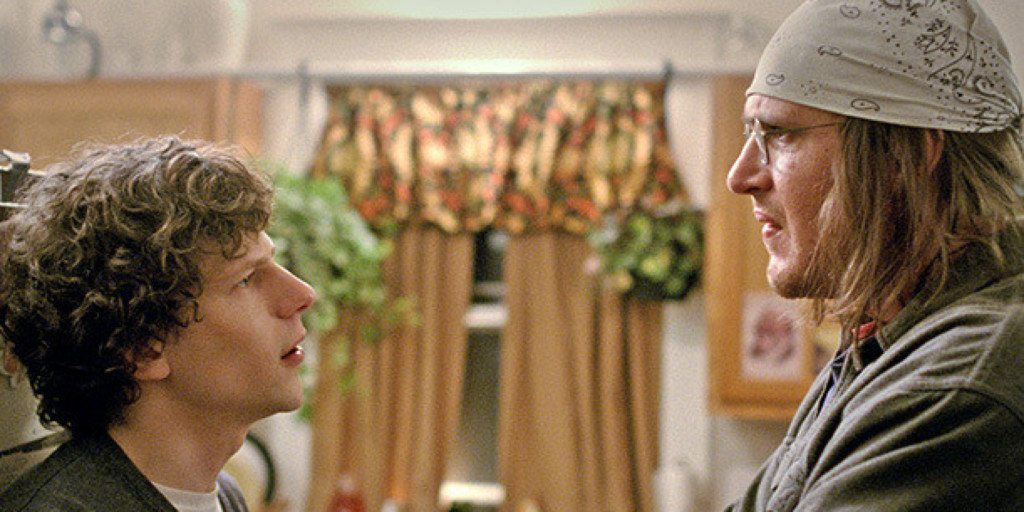 'The End of the Tour' focuses entirely on a five-day discussion between two men, one an acclaimed author, the other an aspiring one. The conversation that ensues is one that instantly grabs you and does not let go. It has a lot to say about fame and fulfillment, and it fully admits to not having the answers some of the questions it poses. It is still nice to see a film this intelligent and enlightening that does not resort to sentimentality. While watching this, one can see, it is a journey of friendship and discovery of thought and it proves that every person is different and it is a complex life even if one is good in a certain craft or trade of work they always wonder and ask for more. Segel and Eisenberg play brilliantly off one another and keep the movie lively.
2. The Double (2013)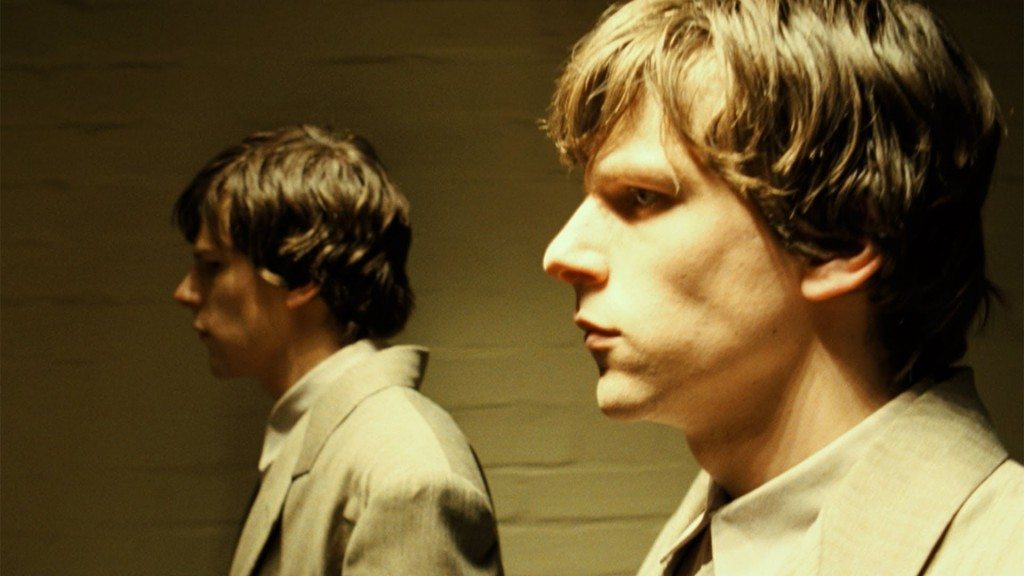 'The Double' is a bleak and weirdly nostalgic psychological thriller about a nerdy worker dealing with his gregarious doppelganger. It is visually striking and has great deadpan humor, and there are some interesting ideas about loneliness and identity. The score and the music choices give a distinctive style to the film. It is an experimental film with style, a great piece of work from writer-director Richard Ayoade. Jesse Eisenberg does a great job of portraying two completely different characters with such ease. The fact that it seems so effortless proves how great of an actor he is.
1. The Social Network (2010)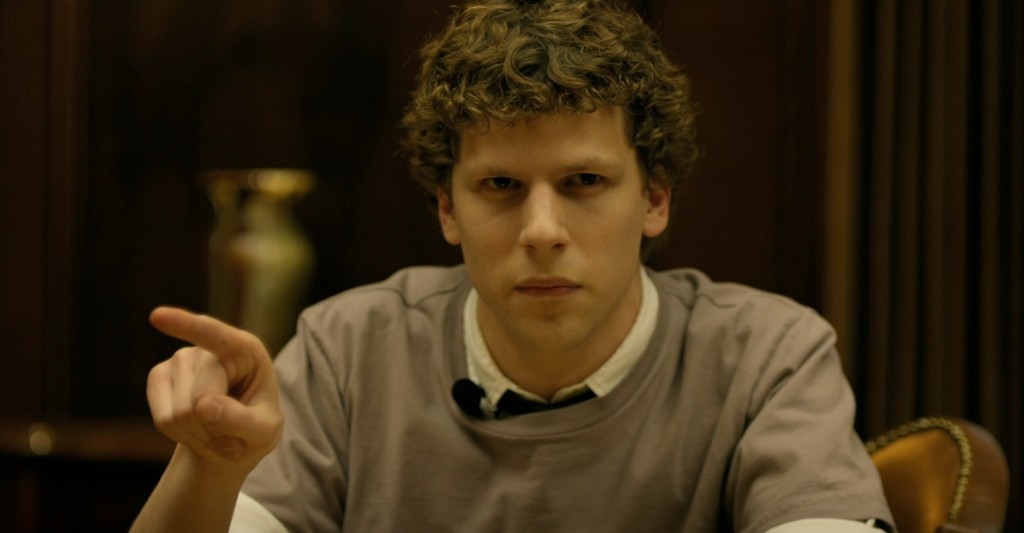 Great works of art define more than just, what is on display. They define a culture, a generation. Brilliantly paced, directed, acted and written, The Social Network is one such film, not only an excellent interpretation of a true story, but one of the best movies of this decade. The story and characters grab you from the very first scene and completely own your attention until the credits roll. That is a very difficult feat for any film to accomplish but 'The Social Network' accomplishes it effortlessly. Supported by an exemplary score and a standout lead performance By Jesse, Fincher's masterwork is as relevant as it is beautiful.
Read More: Harvey Keitel Movies