Following the remarkable success of its inaugural season, 'The Great British Bake Off' returned for a second installment on August 14, 2011. The hosting duties were assumed by Mel Giedroyc and Sue Perkins, while Mary Berry and Paul Hollywood reprise their roles as judges. The second series also introduces the accolade of "star baker" for the most outstanding contestant each week. This season featured a roster of twelve amateur bakers, all vying for the coveted title of winner, and it was Joanne Wheatley who emerged victorious. If you have an interest in delving deeper into her journey on the show, we have all the details you would need. Let's begin, shall we?
Joanne Wheatley's The Great British Bake Off Journey
Born on October 30, 1965, Joanne Wheatley hails from Essex, England. She was already a dedicated homemaker and mother of 3 before her appearance on 'The Great British Bake Off.' Joanne discovered her passion for baking early in life, inspired by her mother and grandmother's culinary skills. She honed her baking talents over the years by experimenting with various recipes and techniques. She got a big break that altered her life completely when she decided to audition for the show. In an interview, she discussed how she got on to the show and said, "I applied on a whim really. I wasn't the most confident person and if it hadn't been for my friend pushing me I'd never have even thought about applying."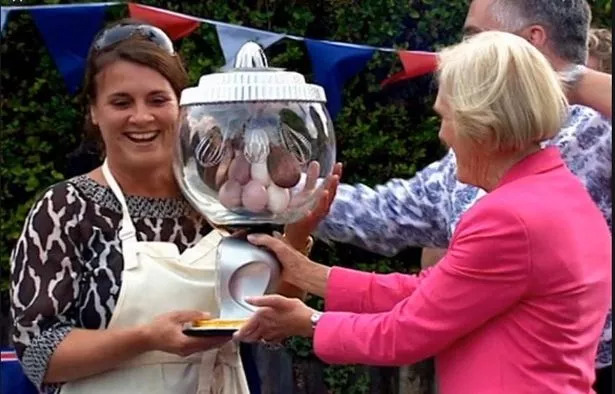 During her audition for the show, Joanne showcased her culinary prowess by preparing two delectable recipes: lemon drizzle and Italian meringue cupcakes, as well as a mouthwatering Stromboli. To her delight, one of her idols, Mary Berry, praised her cake, ultimately extending the invitation to join the show. In the premiere episode, Joanne crafted a delightful array of Chocolate Orange Cupcakes, Orange and Cardamom Cupcakes, and an exquisite Chocolate and Strawberry Cake for her showstopper. Her talents shone brightly in the third episode when she prepared the scrumptious Ham, Mozzarella, and Picante Pepper Stromboli, earning her the esteemed title of "star baker" for that episode.
With each successive episode, Joanne's culinary expertise continued to shine, securing her safety in the competition. Her winning streak persisted in the sixth episode when the remaining five participants faced the challenge of creating their finest desserts. Once more, Joanne emerged as the victor with a delectable Rum and Raisin Baked Cheesecake as her signature dish and a stunning Limoncello and White Chocolate Croquembouche as her showstopper. In the gripping season finale, Joanne faced off against her fellow competitors, Holly Bell and Mary-Anne Boermans.
The grand showdown required them to craft 12 mille-feuilles in just 2.5 hours, then conquer the challenge of a sachertorte within a strict time frame of 2 hours and 40 minutes. As the ultimate test of their baking prowess, they were assigned the task of crafting three distinct varieties of petits fours, comprising meringue, sweet pastry, and sponge-based creations, all inspired by the theme of British Summertime. They had a mere 4 hours to accomplish this formidable feat. Joanne's creative spread featured a Raspberry and Blueberry Mille Feuille, accompanied by Mini Victoria Sandwiches made of Raspberry, White Chocolate, and Pistachio Mini Meringues, as well as Mini Banoffee Pies with Banana Mousse. Her delectable creations impressed the judges, and Joanne was rightfully declared the winner of the season.
Where is Joanne Wheatley Now?
Following her triumph on the show, Joanne Wheatley has made her mark as the author of two highly acclaimed books: 'A Passion for Baking,' published in August 2013, and 'Home Baking,' released in July 2014. Her culinary expertise is showcased through a monthly column in Sainsbury's magazine, and she also serves as a recurring guest columnist for The Sun. In addition, Joanne has ventured into the world of food blogging with her site 'Jo's Blue Aga,' where she consistently delights her followers with a plethora of fresh and enticing recipes.
Sun loving Frenchies pic.twitter.com/pgl4NNRKqW

— Jo Wheatley (@JoanneWheatley) April 11, 2022
She still remembers her fellow contestants and judges fondly and recalled, "Since I won Mary has put me forward for several jobs and I've got to see her and Paul quite a lot at events, I can't speak highly enough of them. It really is like a family environment on Bake Off with Mel and Sue and the crew. I think that's one of the reasons it has done so well – it's very genuine." Joanne has expanded her repertoire by offering cooking classes for enthusiastic learners.
Joanne has made appearances on several television programs, including 'The Alan Titchmarsh Show' and 'What's Cooking'. Shortly after her 'Bake Off' victory, news emerged that her husband, Richard Wheatley, was serving a seven-year prison sentence related to a £60 million money-laundering operation, to which he had pleaded guilty. In November 2020, Joanne relocated to Lisbon, Portugal, with her husband Richard, where they have been relishing a tranquil life together.
Read More: Edd Kimber: Great British Bake Off Season 1 Winner is Now A Successful Culinary Author