'The Voice' is a singing reality competition series that presents to the world professional and amateur singers who have the potential to make it big in the music industry. NBC provides the chance to all the selected participants to be coached by iconic musicians before declaring the best of the lot as the winner. One of the hugely talented singers, John Holiday, garnered a crazy amount of love and appreciation right after his blind audition premiered on October 19, 2020. After dedicating Coldplay's "Fix You" to his coach, John Legend, he won millions of hearts. The heartfelt rendition was sung to emotionally support the 41-year-old musician and his wife, Chrissy Teigen, following the loss of their unborn son in September 2020. As this special gesture struck a chord with us, we got intrigued to know more about Holiday's life and here is everything we found out!
John Holiday's Age and Background
John Thomas Holiday Jr. was born on March 31, 1985, in Houston, a large metropolis in Texas but eventually, his family moved to Rosenberg. He confessed on 'The Voice' that he had a rather difficult childhood because of being subjected to roguish bullying due to his "high voice" and "being gay." Having been raised majorly in Fort Bend County, Holiday began singing at the church from the age of 2. The 35-year-old earned his Bachelor of Music degree in vocal performance in 2007 from Southern Methodist University in Dallas. He then pursued his Masters in vocal performance from the University of Cincinnati College-Conservatory of Music and an Artist Diploma in Opera Studies from The Juilliard School in New York City.
John Holiday's Family
John Holiday was born into a family of simple-minded people. His father, John Holiday Sr., was a welder and his mother, Waverly A. Holiday, a homemaker and an enthusiastic singer and clarinet player. Hailed as "an exceptional singer with a strong voice, even in its highest range" by the prestigious New York Times, Holiday admits that he would not have been anywhere without the support of his family, all of whom still reside in Texas.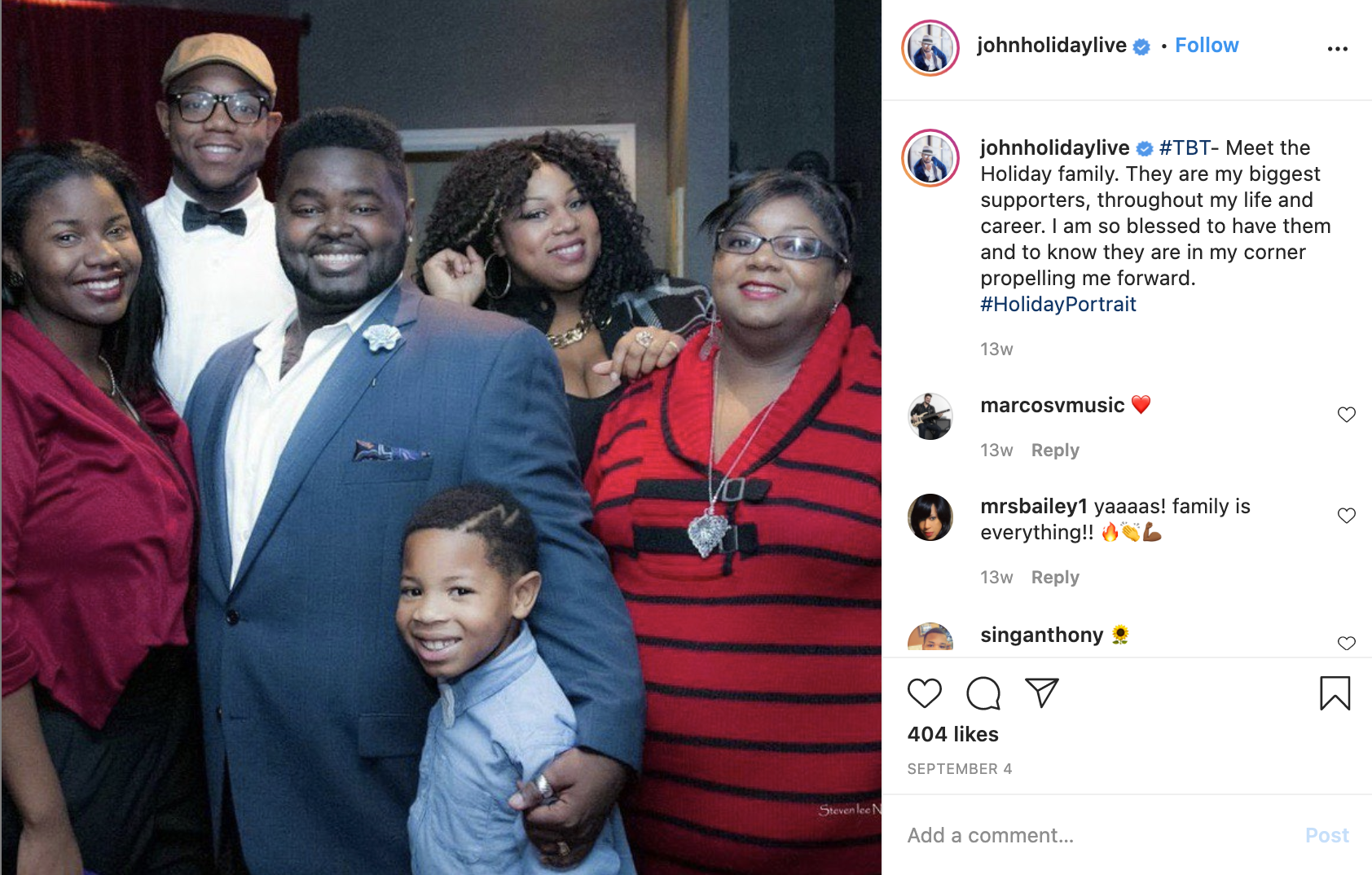 His grandmother, Sandra Mathis Franklin, has had a colossal influence on his life and career. During Holiday's formative years, she was the music minister, pianist, and choir director at Calvary Missionary Baptist Church in Houston. This gave the talented vocalist to showcase his skills as a part of the adult choir. In addition to this, his grandma continues to be his "biggest cheerleader" and was nothing but supportive when he finally came out of the closet at the age of 25. Holiday expressed on NBC's hit show that at the time he confessed about his sexual inclinations to his "Big Momma," she kindly responded, "There is nothing in this world that you could do that would make me love you any less than I love you right now."
John Holiday's Singing Career
John Holiday is one of the luckiest people who are able to discover their real passion at an early age successfully. Since he was a couple of years old, he got exposed to the magical world of music through his regular visits to the church, all credits to his grandmother. To pursue the art in all sincerity, the young boy joined The Fort Bend Boys Choir of Texas as a soprano, began touring to sing around the world, and the group even got invited to perform with the Houston Symphony. Holiday earned the opportunity to perform his first solo, "Let There Be Peace on Earth," while he was still in the second grade at Travis Elementary. There was no looking back for the crooner as he went on to win several music competitions in addition to attaining academic degrees in the same field.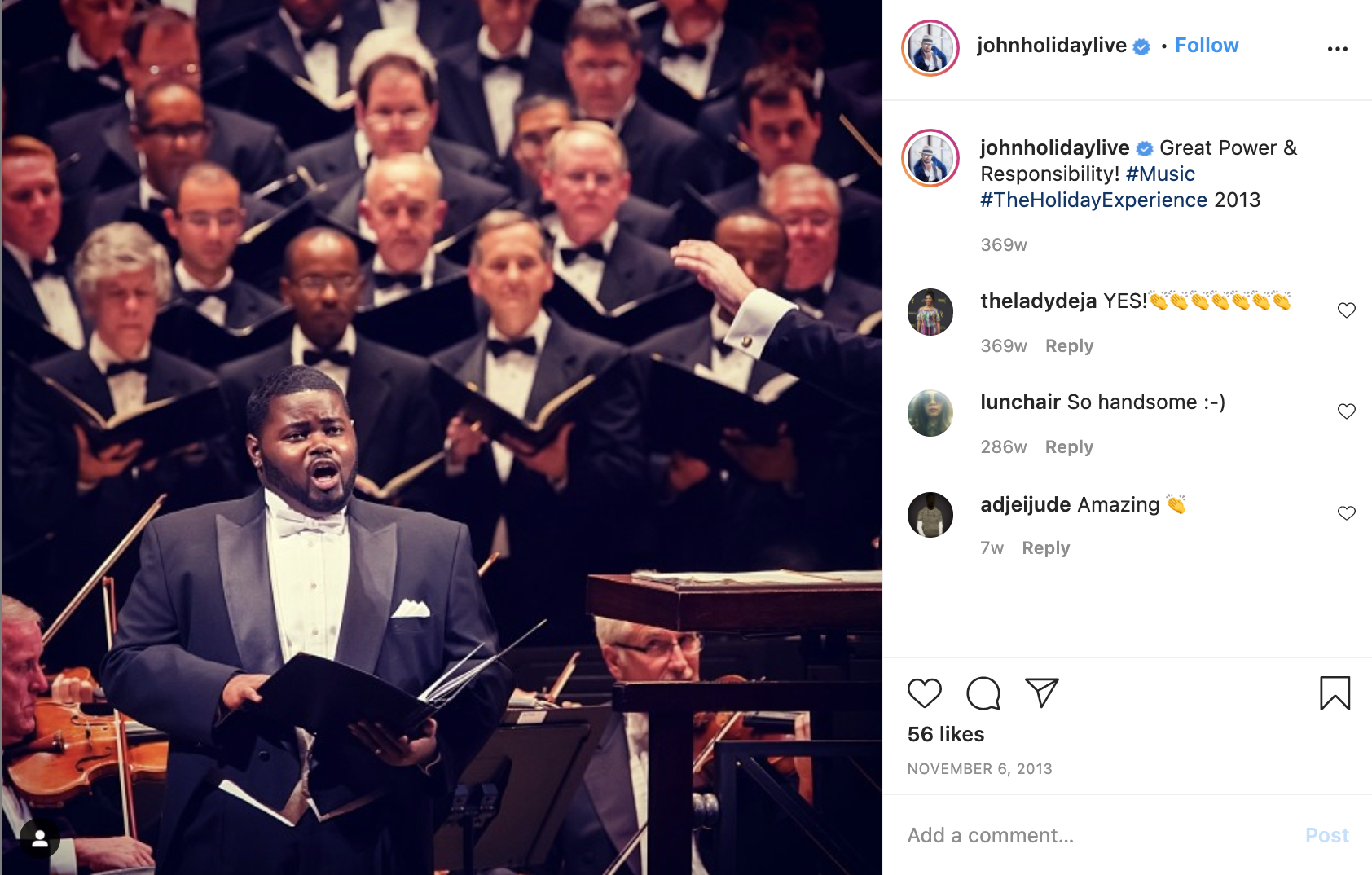 John Holiday is a professional operatic countertenor who has tone-perfect vocals in four languages. In addition to performing at world-class venues like the Glimmerglass Festival, Carnegie Hall, Apollo Theater, Kennedy Center, to name a few, he has also been teaching recitals at the Conservatory of Music at Lawrence University since 2017. The magnetic personality aspires to be a crossover artist and often includes some of the jazz, gospel, and pop to his signature style, something evident during his performances on 'The Voice.' His blind audition song, Etta James' "Misty," earned a pleasantly gaping reaction from Kelly Clarkson and turned the chairs of three of the four judges. Holiday's "otherworldly" rendition of Stevie Wonder's "Summer Soft" for his battle round with Julia Cooper left the audience awe-stuck.
I'm just so filled with gratitude right now, to have had the honor of singing @StevieWonder's "Summer Soft" with @juliacoopmusic on @nbcthevoice. As I tell my students, we always have more to learn, and it was humbling to be coached by @johnlegend & @Miguel-on to the next round! pic.twitter.com/agj0e9JYD7

— John Holiday (@JohnHolidayLive) November 11, 2020
John Holiday's Husband
John Holiday met his charming partner, Paul Garte, shortly before the year's most romantic day, Valentine's Day, in 2010. Around the same time, the singer had returned to pursue his vocal studies at the University of Cincinnati College-Conservatory of Music. Paul, a surveyor for an oil company, had arrived at his campus to pay a visit and so the two crossed paths and instantly formed a connection. They went out for a "wonderful dinner" at Primavista, one of Cincinnati's best Italian restaurants, which has the most romantic feel to it as it overlooks the river.
Holiday and Paul knew they shared an extraordinary bond and were ready to spend the rest of their lives together within a few days. Paul popped the question on February 16, 2010, and Holiday could not wait to say yes to him. After dating for almost three years, they shared their wedding vows on February 4, 2013, and set up their new home at Rosenberg for a few years. The couple also added a music room to their space, which they shared with their cockapoo dog, Grace. Both have been touring the world for work and have settled down at Appleton, Wisconsin, since 2017.