NBC's 'Dateline: Tipping Point' involves the two-and-half decades-long battle fought by Johnny Hincapie as he appealed against his felony murder conviction several times. He claimed he had been wrongfully convicted in 1992 in the September 1990 murder of Brian Watkins. The episode follows his journey through the legal wrangling and how he ultimately came out victorious. So, who is Johnny, and where is he now? Let's find out.
Who is Johnny Hincapie?
18-year-old Colombian-born Johnny Hincapie was among a group of teens accused of fatally stabbing Utah tourist Brian Scott Watkins on a subway station platform in 1990. According to reports, Brian, his parents, Sherwin James and Karen Cox Watkins, his brother, Todd James Watkins, and his sister-in-law, Michelle Watkins, were in New York for their annual ritual of attending the US Open. A youth competitive tennis player, Brian had won several accolades for his sporting abilities and hoped to pursue a career in it one day.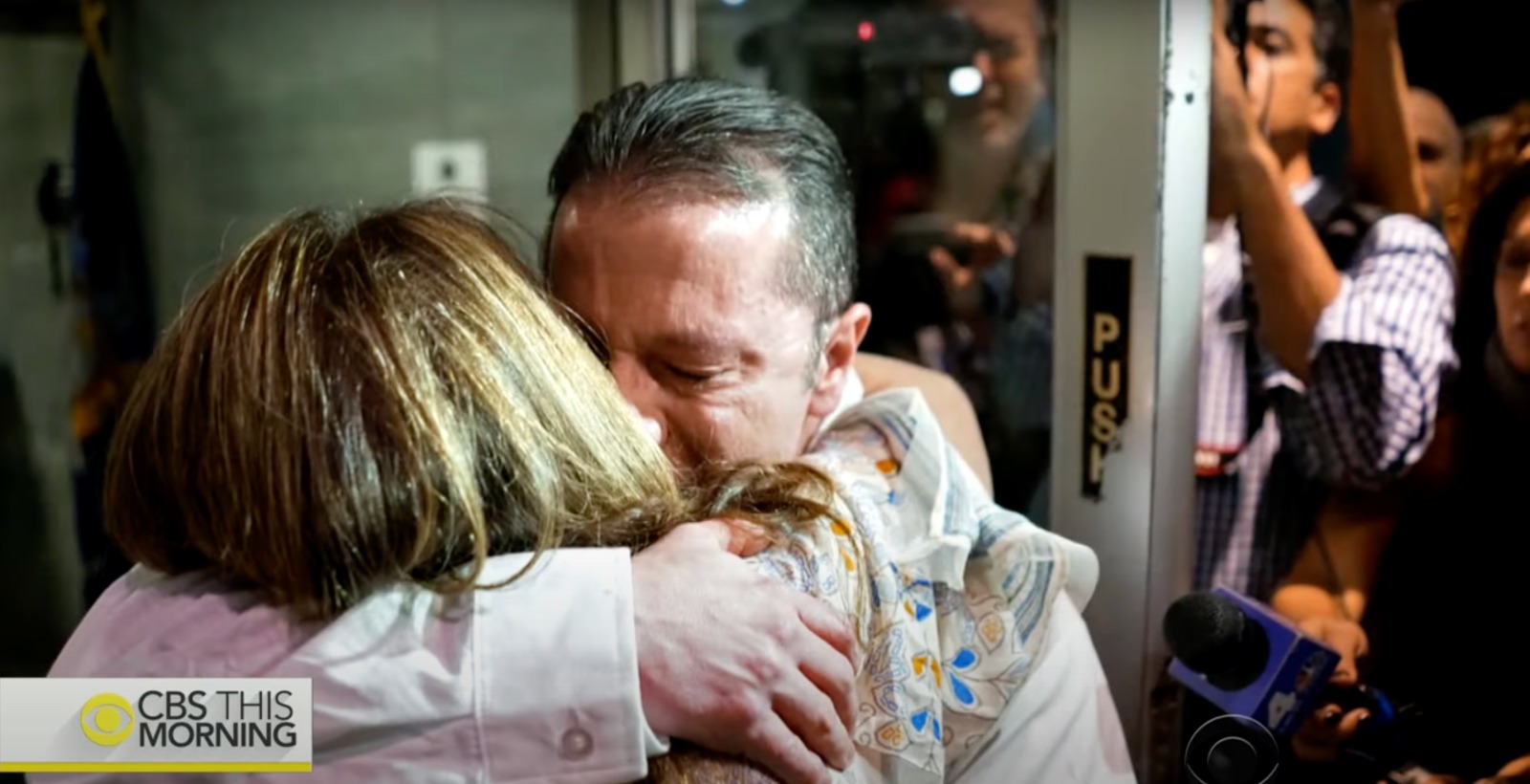 However, Brian's dreams were cut short when the Watkins family was attacked by a group of teens while they were en route to dinner at the Tavern on the Green in Central Park on September 2, 1990. They were in a Manhattan subway station on 53d Street and Seventh Avenue when Michelle spotted several youths skulking behind a stairway. According to Sherwin's court testimony, one of the teens came running at them, yelling, and waving a knife. Reports stated the youths stole a money clip holding $200 and some credit cards.
Sherwin testified, "My wife and daughter-in-law were screaming, 'Help!' Then the next thing I remember was he had Brian's chin up like this with a knife at his throat. They were pushing me down by my shoulders and someone was cutting the back of my pants. I could hear my wife and daughter-in-law screaming. I was yelling, too." During the ensuing struggle, the assailants kicked Karen in the head and fatally stabbed Brian, 22, in the chest when he came to her rescue. An injured Brian chased the teens away before collapsing at the foot of a station stairway.
By the time Brian was rushed to St. Vincent's Hospital, the aspiring tennis player had succumbed to his injuries. The death created a huge media frenzy with enormous political pressure to round up and convict what was known at the time as the "wolf pack" responsible for the killing. A small army of detectives was dispatched, and the New York Police Department started rounding up possible suspects within hours of the murder. Within 24 hours, charges were lodged against eight suspects, and all but one gave videotaped confessions.
Among the seven people convicted and sentenced to 25 years to life was Johnny, who had just turned 18. According to his later lawsuit, he was part of a young crowd taking the subway from Queens into Manhattan for a party at the Roseland Ballroom on September 2. He was upstairs on the station's turnstile level with two girls and another young man, "innocently unaware of what was going on hundreds of feet away on the platform below." He claimed he was arrested when the police started apprehending teens outside the Ballroom.
Where is Johnny Hincapie Now?
According to court records, Johnny had no previous contact with the police or a history of behavioral problems, and he trusted the police. His lawyer, Gabriel P. Harvis, painted imagery of the chaotic environment of the Midtown North Precinct in the hours following the murder. He added, "Johnny was in that room in a very scary situation. He looked to the people — to the police officers that had brought him there — as people who would protect him, and make sure that nothing bad happened to him."
However, Johnny alleged he was coerced to falsely confess to the notorious Labor Day crime, falsely convicted of felony murder, and sentenced to 25 years to life in prison. In a 2010 interview, the 38-year-old Sing Sing prison inmate said, "I lied when I gave that confession. I'm going to keep on fighting to clear my name. There is no way I'm ever going to admit that I did something I didn't do again." He ultimately served 25 years, three months, and eight days before his conviction was vacated and his indictment dismissed in 2015 due to insufficient evidence.
According to court documents, Johnny was let go mainly after an exonerated co-defendant submitted a sworn statement saying he was not involved and another convict and a witness came forward in 2013 and stated he played no part in the attack. However, he still faced the uncertainty of a retrial until the prosecutors decided to drop it in January 2017. Reports stated the prosecution still believed Johnny was guilty but felt they had not much evidence to present with the passing of a key witness — the late Brian's father, Sherwin.
Johnny filed a civil rights lawsuit in Federal District Court in Manhattan in 2018 that was scheduled to go to trial in February 2023. However, the city settled with him for $12.9 million — a figure confirmed by both his lawyers and the Law Department — in December 2022. New York State had also agreed around two months ago to pay him $4.8 million to settle a separate legal claim. A spokesperson, Nick Paolucci, said, "Based on the findings of the D.A. and our review, this agreement is fair and in the best interest of all parties."
Johnny said, "What happened to Brian Watkins was tragic and I have never forgotten the loss his family suffered. I am fortunate that once again, my innocence has finally been acknowledged by my city, my state, and I look forward to the next chapter of my life with my family." The 50-year-old touted as "the last victim in the Brian Watkins case" was a model prison who earned his GED, associates, bachelor's and master's degrees while in prison. He now lives in Florida with his family, has two young children, advocates for others challenging their convictions, and has lobbied lawmakers to improve the criminal justice system.
Read More: Carrie Olson Murder: How Did She Die? Who Killed Her?