Hulu's 'Flamin' Hot' follows the story of Richard Montañez, who claims to be the one to invent the classic Flamin' Hot Cheetos. The movie charts his journey from the beginning, familiarising the audience with the circumstances in which he grew up and how he battled against all odds to become the success story everyone knows him to be now. While Richard worked hard to get where he is, the film establishes that he would have never gotten there without his wife, Judy. She becomes the heart and soul of the film, pushing her husband to do better, even when all hope seems lost. If you want to know more about Judy, we've got you covered.
Who is Judy Montañez?
While the internet is full of stories about Richard Montañez and his rags-to-riches story, there is barely anything about his wife, Judy. However, this doesn't mean she wasn't important to his life. Richard confessed at the 'Flamin' Hot' screening at SXSW, "Without her, there wouldn't be this product. There wouldn't be me." As portrayed in the film, Richard and Judy met very young and bonded so well that they never let go of each other. In 'Planet Money' from NPR, we get details about how she shaped his life.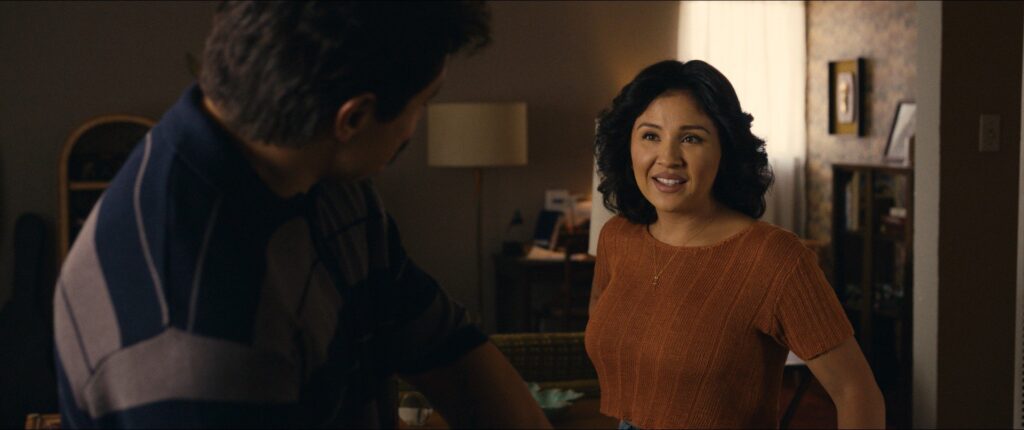 The two met when they were 12 or 13 and lived in the same neighborhood, so they were familiar with each other's situation. Soon after, they started dating, and Judy always kept Richard on his toes. When he turned 18, she encouraged him to get a real job. Richard had dropped out of school early and "could barely read or write." He found out about job vacancies at Frito Lay, but he had to fill out a job application to get hired. As Richard felt discouraged for not being able to do that, Judy filled out the form on his behalf.
When Richard returned to the office with the application, he was hired and started working as a janitor in the plant. Richard worked at the plant for thirteen years. He knew that whenever the machine malfunctioned, the Cheetos that were unseasoned were thrown away. One day, Judy asked Richard to bring unseasoned Cheetos. Around the same time, he noticed a street vendor making Mexican grilled corn with lime and chili. He saw how spicy Mexican food was and how no snacks catered to their taste.
When the time came, Richard used the spicy salsa made by Judy to experiment with the Cheetos seasoning and come up with Flamin' Hot Cheetos. Later, when he secured a meeting with the company executives, he received two weeks to create a presentation. Judy helped him through the entire thing. She helped Richard research marketing, development, and design, which became instrumental in convincing the executives to go forward with his idea. It all worked out to their delight, and Flamin' Hot became a Cheetos brand. Though Richard's career took off, no one ever talked about Judy's role in all of it.
Where is Judy Montañez Now?
Judy Montañez lives in California with her husband, Richard, with whom she has three sons. Unlike Richard, who is active on social media and remains in the public limelight, she has no social media presence and prefers to stay out of the spotlight. There is virtually nothing about Judy online, making it impossible to know more about her. Actress Annie Gonzalez, who plays Judy in 'Flamin' Hot,' met this challenge while researching her. So, she decided to meet her in person.
Gonzalez revealed the details of their meeting, which took place over "a delicious spread of food." She wanted to know if Judy, whom she called "a strong, beautiful brown badass woman," had any reservations about her portrayal in the film and what she wanted. The actress also reassured her that her character would be portrayed with authenticity and utmost care.
Following their conversations, Gonzalez said that "the divine feminine aspect of Judy's nature" caught her attention. She added, "I love how grounded she is, how soft and how gentle. I feel like she's such a plethora of so many things." For director Eva Longoria, Judy was the heart of the story. She revealed that there was barely any room for the latter in the original script, but once the writers met with Richard and Judy, they realized there would be no story without her.
Read More: Did Richard Montañez Really Invent Flamin Hot Cheetos?