'Justified: City Primieval' is an FX neo-Western crime drama television miniseries that serves as a sequel to 'Justified,' which originally aired on FX between 2010 and 2015. Both shows are inspired by the works of the late American author Elmore Leonard, but 'City Primeval: High Noon in Detroit,' the book on which the sequel miniseries is predominantly based, doesn't revolve around Deputy US Marshal Raylan Givens (Timothy Olyphant), the main character of the original series. The show creators inserted him into the story, though the original protagonist is still part of the narrative, albeit as a supporting character. Portrayed by Boyd Holbrook, Clement Mansell, nicknamed "The Oklahoma Wildman," is the primary antagonist of the sequel. If you are wondering how Clement got this nickname, this is what we know. SPOILERS AHEAD.
Why is Clement Mansell Called The Oklahoma Wildman?
Clement is a charming but violent and unpredictable criminal that Raylan encounters after he is forced to stay in Detroit, Michigan. Reflecting on his character, Holbrook told Collider, "There's who he thinks he is, and then there's who he is. He thinks he's this pseudo rock star who's got talent and can sing, but he's really just a f[expletive]ing d[expletive]g hustler who will probably slit your throat in a back alley somewhere. What I wanted to put into that was that I wanted to look the part. I wanted to be more gaunt. This guy is actually hungry. He's not living the fat life. You can see that in his face, and it was about doing the physicality of that."
Speaking to Entertainment Weekly, co-showrunner Michael Dinner spoke about the dissimilarities between Clement and Boyd Crowder (Walton Goggins), the primary antagonist of the original series. "With this guy, Clement Mansell, he's so unpredictable, and at a time when Raylan himself is seven, eight years older, so it's not only who he is physically, but also because he's so unpredictable … Boyd Crowder had kind of an amoral code, but he still had a code," he explained. "I'm not sure that Clement Mansell, the bad guy in this, does at all. And that makes him really dangerous. It's a pretty formidable antagonist for our protagonist."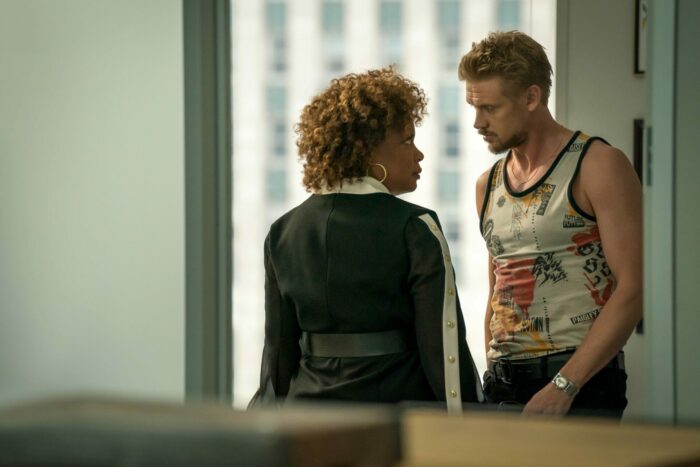 Clement is introduced in a relatively benign scene where he steals someone's car and rides off. He later meets up with his partner-in-crime, Sandy Stanton (Adelaide Clemens), a casino waitress. Clement acquires a gun with the help of a past acquaintance, Marcus "Sweety" Sweeton (Vondie Curtis-Hall), and plans to rob a man Sandy met at the casino, Skender Lulgjuraj. However, the said plan is derailed when Clement encounters Judge Alvin Guy (Keith David), who cuts him off at a parking lot. Later, Clement gives chase and kills both the judge and the woman accompanying him.
Clement discovers that Raylan is looking for him in the double homicide case when Raylan and his partner come to speak to Sandy as it was her car Clement was driving. Raylan encounters Clement at the office of the latter's attorney, Carolyn Wilder (Aunjanue Ellis), and quickly realizes how uneasy she is around the other man. Toward the end of the episode, Raylan returns to the hotel he is staying in to discover Clement in the company of his daughter, Willa. Furious, Raylan beats Clement up, threatening that he will kill him if he comes near Willa again.
In a flashback scene, we see Clement and Sweety's shared history, where Clement robs and kills a group of drug dealers with Sweety's help. These scenes establish how unpredictable and dangerous Clement is, explaining the "Wildman" part of his nickname. As for the "Oklahoma" part, he is originally from Lawton, Oklahoma, in the book, and the series is unlikely to change that.
Read More: Justified: When and Why Did Raylan Givens Move from Kentucky to Miami?