'Love Island' or 'Love Island USA' brings with it the exciting concept of having a pool of contestants or islanders living all by themselves in a building where they are cut off from the rest of the world. However, a simple catch requires all contestants to be coupled up to survive on the show. The coupling, though, can be formed on any basis, be it friendship, romance, or just to survive. After the formation of initial couples, all islanders go through periodic recoupling, and anyone found without a partner is eliminated. Moreover, islanders also go through various challenges which enable them to win prizes or dates.
Ultimately, further elimination takes place in the form of voting, and each couple with the least number of votes, be it from the public or the contestants themselves, runs the risk of getting eliminated. Justine Ndiba and Caleb Corprew matched up during season 2 of 'Love Island.' Showing brilliant chemistry and understanding, they quickly drummed up a fan following and became the favorites. Fans were ecstatic when the couple won and hoped their relationship would stand the test of time. Let's find out if Justine and Caleb are still together, shall we?
Justine Ndiba and Caleb Corprew: Love Island Journey
Justine Ndiba and Caleb Corprew formed a strong relationship while appearing on season 2 of the show. Although their pairing was one everyone envied, things didn't go so smoothly for Justine in the beginning. Initially, Justine always found herself at the tail end of the contestants. She was either friend-zoned by most islanders or even chose last, which somehow saved her from elimination. Later, Justine did say how hard it was for her to go through such negligence as it furthered her insecurities.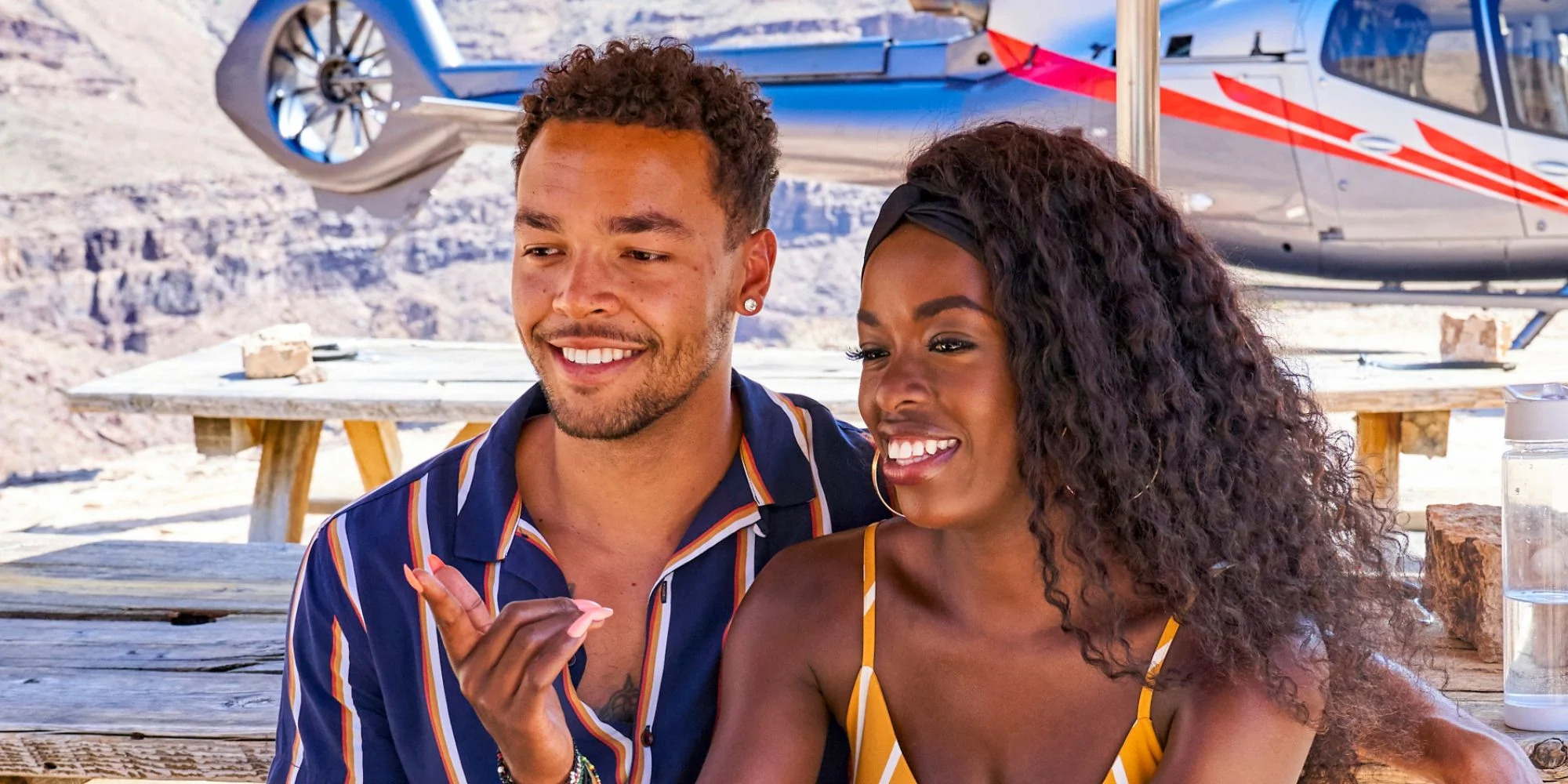 However, she held on and put her mind to the task. In conversation with Glamour, the reality star said, "As many times as I came close to breaking down, I embraced the vulnerability and found a way to keep going. It never had me in the mindset of, Oh, I give up on love." Things turned on their head once Caleb Corprew entered the picture. He and Justine quickly took to each other, and their brilliant chemistry was undeniable.
The couple showed extreme dedication throughout their time on the show. While pairs around them were dissolving into altercations, fights, and drama, Caleb and Justine stayed faithful and committed to each other. Thus, it was no surprise when the public voted the two to victory, and they became the first black pair to win in the show's history.
Are Justine Ndiba and Caleb Corprew Still Together?
We hate to be the bearer of heartbreaking news, but unfortunately, Justine Ndiba and Caleb Corprew have broken up. Even after winning the show and going back to their everyday lives, the couple showed outstanding commitment. They decided to take a short vacation in Vegas, following which, the two planned on meeting Justine's parents in New Jersey. With Caleb based out of Los Angeles and Justine residing in New Jersey, long distance was initially hard for the former couple. Yet, they made it work and hoped that the distance would not serve as an obstacle in their relationship.
The two even took to social media and kept their followers updated about their lives together. We were treated with adorable pictures when Caleb decided to visit Justine in New Jersey, where the former pair made wonderful memories together. However, in January 2021, fans were subjected to devastating news when Justine and Caleb went public with their breakup. Justine was the first to reveal the news wherein she praised Caleb but went on to say how they were not together anymore.
Justine even mentioned that the breakup had left her heartbroken, and she was on the way to recovery. Caleb, too, took to social media and confirmed the split. He wished his ex-girlfriend the very best for her future and asked people to respect their privacy. Later, though, Caleb revealed that even though they announced their breakup publicly in January 2021, they had broken up for quite some time before that. However, the pressure of informing their fans about their fallout was what made Justine and Caleb keep quiet.
Amidst the breakup rumors, Justine and Caleb had to deal with cheating allegations when the latter was spotted spending Christmas with his family and another girl, who fans alleged is Caleb's girlfriend. There were even speculations about Justine being in a relationship with a mystery guy after posting a picture together. However, all these rumors must be taken with a grain of salt as they are unsubstantiated. At present, both Justine and Caleb are living life on their own terms. It is inspiring to witness them being so happy in their respective lives, and we hope they find all the happiness they deserve in the years to come.
Read More: Where Is Love Island Season 2 Filmed?