Kamal Haasan, a name that resounds loud and deep in Indian Cinema History, a phenomena like no other, Haasan has stormed screens across the country with great aura and elegance. In India's 104 year Cinema saga, this man alone has enchanted the lens for 58 years through his multiple 'avatarams' of an Actor, Director, Screenwriter, Producer, Lyricist Play-back singer and Choreographer. Critically rated and greeted as India's best ever cinematic mind, Kamal Haasan has graced us with a stellar career of over 200 films in six languages (Tamil, Malayalam, Telugu, Hindi, Kannada & Bengali).
Fondly accredited with the title 'Ulaga Nayagan', as it translates to 'Universal Hero', revered upon for the intellectual Polymath he is. Kamal Haasan is known for revolutionising several elements of film making across his career leaping onto stardom and success through his bold attempts, experimentation and perfectionism. A debut at the age of 5, won him the President's Gold Medal, and since been a gold foot, with a record 19 Filmfare awards and 3 National Awards for Best Actor, Haasan is a celebrated actor par excellence.
A reluctant actor keenly introduced by his mentor, the legend K Balachander, he is renowned for his versatility, futurism and exemplary method acting, astounding to see him transform himself into lives of the innumerable characters with utmost magnificence. He also holds the record for the most Academy Award submissions of an actor with 7 cult pieces being represented.
Chevalier, Padma Shri, Padma Bhushan Dr.Kamal Haasan is the epitome of cinematic brilliance, the best! An Artist with a thousand faces, a legend once pronounced Haasan to be the Leonardo Di Vinci of our times! How certainly true, you Sir are an inspiration to all cinematic lovers like myself.
We at Cinemaholic have taken the subjective freedom of choosing his best based on the overall film and it's significance in terms of originality and relative to his other works, and it was hard! Some notable epics which missed the list are 'Guna', 'Virumaandi' and 'Aalavandhan' based on the above factors mentioned.
Here's presenting the list of top 15 movies of Kamal Haasan that you must check out.
15. PUSHPAK – 1987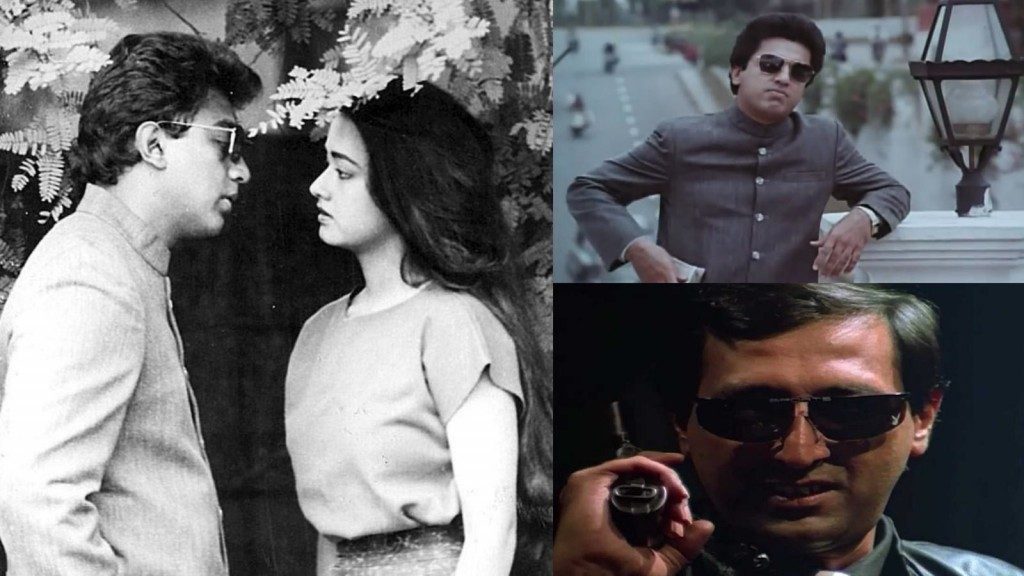 A Chaplinesque black tragic comedy is a rare Indian film in the modern era, directed by the experimental Singeetam Srinivasa Rao, 'Pushpak' is a masterpiece of screenwriting with Kamal Haasan at his best repertoire. This film explores the redundancy of dialogues in a film over exceptional talent barring languages, fusing to form some of cinema's best. The plot follows the poverty ridden life of an unemployed youth and the turn around of events leading him to ploy as a rich disguised man at a plush five star hotel suite. And what follows is true magic, a very apt movie at that time depicting the state of the country's youth, 'Pushpak' was a huge box office critically acclaimed success.
14. APOORVA SAGODHARARGAL – 1989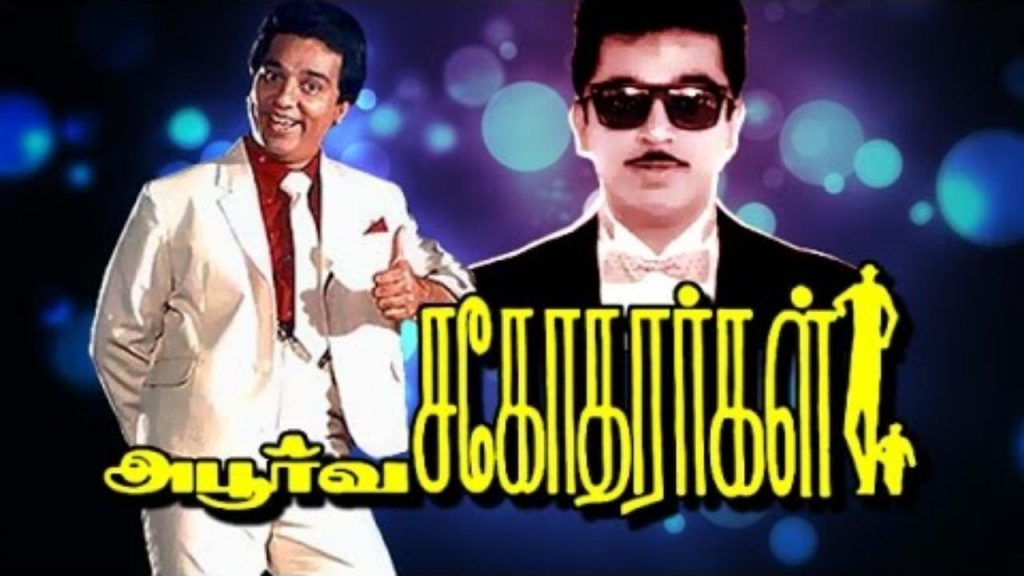 A hugely popular Kamal Haasan film, one of his most iconic roles, 'Appu' features as the dwarf, the lead in this commercial classic. 'Apoorva Sagodharargal' is a timeless piece, with Haasan playing 3 roles with ease, an honest police officer who is brutally murdered, a midget circus clown avenging the death of his father, and a happy-go-lucky mechanic forms the crux of the story. A gripping storyline and exceptional performances gave a visual treat to audiences, a scene where 'Appu' uses the 'Rube Goldbergian contraption' is one of the most famous shots widely re-used and applauded. Upon release it was the highest Tamil film grosser ever for 6 years. 'Appu' has been demystified in several different ways and still remains a visual mystery and a treat nevertheless!
13. SIGAPPU ROJAKKAL – 1978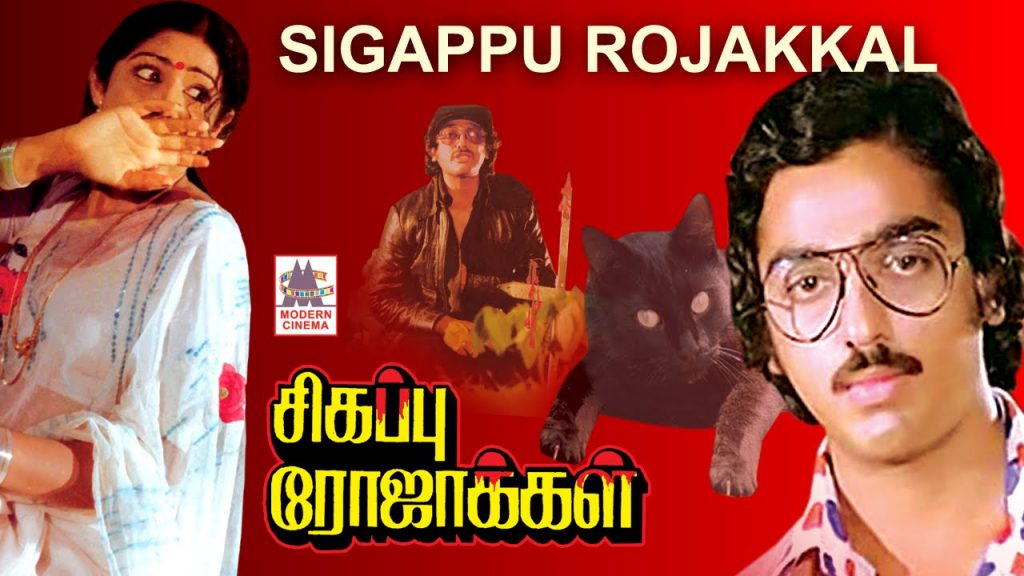 A dark psychological thriller ensued with sexuality and eroticism is a remarkable film, way ahead of it's times. Bharathiraja the director has to be credited for bringing in a new kind of cinema which never existed in the industry. Kamal Haasan's portrayal as the psychopathic womaniser is crude and extremely convincing! A flashback which depicts the onset of mental disturbance in the lead character and his father are due to sexual misdeeds by women, which leads to a chaotic ride of lust and psychotic twist. This movie was a stupendous success which is quite surprising, as bold themed movies are considered a taboo in today's modern society, thus accrediting this as one of Kamal's best for the attempt and prowess.
12. INDIAN – 1996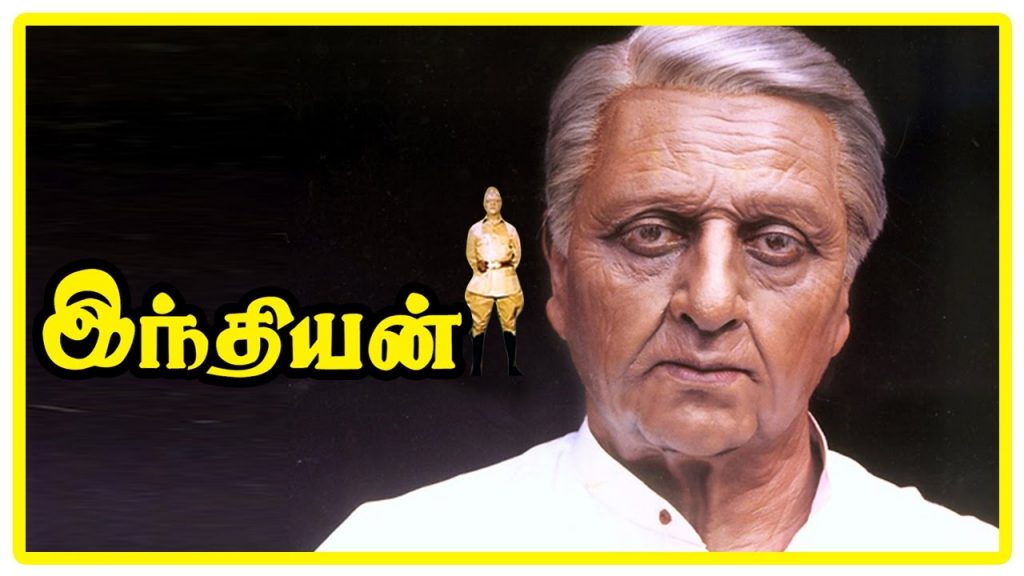 Shankar's best yet, 'Indian' was a national blockbuster, creating ripples across audiences with it's incredible story connecting every Indian! Kamal Haasan is at his supreme best with two roles, especially the character 'Senapathy' or 'Indian' is an eternal favourite for most, along with Sukanya, Manisha Koirala and Urmila essaying their parts perfectly. A Vigilante epic from Shankar's box, with the lead being an old man with a fierce past of Independence struggle featuring the great Subhash Chandra Bose and the cruelty levied by the British. Shankar's angst towards the governmental organisations in terms of money laundering and bribery are beautifully captured evoking emotions of every civilian, for instance the atrocities outside an R.T.O to obtain a driving license are every Indian's struggle. The climax was highly applauded for its authenticity wherein the vigilante kills his own son for the wrong-doings and delivers the strongest message. Indian was the Official Entry to the Academy Awards that year and also fetched Kamal Haasan a National Award for Best actor. This is one of India's finest freedom struggle depictions, embrace!
11. MAHANADI – 1994
One of the most gut wrenching mournful films you will come across, as the story transcends one loses hope in the face of humanity and trust,'Mahanadi' is a tale, a sad one, where an innocent villager gets cheated and brutally led to the worst elements of life, by an urban group. It deals with child trafficking and basic levels of human defrauding that exist in society. Who would believe, Kamal Haasan narrates, this script he wrote was born out of a personal first-hand encounter where his daughter was about to be kidnapped for a ransom! Now, we know why this story is so intriguing and disturbing, the scene where he meets his daughter at 'Sonagachi' is probably one of the most moving scenes filmed. Beyond, the names depict the larger purpose of the significance of linking rivers, so beautiful! Hats off Mr. Haasan, for this film specially!
Read More: Emily Blunt Movies
10. ANBE SIVAM – 2003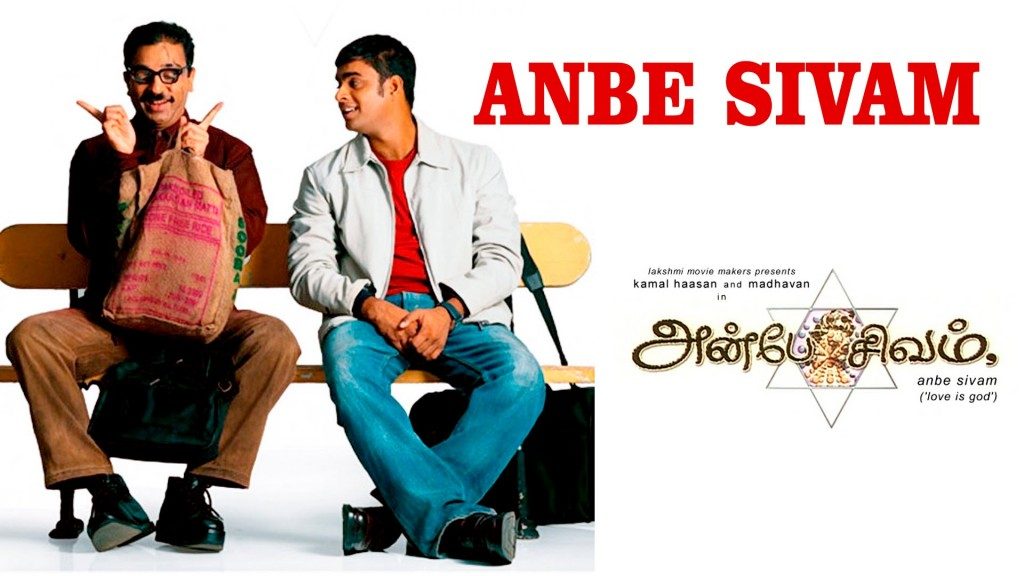 'Love is God', a film which translates Kamal Haasan's belief system onto the screen, a deep strung philosophical story revolving around communism, religion, capitalism and altruism through the course of a travel narrative. 'Anbe Sivam' is a beautiful rendition of love, humanity, justice, law and 'God', NallaSivam played by Haasan is a witty socialist with scars and deformities depicting communism vs A.Arasu played by the charming, exuberant Madhavan depicting the global context of capitalism and religion. It is a marvel tracing through the story and screenplay by Mr.Haasan triggering emotions of each, within, and shaking every individual's belief system. Watch 'Anbe Sivam' for a philosophical awakening, I assure you, the wounded 'Nalla' with scars and paralytic motion is far more appealing and humane, soak in the love!
9. APOORVA RAGANGAL – 1975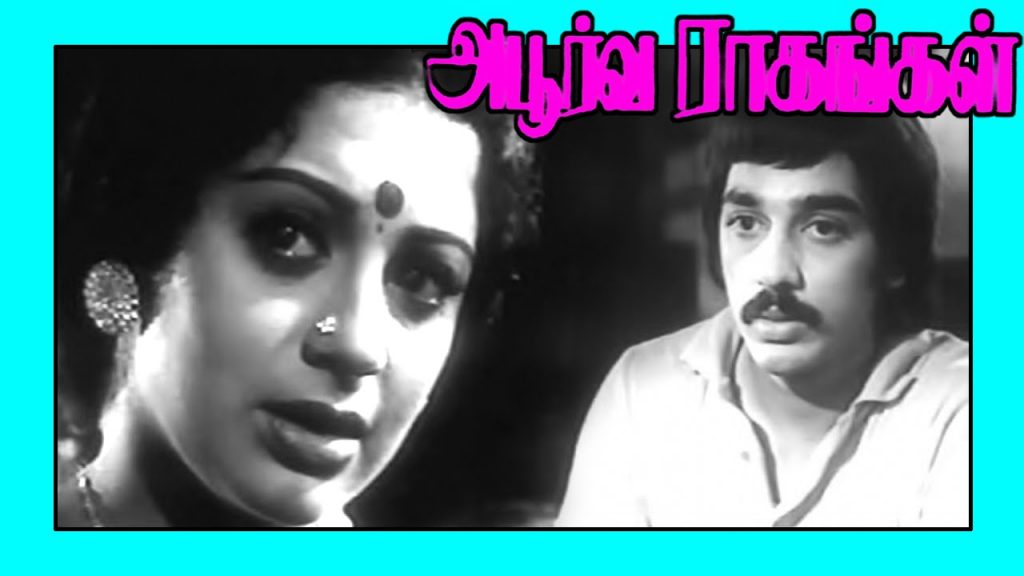 Rarest of the melodies, this is probably the most iconic Tamil film ever to be made, this controversial daring piece by Director genius K.Balachander launched Kamal Haasan as a lead actor and introduced Shivaji Rao Gaekwad/Rajinikanth to cinema, metaphorically with a grand entry! 'Apoorva Ragangal' is an extremely valiant film exploring relationships with wide-age gaps, of a younger male with an older married woman and an elderly married man with a young woman with a twinkling twist! This is Kamal Haasan's best ever romantic portrayal, one sees the purity of romance and love through his eyes and Sri Vidya's. The actor later admits that the lead pair did fall in love during the course of the film and that it has been his most special relationship thus far! Indeed the most romantic melody!
8. DASAVATHAARAM – 2008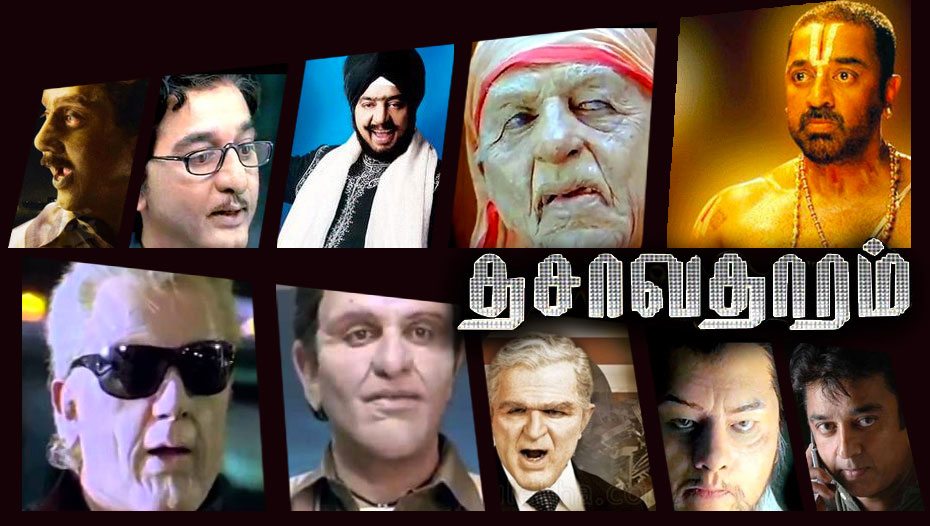 A world record by the genius, the man is! For the first time in world cinema, an actor in ten distinct roles in a film, Kamal Haasan nailed it once again! The magnum opus 'Dasavathaaram' is Haasan's best story filmed, ranging from the 12th Century Chola king to a bio-scientist to a CIA to a rampant social worker to an old woman to a rationale fanatic cop to George Bush's nuke policies to the 2004 Tsunami and 'God', this encapsulates the entire universe spanning across centuries through the chaos theory and the butterfly effect! WOW! Although, there were complaints about minor execution flaws, the general audience reviewed it as a first and last of it's kind science fiction historical drama with their master portraying ten incredibly different roles painstakingly in the most sincere and powerful way. For the effort, 'Dasavathaaram' is arguably the most adventurous film made by a single mind in cinema history.
7. MOONDRAM PIRAI – 1982
'Moondram Pirai' is a classical cult painting, it draws you in, emotes with you and lets you soak in it's elements sub-consciously. The colours, the frames, the picture is beautifully dwelled into the story with dream like characters essaying their parts in the most surrealistic form. Kamal Haasan and Sri Devi are impeccable as a pair and take the viewer on a rollercoaster of childhood to glee to extreme pain. Mani Ratnam rates this as his most favourite film, and so do many other art lovers! This is Kamal Haasan's best art, thanks to the visionary Balu Mahendra. 'Moondram Pirai' is the gateway to any cinematographer's paradise, it is a delight! Ever seen a man crying more gracefully and dejected?The climax shot at the railway station with 'Kanne Kalaimane' playing in the background is probably Haasan's most memorable moments on screen, the most desolate feeling of a human seeing his love leave, unattendedly!
6. 16 VAYATHINILE – 1977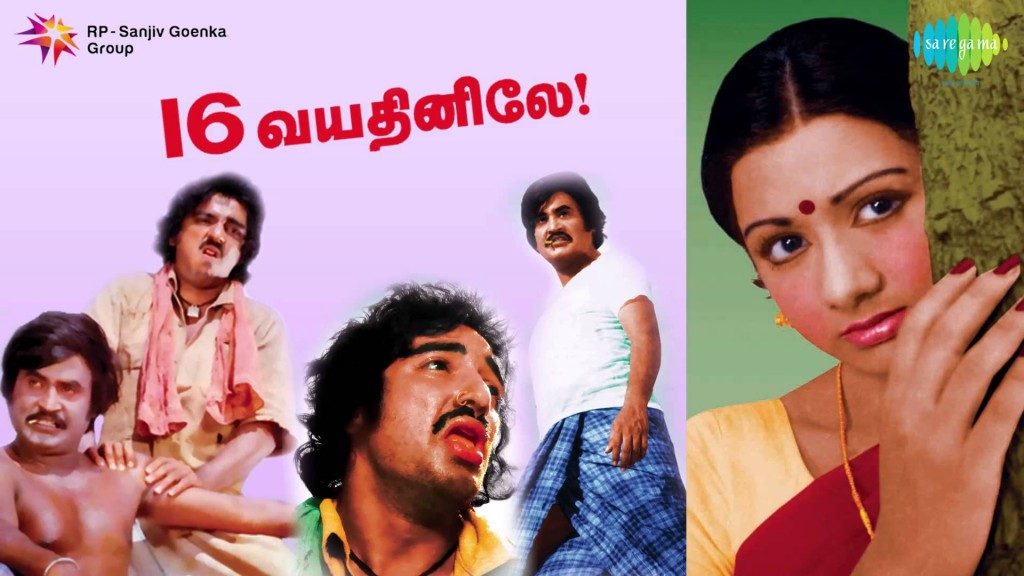 Kamal Haasan's most adverse and rustic shade 'Chapani', the protagonist of the plot with speech and physical disability is phenomenal, a lead with no traces of the powerful Haasan you'd see in his other films. '16 Vayathinile' marks the debut of the legendary Bharathiraja, the story strides on the life of a 16-year-old girl in a rural set-up in the interiors of Tamil Nadu. This was the first Tamil film to be shot on complete outdoors and paved way for a new wave of revolution. It needed guts to base a story on a female and her life story in the era of 70's, and magically he did! Sri Devi's best performance to date, is fantastic as 'Mayil' in stark phases such as joyful, vulnerable, and maturing with the turns the character takes. The climax is raw and brilliantly captured, and Haasan's performance with his dedication is a memorabilia, it stays with people forever! A must watch for all cine lovers, as three Superstars are moulded in this countryside realistic cult classic!
5. NAYAGAN – 1987
'Neenga Nallavara Kettavara?'(Are you good or bad?) is the central theme of this evergreen classic! 'Nayagan' based on a real life Bombay based underworld don 'Varadarajan Mudaliar' is claimed to be India's answer to 'The Godfather', and rightly so, it truly is a masterpiece. This is rated as Mani Ratnam's best work as he flawlessly transcends the city's most powerful man in a journey unforgettable! Constantly vying with the fact of good and bad, Mani Ratnam is the master of the grey shade, using the trade elegantly. Haasan is astounding as 'Velu Nayakar', his transitions from a young blooded activist to an old symphatetic man willing to die for his people, wrings in 'Neena Nallavara Kettavara'? He won the national award for Best actor, and the movie went to collect several accolades from across the world including, being named in the 'All-Time100 Best Films' by Time Magazine. Nayagan will live on forever, as long as cinema exists.
4. UTTAMA VILLAIN – 2015

'Uttama Villain' is fine metaphysical poetry, a tale of tales wholly philosophical, deeply layered characterizations, lathering with emotions and as intriguing as life and death. Kamal Haasan the writer is inimitably supreme, as he plays his craft with stardom, fame, art, love and death which are satirical and unimaginably complex, yet true if understood! This movie was a perfect tribute to K.Balachander who features in a very important role as himself flawlessly. The story remarkably presents irony metaphorically, and shots where Haasan wipes the his paint of his face with his daughter reading the letter are most memorable and irreplaceable! 'Uttama Villain' at the core speaks of mortality, time and death from a philosophical purview, a complex narrative with scenes that tear up most! Ramesh Arvind the director serves Fine old wine with the Masters in their truest form, celebrating Art! If you haven't seen this classic, tune in right now!
3. SAGARA SANGAMAM – 1983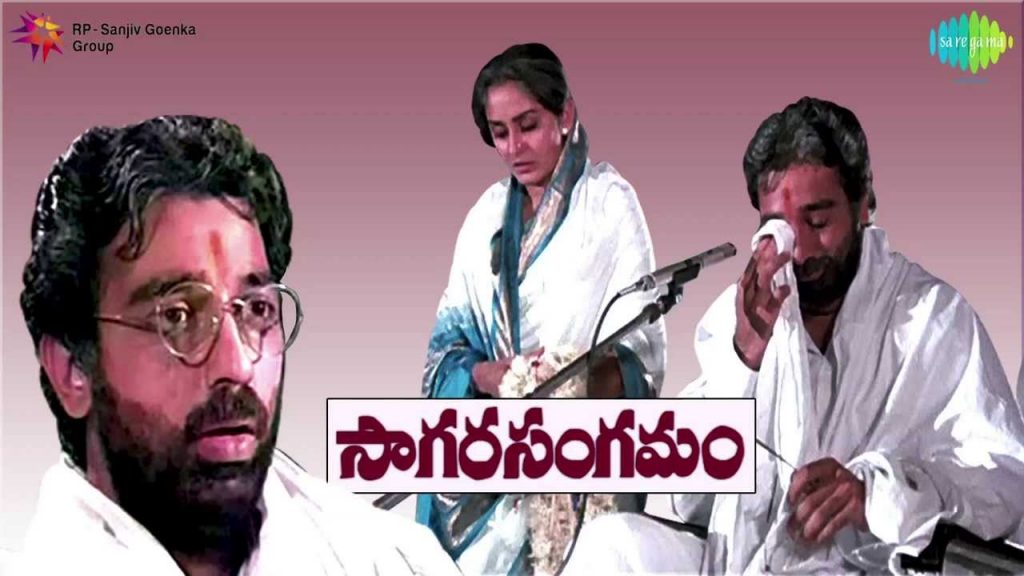 'Sagara Sangamam''s critical reception and acclaim echo the protagonist 'Balu' over the years. It traces through a sincere, brilliant, multi-talented artist who by his morality and goodness fails to make it big in the world of dance, 'Sagara Sangamam' although a box office hit fails to make it to the league it deserves. There is no other actor who can probably pull of this role,Haasan excels in Kuchipudi, Bharatanatyam, Kathak, emotions and as a vanquished alcoholic! This film captures the essence of a true artist's life, the innocence and the heights of despondency. K.Viswanath has blended one of India's best ever art movies through the eyes and rhythm of Haasan's magic. The dance on the well sequence tears up 'Jayaprada' and most audiences as this piece is beyond ultimatum, it is a celebration of dichotomy between the artist and his prowess.
2. THEVAR MAGAN – 1992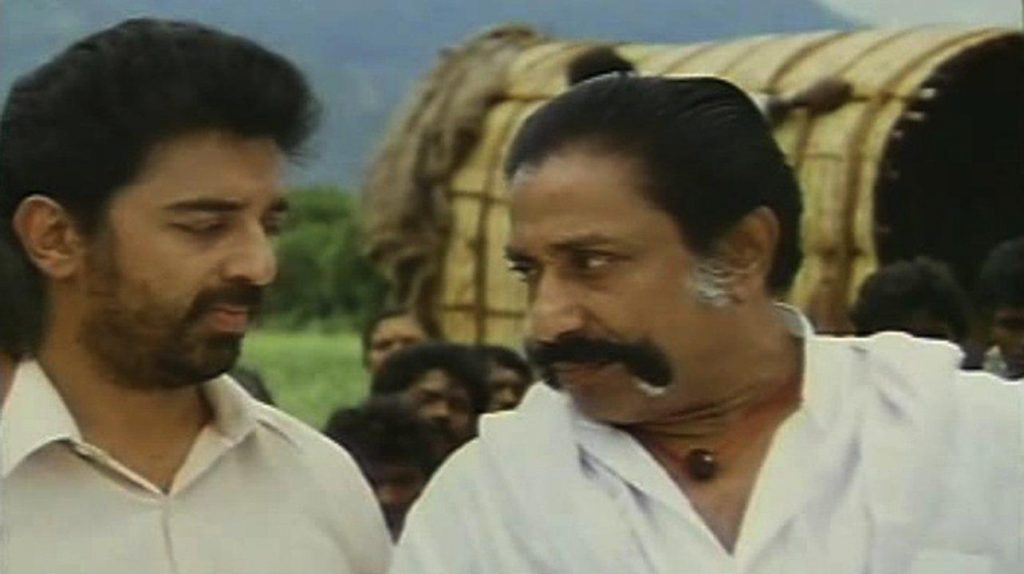 'Saktivel' is a tragic hero, the protagonist is a figurative representation of Madurai's picturesque culture, life and deep-rooted caste system. 'Thevar Magan' is a landmark film which saw the best of actors, Sivaji Ganesan and Kamal Haasan share screen space in a Brando-Pacino fashion, with Haasan being the reluctant son taking over his father's troubled defacto village head role, helplessly! A journal mentions this film introduced the art of the very popular sickle bearing genre movies in the industry, and Nassar the actor is applauded for his indelible performance as Maya Thevar matching the likes of Ganesan and Haasan brilliantly. Sakti's character is a personal tragedy which garnered empathies from all over with an unfortunate love story and how the system turns the best into a monster like it's own, while he beheads losing all hope and tranquility, we see the writer Haasan quietly piercing in cold-blooded 'truth' fiercely!
1. HEY RAM – 2000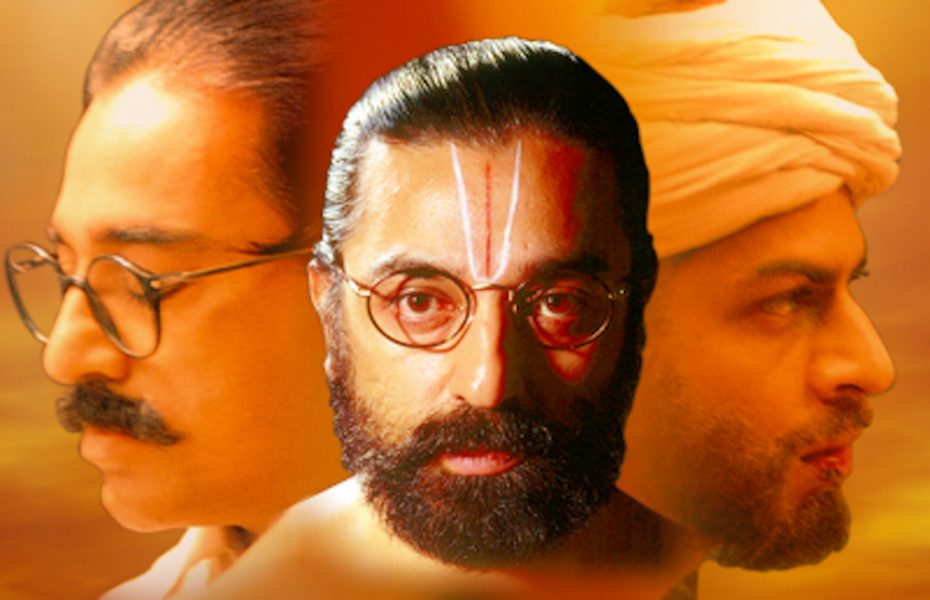 At the outset of the new millenium, arose an opus so beautifully decorated with chords of love and hate, strings of violence and ahimsa, layering Mahatma Gandhi and the partition of India, and striking the communal clashes of Hindus vs Muslims at the core of human pysche. 'Hey Ram' is a special film for Kamal Haasan, as it is his first directorial, India's most politically significant movie ever made. A commercial failure, atop the innumerable controversies due to it's ever sensitive theme of religious intolerance, was received very poorly at the box office, but thankfully it has gained it's cult status over the years and will only escalate with time, as with the Mahatma! 'Hey Ram' is a masterpiece with Kamal Haasan and Shah Rukh Khan at the helm, a huge supporting cast perfectly blending in the realities and agony of a partitioned yet free India, only to see the pioneer of world ahimsa and freedom being shot for the sole purpose he fought for!Ironically against popular belief and records, Gandhi dies without uttering 'Hey Ram'.
Read More: James McAvoy Movies