When 39-year-old Katherine Walton took her five children to the Westgate Shopping Mall in Nairobi, Kenya, in September 2013, she had no idea about the terrifying danger awaiting her. Incidentally, Katherine and her children were shopping inside when the establishment was attacked by four masked gunmen carrying automatic weapons.
While Dateline NBC Podcast's 'Terror At The Mall' mentions the case in passing, it has made viewers quite eager to find out more. Hence, if you are intrigued to learn more about the details surrounding the attack and want to find out where Katherine is at present, we have you covered.
What Happened To Katherine Walton?
A loving mother of five, Katherine and her husband, Philip Walton, resided in Nairobi, Kenya, at the time of the attack. While both Katherine and Phillip had spent part of their growing years in Africa, they moved to the United States for higher education and eventually met and got married there. However, after tying the knot, the couple decided to settle down in Nairobi, as they shared an intimate bond with the city. Besides, with time, the couple became proud parents to three daughters and two sons, who soon became the lights of their lives.
In September of 2013, Katherine and her children were in Nairobi while Phillip was in the United States on some business. Hence, Katherine planned a day out on September 21, 2013, and took her kids to the upscale Westgate Shopping Mall. While at the mall, the family shopped around, but the boys, 14-year-old Blaise and 10-year-old Ian, got separated from the group as they went to buy some rope. Still, Katherine did not think much of it as she was attending to her daughters, Portia, 4, Gigi, 2, and Petra, 1. That was when the mother of five suddenly heard gunshots before a loud explosion rocked the building.
Anxious and panicking, Katherine immediately looked for a place to hide before a Kenyan lady helped them hide behind a small stand. However, as soon as the group hid, Katherine realized that the boys were not with her. While the tension and worry made it almost impossible for Katherine to focus on doing what was right, the Kenyan woman came to her aid and helped her shield the children with their bodies. Besides, the mother of five also managed to contact her sons over the phone and asked them to hide inside the Nakumatt supermarket without making a sound.
While reports mention that the group stayed hidden for over four hours, Katherine described her terrifying experience later and claimed that all she could hear were screams, grenade explosions, and pop music blaring out of the mall's PA system. Eventually, local community members joined in to help authorities fight the terrorists, and several victims were rescued from the jaws of death. While Katherine and all her five children were completely unharmed, official reports state that the attack claimed 71 lives and left over 200 people severely injured.
Where Is Katherine Walton Now?
Although Katherine and her children escaped unscathed, the horrifying ordeal left a permanent mark on their minds. Interestingly, the initial few days after the attack were pretty normal, with the children going to school and Katherine going about her daily chores. However, Phillip mentioned that whenever his wife heard an alert about an attack on the television or radio, she would be gripped by fear and suffer a panic attack.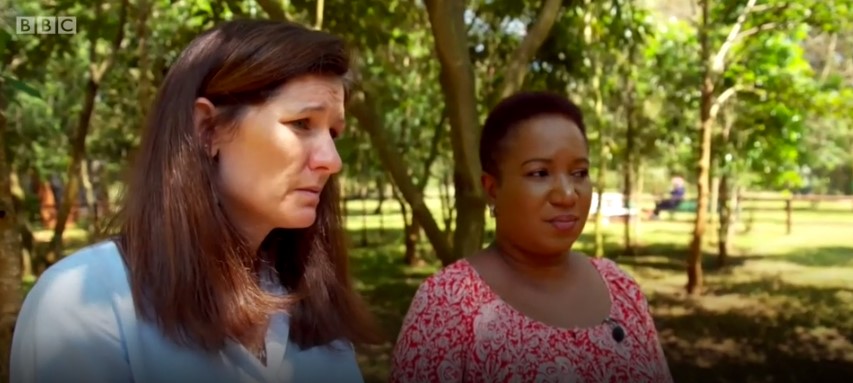 With time, the anxiety and fear almost took over the mother of five, and even though she was seeking counseling at that time, it did not seem to help much. Hence, desperate to get away from Nairobi, Katherine left all five children with her husband before traveling to the United States for a short vacation. According to reports, she spent around five weeks in the United States and used the time to reconnect with her loved ones as well as get his life back on track. Eventually, the couple's marriage stood strong as Katherine soon returned to Kenya and began building a new life alongside her husband. She even began facing the demons of her past with Phillip by her side and has since shown immense courage as a survivor.
At present, Katherine seems to reside in Nairobi, Kenya, where she earns a living as an account manager. While she is still married to her husband, Phillip, who co-founded the Kenya-based company, Girdless, all five children appear to stay with their parents at the time of writing. Besides, when talking about their decision to stay in Nairobi after the attack, Phillip mentioned that he was impressed by how the community rallied to fight the attackers, which made them even more determined to stay back and help in Kenya. The resilience and bravery Katherine portrayed in the face of terror are honestly inspiring to most, and we wish her the very best for the years to come.
Read More: Jasmine Fiore Murder: Is Ryan Jenkins Dead or Alive?