There is something so terrifying yet enthralling about true crime documentaries. Netflix certainly knows that, especially after last January's 'Conversations With a Killer: The Ted Bundy Tapes', which became everyone's true crime obsession. This January, they give us a peek into another murderer's mind with 'Killer Inside: The Mind of Aaron Hernandez'. However, this time it feels closer to home.
The thing about psychopaths and serial killers is that they feel petrifyingly real, but equally fascinating because they don't. There's always a sense distance, a lack of relatability (or so I hope). But what happens if the murderer is someone you have watched over the years and grown to admire? What if it is a self-made young man; a father, a lover, a friend, who has achieved success after his fair share of hardships?
What if, as it is in our case, the man is Aaron Hernandez? A star NFL player, who got convicted for murder at the age 23 after signing a mouthwatering $40 million deal with the New England Patriots. Why would a man like him, who had everything in life, give it all up and commit something so horrifying? This is precisely what Netflix's latest true crime docuseries seeks to explore. It sheds light on the violent, homophobic world of sports, Aaron's own life and struggles, along with the numerous lives he affected. But will any reason be reason enough?
SPOILERS AHEAD!
Killer Inside: The Mind of Aaron Hernandez Recap
'Killer Inside' is a three-part true crime docuseries that around the former NFL player, Aaron Hernandez. Aaron was a young Hispanic man from Connecticut who played for New England Patriots. It opens with the discovery of Odin Lloyd's body being found in North Attleboro, just a few miles away from Aaron's mansion. Aaron is soon arrested as the police discovers plenty of circumstantial evidence and his connection to Odin who was dating his fiancee's sister.
The docuseries explores the responses of the people around him, including his fans, colleagues, loved ones, along with the journalists and lawyers that were involved in his case. It traces his childhood and youth, with his school friends and neighbours talking about him and his family life, especially his bond with his father. The docuseries makes use of several photographs, videos, surveillance footage, along recorded phone-calls which he made during his time in prison. It explores his moving relationship with his fiance, Shayanna, and cousin, Tanya, the two people he was closest to, along with, his deep love for his daughter.
But with each passing moment, and by going back and forth in Aaron's life, it paints a tragic but horrifying picture of his double life, his father's violent streak, his closet homosexuality, his own rage and violence, his complicated relationship with his mother, his close association with a notorious ex-convict, being a victim of sexual abuse as a child, and eventually, as we learn, him suffering from Stage III CTE. We soon also discover that Aaron is involved in not one, but numerous violent instances, which date back to his college years, and include another tragic shootout involving 2 working-class immigrants. Through this all, football remains a constant, that helps him rise but eventually leads to his fall.
Killer Inside: The Mind of Aaron Hernandez Review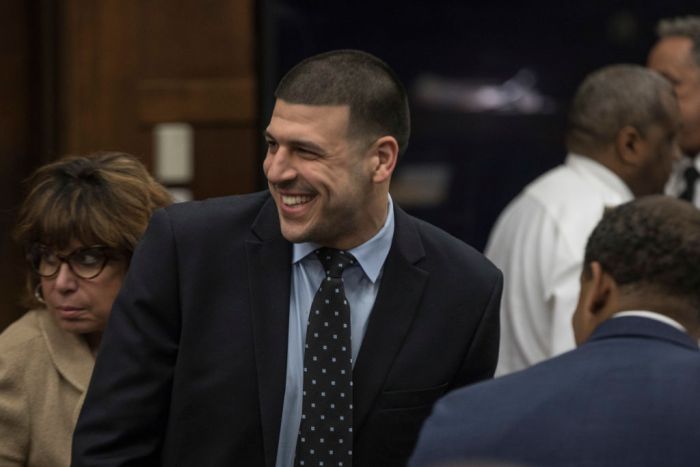 "No one has allegedly murdered two people and then played an entire season as a professional athlete", says a person in the first part of the docuseries. It is perhaps this which makes Aaron's actions both terrifying and fascinating. As the series progresses, we learn all about him, and eventually even get inside his mind (if you know what I mean). But we never really learn why he did what he did. If there is one thing that connects all the violent instances that he is a part of, it is weak motive. This is also what makes it all more intriguing because we never really come to know who Aaron Hernandez is. Is the man an impulsive sociopath, a violently raging closet-homosexual, or a victim of a fatal brain disorder?
Whoever Aaron is, he has the ability to completely disassociate himself from his actions, and interestingly, never seems guilty. This is captured particularly well in a surveillance video from his own basement. Here, he is seen happily playing with his daughter with the two men who were accomplices to the murder he committed just the night before. In contrast to this, he is also man of faith which we learn with the role the Bible plays in his suicide, and of course his tattoos through which he asks God for forgiveness.
What makes 'Killer Inside' such a compelling watch is that it consistently has something new to offer as it lets Aaron's life unravel before us. It does this brilliantly well by making use of a non-linear narrative structure so that even when it introduces us to the different aspects of his life, we only get to connect it to the larger narrative when the documentary wants us to. In this way, it serves as a true suspense thriller, that keeps us guessing the "why" of the story, as it provides us with countless different perspectives. It offers us an insight on the people whose lives were impacted because of his actions – from his own loved ones to the loved ones of his victims. But it also lets us see the impact his actions had on the system at large with media ethics, medical research, and Massachusetts' abatement law.
So, what really turns a man into a cold-blooded murderer? The good news is that it doesn't really answer it for us, simply because there will never be a right answer. As an old friend tells Aaron, there could have always been something he could have done differently. So, is he the only one to be blamed? Yes, he's definitely to be blamed for his actions. But he was also a part of a larger exploitative system that is filled with violence, toxic masculinity, and only cares about earning profits. As Leontire states towards the end, "if someone had made football less important, and Aaron's life and his behaviour more important, the outcomes may have been different."
Read More: Where is Aaron Hernandez's Mother Now?
Rating: 4.5/5