Netflix's latest crime docuseries, 'Killer Inside: The Mind of Aaron Hernandez' centres around the former NFL star turned convicted murderer. It weaves together a spiderweb of narratives that are fed to us in a non-linear way, making us question the reasons behind Aaron's horrific actions. The series does this in an enthralling manner by making use of the responses of those whose lives were impacted, along with photographs, footage, and recordings from real-life. This spiderweb also accomplishes in making us realize that this isn't just Aaron's story. It is as much the story of all those lives that changed because of him.
As 'Killer Inside' progresses, we gradually understand that Aaron's most complicated relationship is the one he shares with his own mother. We learn this particularly through the conversations the two of them have during Aaron's trial, when he is in prison. Their conversations regularly turn from being tender and loving to eventually Aaron blaming her for things. But what do you really know about Terri Hernandez? We're here to help you with that.
Early Life and Marriage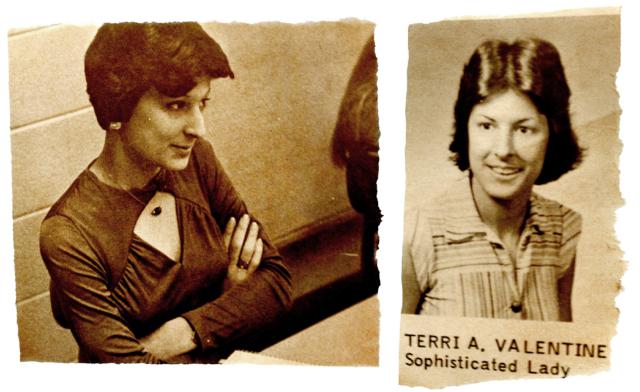 Terri Valentine was a student of Bristol Central, just like her husband and kids. She met Dennis Hernandez in school where he was a football star. The two graduated and eventually got married in 1986. Both of them pursued careers in public schools – she worked as secretary, while he worked as custodian.
But the couple had a complex relationship. They apparently once got divorced in 1991 when Aaron was only a toddler, and eventually got remarried in 1996. They also suffered from a financial crisis and even filed for bankruptcy. It was also reported that their relationship saw some amount of domestic abuse with Dennis coming back home drunk and being violent, and Terri kicking him out of the house.
Gambling Charges
Interestingly, like Aaron, Terri is no stranger to the police. In 2001, when Aaron was around 11, she was arrested for being a part of a large scale sports gambling operation. She was charged with working as a bookie for Marty Hovansian, a local restaurant owner in Bristol. During the investigation, her phone was tapped which revealed that she was making $300 per week working as a bookie for the gambling operation. She took bets over phone on college and professional basketball and football games. Despite this, she was never prosecuted for her crime as she was considered a "collateral" instead of being the mind behind the crime.
Widowhood and Second Marriage
Terri became a widow in January 2006 when Dennis unexpectedly passed away due to complications from a hernia surgery. She then began a serious relationship with Jeffrey Cummings, a landscaper, who was also Aaron's cousin Tanya's husband. The two later got married. But Cummings was also physically abusive. In 2010, he stabbed her by slashing a three-and-a-half-inch deep cut on her right cheek with an eight-inch knife blade. Jeffrey was arrested, and the two eventually divorced.
South Side School
Terri continued working as an administrative secretary at the South Side School in Bristol even after Aaron signed the mouthwatering $4o million contract with the Patriots. She commutes less than a mile to work every day, the Daily News reported:
"She commutes less than a mile to work…From the outside, Hernandez's world seems small and intact, but as teachers and administrators prepare for another school year she is piecing her life back together."
In 2012, when it was first announced that New England Patriots will be playing in Super Bowl that year, South Side did a rally for the Patriots, particularly Aaron, and honored Terri. She was presented with bouquets and a sash that read "Super Bowl Mom!". Around the time, in an interview Aaron stated that he built his character because of how well Terri raised him.
Relationship with Aaron
#AaronHernandez fiancée and mother sobbing in courtroom after jury finds him guilty of first degree murder pic.twitter.com/mAFor6ivfB

— Lisa Kraus Edwards (@LAKEdwards) April 15, 2015
Aaron and Terri had a loving relationship, but it was a complicated one, especially after the death of Dennis Hernandez. Aaron was always immensely close to his father, despite his father's violence. He immediately felt distanced from Terri when she began her relationship with Cummings especially because he was Tanya's husband.
During the trial, we see Terri standing by Aaron's side and maintaining his innocence. She was also seen sobbing and devastated with the way things were turning out with Aaron. The phone calls from prison that were recorded revealed some personal details about their relationship, including the distance Aaron felt. In one of the recordings, Aaron tells Terri:
"There's so many things I would love to talk to you about, so you can know me as a person. But I could never tell you. And you're gonna die without even knowing your son."
In another one, he confronts her again and tells her, "I was the happiest little kid in the world, and you f—ed me up". He even blamed her for how he performed at school because he believed that she did not give him the medication he was supposed to have.
Where is Terri Hernandez Now?
Around the time of Aaron's arrest, Terri faced two other major losses, one of which included her brother's death. After Aaron's suicide in 2017, she arranged for a private funeral in Greystone Ave. Though we don't have any recent news on Terri Hernandez, we can assume that she still lives in Bristol, in her yellow single-story, ranch style house at Greystone Ave, drives her silver Nissan Juke, and still works as the secretary at South Side.