While crime in any form should not be supported, its popularity as a film genre proves that cinephiles love it. By this, we, of course, do not mean that we love it, but to be subjected to the intricacies of a well-thought-out crime does spark interest, excitement, and catharsis (if there is any). Since time immemorial, writers and directors have given us great crime movies with endless possibilities. For lovers of the genre, HBO Max offers some of the best crime movies out there.
14. No Sudden Move (2021)

Directed by Steven Soderbergh, 'No Sudden Move' is a gripping crime drama film set against the backdrop of 1950s Detroit. It is about three gangsters who are recruited for a blackmailing scheme against the family of an accountant of a multinational automotive manufacturer. The guy is told to bring a document from his boss' safe while his family is held hostage. But when the document turns out fake, the gangsters realize that they are part of a larger scheme.
What follows is them trying to figure out who is pulling the strings. With a stellar ensemble that includes Brendan Fraser, Benicio Del Toro, Don Cheadle, Kieran Culkin, David Harbour, Matt Damon, Julia Fox, and Frankie Shaw, 'No Sudden Move' offers an unpredictable plot that is a social commentary about how only the corrupted manage to reach and stay at the top. You can watch the movie here.
13. The Many Saints of Newark (2021)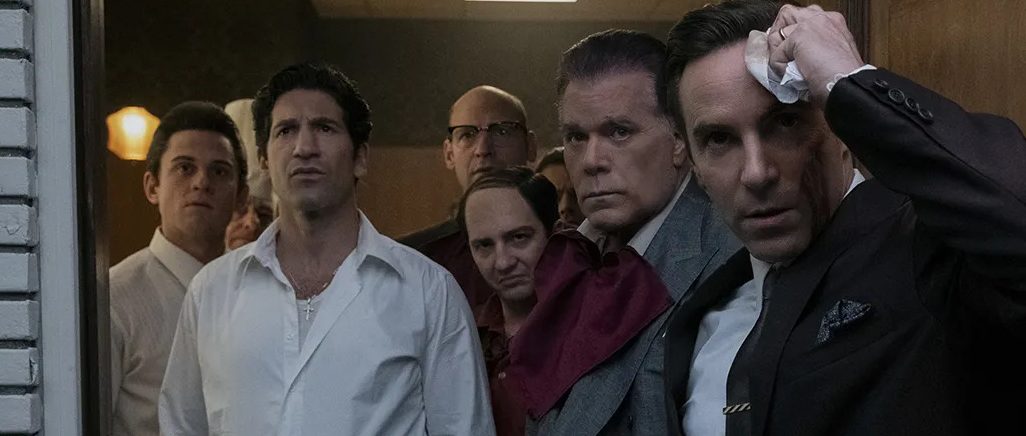 Written by David Chase and directed by Alan Taylor, 'The Many Saints of Newark' is a prequel to the crime drama series 'The Sopranos' (also written by David Chase and available on HBO Max) that revolves around New Jersey mobster Tony Soprano aka Anthony John Soprano Sr. This movie shows teenage Tony learning the ways of his mobster uncle Dickie Moltisanti amidst a gang war that's part of the 1967 Newark riots in New Jersey.
A prequel to a popular crime series is effective only if it is able to showcase the impending events that we have already seen. 'The Many Saints of Newark' is spot on in this case. We get a convincing portrayal of the crime-hit Newark in which Anthony Soprano grows up while assisting his uncle. In other words, we get to see how crime shaped the very personality of the kid who would go on to become the feared mob boss, Tony Soprano. The cast includes Michael Gandolfini, Alessandro Nivola, Michela De Rossi, Jon Bernthal, Ray Liotta, Joey Diaz and Gabriella Piazza. Feel free to check out the film here.
12. The Little Things (2021)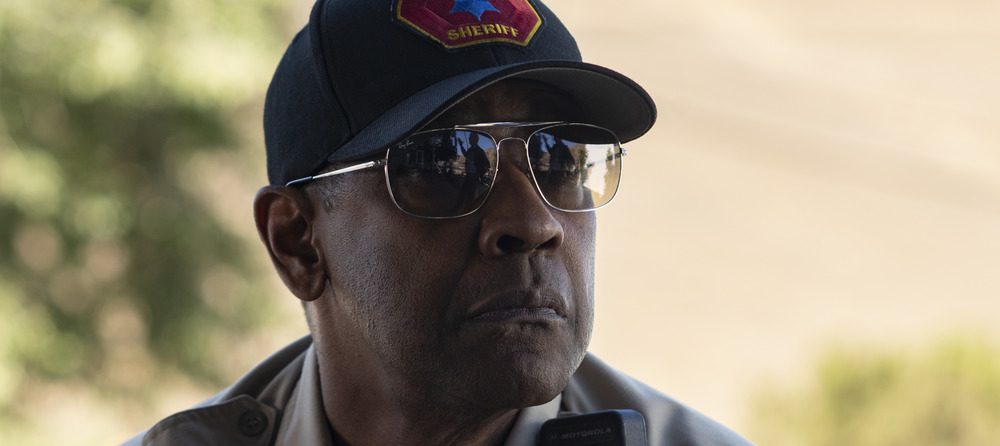 Directed by John Lee Hancock and starring 3 Academy Award winners, namely Denzel Washington, Rami Malek, and Jared Leto, 'The Little Things' brings Kern County Deputy Sheriff Joe Deacon, a guilt-filled guy, to Los Angeles for what is supposed to be a case of gathering evidence. However, things take a different turn when he finds himself helping L.A. Sheriff Department Sergeant Jim Baxter track down a serial killer going around the city killing women. What makes things intriguing is that the investigation is picking at Deacon's past, one that is dark, perhaps even more than the case at hand. Is the serial killer connected to Deacon in any way? The devil is in the details, or as the title says, the 'little things.' You can stream it here.
11. Sin City (2005)

A neo-noir crime anthology movie based on Frank Miller's comic book series 'Sin City' (1991- 2000), the movie deals with four stories headlined by an ex-convict seeking revenge, a police detective searching for a child molester, a guy who takes the law into his own hands after being fed up with the city's corruption and a hitman looking for ways to make money. The black-and-white visuals with very specific treatment of color make the film a cult noir movie. The stellar ensemble of the movie includes Mickey Rourke, Bruce Willis, Jessica Alba, Rosario Dawson, Clive Owen, Benicio Del Toro, Carla Gugino, and Alexis Bledel. You can watch the movie here.
10. American Gangster (2007)
Loosely based on the life of American drug lord Frank Lucas, who operated in Harlem, New York, 'American Gangster' is an organic crime drama directed by Ridley Scott ('Blade Runner,' 'Gladiator,' 'Body of Lies'). The movie shows how Lucas rose to power as the drug kingpin by buying and importing heroin from Thailand using the coffins of American soldiers, setting new standards for crime during that time. It also shows how the police, led by Detective Richard Roberts, brought down Lucas's drug syndicate. The way the movie addresses the functioning of an illegal syndicate, its intricacies, and its sheer brutality make it a true-to-form addition to not just our list but any list of crime movies.
Featuring stellar performances by Denzel Washington as Lucas and Russell Crowe as Roberts, the movie received many accolades, including 2 Academy Award nominations, 5 BAFTA nominations, and 3 Golden Globe nominations. The rest of the cast includes Lymari Nadal, Carla Gugino, Josh Brolin, Idris Elba, Norman Reedus, and John Ortiz. You can watch 'American Gangster' here.
9. Gangs of New York (2002)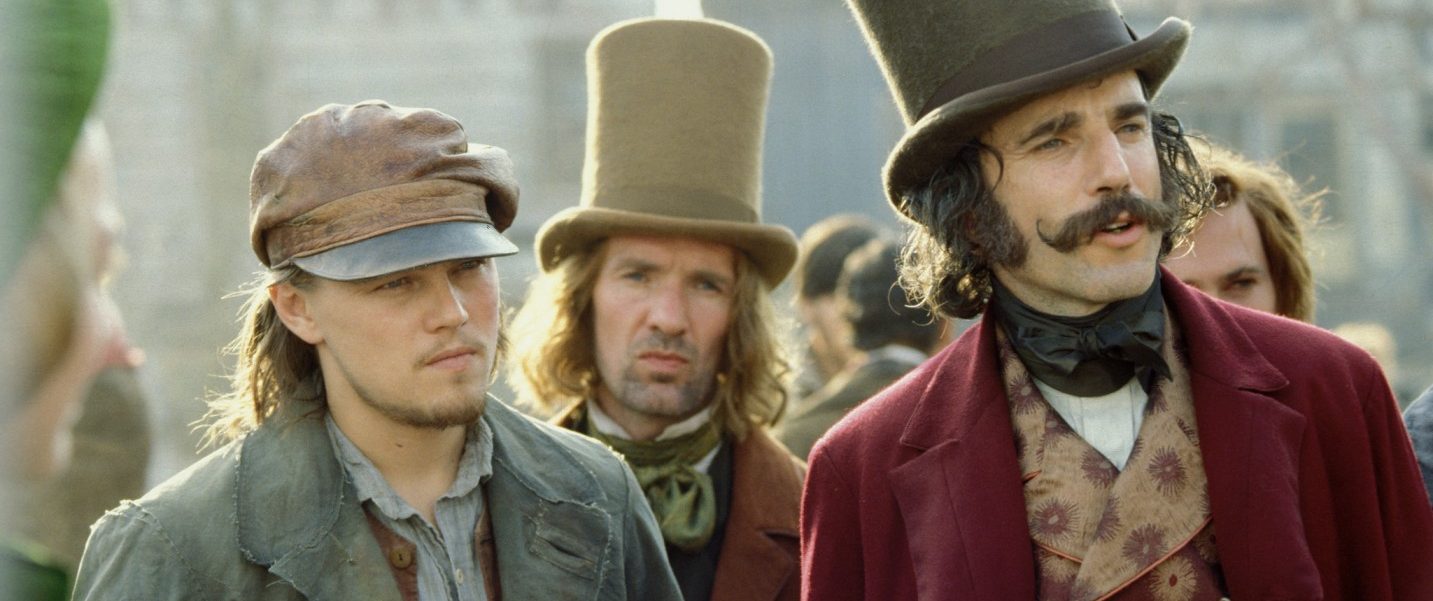 Directed by Martin Scorsese, 'Gangs of New York' is a critically acclaimed movie based on Herbert Asbury's 1927 non-fiction book 'The Gangs of New York: An Informal History of the Underworld' that deals with the rise and fall of the criminal gangs in 19th century New York. The movie shows young Amsterdam Vallon returning to Five Points, a dreary Lower Manhattan district, seeking revenge for the death of his father, who was killed by William "Bill the Butcher" Cutting, leader of the Protestant Confederation of American Natives, 16 years ago.
Meanwhile, Cutting is involved in a gang war, his rival being the Dead Rabbits, an Irish Catholic immigrant gang led by "Priest" Vallon. The cast includes Daniel Day-Lewis as Cutting, Leonardo DiCaprio as Vallon, and Liam Neeson as Vallon, along with Cameron Diaz, Henry Thomas, Jim Broadbent, John C. Reilly and Brendan Gleeson. The Martin Scorsese movie received 10 Oscar nominations, and this itself proves the effectiveness of the movie as a true-to-form crime drama. You can stream 'Gangs of New York' here.
8. Fargo (1996)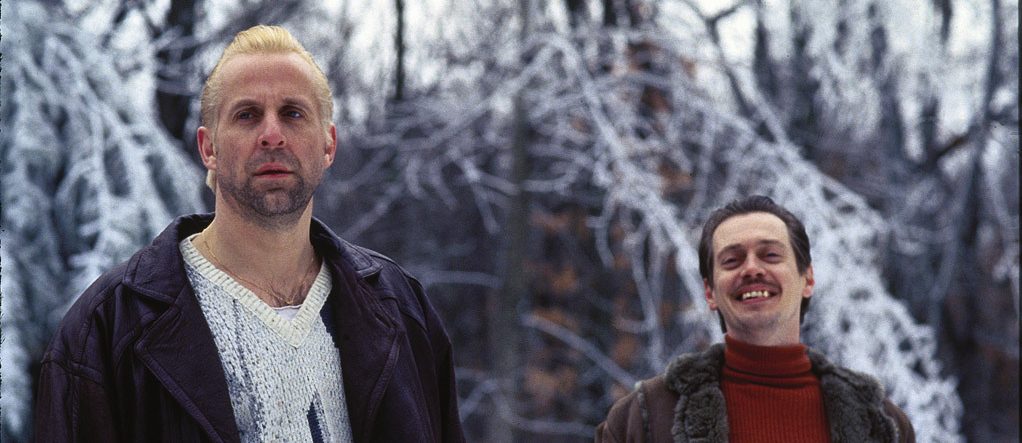 Directed by the Coen Brothers, Joel and Ethan Coen, 'Fargo' is a dark comedy that tells the story of two thugs, Carl and Gaer, who are hired by Jerry, who wants to steal from his father-in-law's money to clear his debts. For this, he plans to get his wife kidnapped and get the money as ransom, but fate intervenes, and three people lose their lives as a result. This brings in police chief Marge Gunderson for investigation. Whether Gunderson sees the end of her investigation and how Jerry finds a way out of this mess that he did not at all expect are what the movie chronicles.
The cast includes William H. Macy, Steve Buscemi, Peter Stormare, and Frances McDormand in the lead roles, along with Kristin Rudrud, John Carroll Lynch, Steve Reevis, and Harve Presnell. More than anything else, it is the chemistry between Steve Buscemi and Peter Stormare, who play the thugs, which makes for most of the dark humor that is spot on and adds to the movie's nature. You can watch 'Fargo' here.
7. Nightcrawler (2014)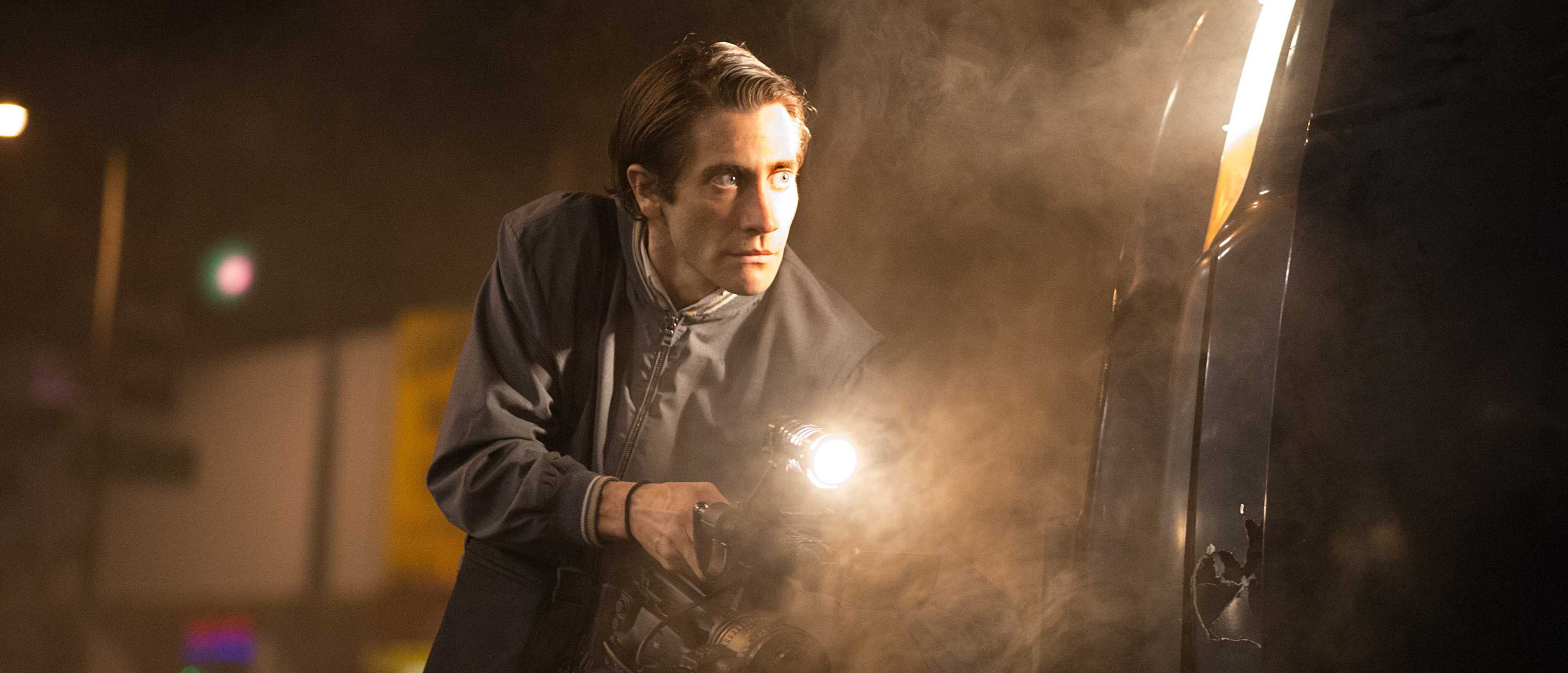 Featuring a stellar performance by Jake Gyllenhaal, 'Nightcrawler' is an intensely dark crime movie that tells the story of Lou Bloom, who, while looking for a job, comes face to face with the high-octane blood-sport that is crime journalism. He thus gets himself a cheap video camera and a police scanner, listening for crimes and reaching the locations in time for fast coverage. This gets him a job at a local TV station.
With time, he gets obsessed with what he does to the point where live coverage of crimes turns into participation in them. The movie effectively connects unprincipled journalism and public demand and shows a dark outcome that results from the connection. Besides Gyllenhaal, the cast includes Rene Russo, Riz Ahmed, Bill Paxton, Ann Cusack, James Huang, and Pat Harvey. You can check out the movie here.
6. Law Abiding Citizen (2009)

A person who has nothing to lose is capable of anything. 'Law Abiding Citizen' addresses this very statement. Clyde Shelton's wife and daughter are murdered by burglars who broke into their house, but neither are charged with the horrific crimes they committed, thanks to a secret deal that prosecutor Nick Rice made with one of the burglars. Ten years later, both the burglars are killed, and Shelton takes responsibility. But that's only the beginning. He remembers what Nick did, and he has thus decided to make the entire corrupt justice system pay. The convincing portrayals of Gerard Butler as Clyde Shelton and Jamie Foxx as Nick Rice make 'Law Abiding Citizen' a treat for those who love crime dramas. You can watch the movie here.
5. Black Mass (2015)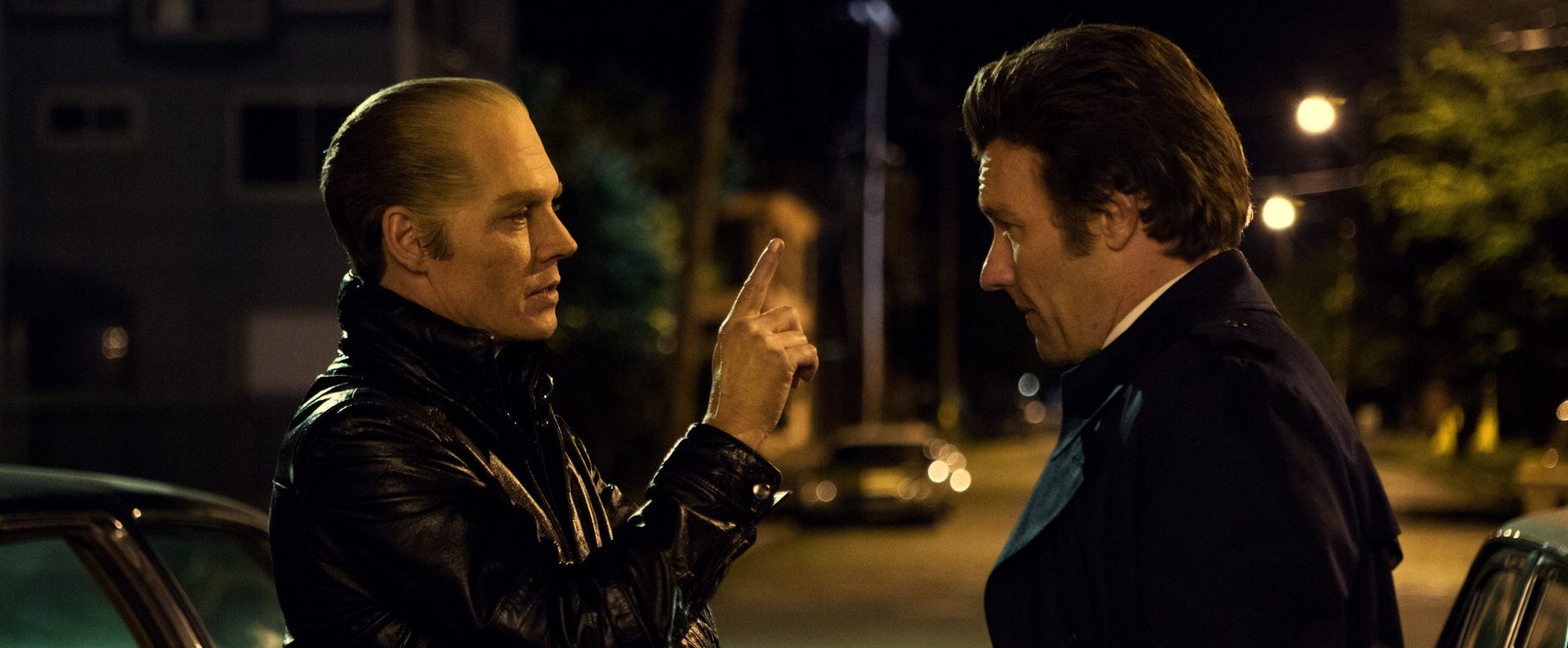 'Black Mass,' directed by Scott Cooper, is a biographical crime drama based on the life of James "Whitey" Bulger, a notorious criminal hailing from South Boston. It is adapted from the book 'Black Mass: The True Story of an Unholy Alliance Between the FBI and the Irish Mob' (2001) by Dick Lehr and Gerard O'Neill. The movie shows how the FBI used Bulger's enmity with the New England Mafia family as leverage to bring down both parties.
But before Bulger could be arrested, he pulled a lot of stunts by taking advantage of the impunity that came with serving as the FBI's informant and passing on information about the mafia. Johnny Depp plays the role of James "Whitey" Bulger in what can easily be addressed as one of his best performances. Along with Depp, the cast includes Joel Edgerton, Benedict Cumberbatch, Peter Sarsgaard, Dakota Johnson, Kevin Bacon, David Harbour, and Juno Temple. You can watch this gripping movie right here.
4. The Batman (2022)
Directed by Matt Reeves, 'The Batman' is a superhero movie that serves as an authentic crime drama as well due to its dark plot showcasing the underbelly of the fictional Gotham City. In it, Batman takes on Edward Nashton aka Riddler, and Oswald "Oz" Cobblepot aka Penguin. Reeves' dark take on the character and the world separates this one from the other Batman movies and does manage to establish the gritty nature of the titular character, who, despite being a human underneath, can be a ruthless entity serving vengeance on those who deserve it. Robert Pattinson plays Bruce Wayne/Batman, while the rest of the cast includes Zoë Kravitz as Selina Kyle/Catwoman, Paul Dano as Riddler, Colin Farrell as Penguin, Jeffrey Wright as Officer James Gordon, and Andy Serkis as Alfred. You can experience this dark tale right here.
3. Scream (1996)
Directed by Wes Craven, 'Scream' stars Neve Campbell, Courteney Cox, David Arquette, and Drew Barrymore, among others. A cult classic horror flick, the movie tells the story of a masked killer who is terrorizing a town in California. In the middle of his bloodbath is a young woman named Sidney Prescott, whose mother was brutally killed a year ago. Now, someone is again trying to kill people, including Sidney's friends. Is this the same person who killed Sidney's mom? And either way, what is the motive of the killer? Or is the killer killing for fun? It is up to news reporter Gail Weathers to find the truth. To know whether the truth is ultimately uncovered, you can watch the movie here.
2. The Silence of the Lambs (1991)


Starring Jodie Foster and Anthony Hopkins, 'The Silence of the Lambs' follows Clarice Starling (Foster), an FBI trainee, who is given a case to assist in, which involves tracking down a serial killer "Buffalo Bill" (Ted Levine), who is killing women and skinning them. To understand the guy's motive, she is told to speak to an incarcerated psychopath serial killer named Hannibal Lecter (Hopkins), who also cannibalized his victims.
However, before Hannibal shares any information with her, she will have to feed him with details about her own life. The question is how far she will go to convince Hannibal to help her. Directed by Jonathan Demme and considered one of the greatest psychological thrillers ever, this crime drama was nominated for 7 Academy Awards, out of which it won 5. You can watch it here.
1. Pulp Fiction (1994)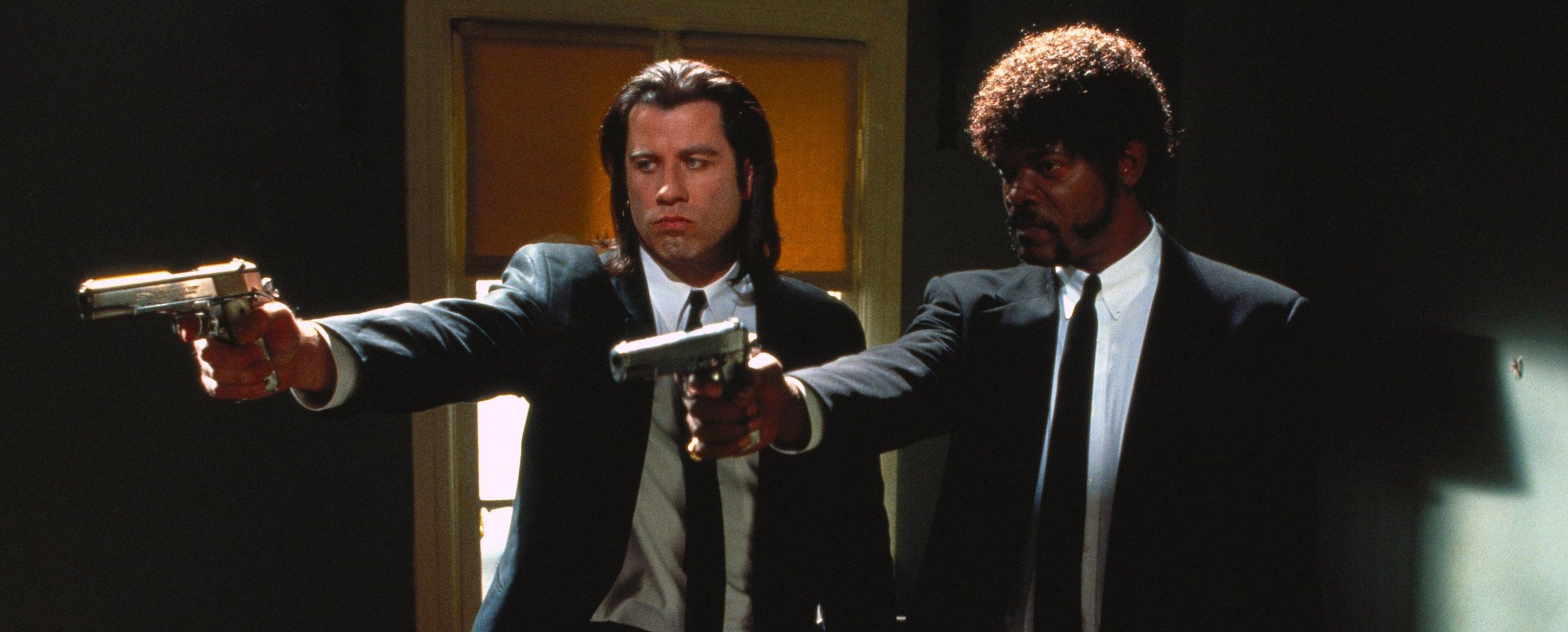 A cult classic written and directed by Quentin Tarantino, 'Pulp Fiction' is a non-linear crime movie that connects four different stories of violence and crime in Los Angeles. As for the characters, we have two hitmen, Vincent and Jules; their boss Marsellus Wallace; his wife, Mia, who is an actress; a boxer, Butch Coolidge; and two robbers, Pumpkin and Honey Bunny. How the lives of all these people intertwine is shown in the most dramatic manner that is also comedic.
The stellar cast includes Hollywood biggies like John Travolta, Samuel L. Jackson, Uma Thurman, Bruce Willis, Tim Roth, Amanda Plummer, and Ving Rhames. The movie received a total of 26 nominations across all award shows and is considered one of the most influential films ever made. You can experience this classic here.
Read More: Best Action Movies on Paramount+