I still remember the impassioned eyes and the dead stare that Toro had when he executed the Mafia's family at the end of 'Sicario'. I have never seen a more refined and restraint performance before. That was my first movie of him. And since then, there has been no turning back. And every time he inhabited a character in a movie, he managed to surprise and mesmerize . The certain nuances that he creates of the character always embellish their images in our heads. His intensity and intrepid way of carrying himself has ceased to amaze. Though remaining private and away from the glitz and glamour, Toro's status as a global superstar is uncontested.
Hailing from Puerto Rico, his love affair with Mexico and its vestigial traditions is well documented. He has featured most prominently in films that depict the afflictions inflicted on the country, and deals with the problem of drugs. We have complied a list of top Benicio Del Toro movies that showcase his talent. You can watch some of these best Benicio Del Toro movies on Netflix, Hulu, or Amazon Prime. Happy reading!
10. Excess Baggage (1997)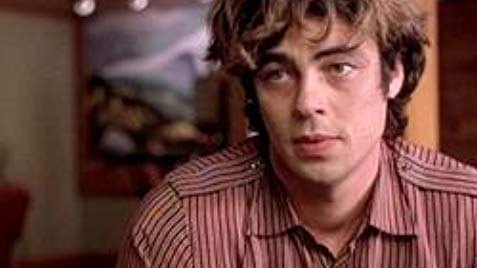 It has often been purported in the media that he got this part due to his stint in 'The Usual Suspects'. The light tone of the film interspersed with somber elements of kidnapping and abduction, invited Toro to display his range. And display he did. He played the role of Vincent Roche, a successful and experienced car thief who supports himself with his work. He is referred to as "an innocent thief" who happens to steal the car with Emily in the trunk. After this his entire life is turned upside down as he gets implicated in several schemes and becomes dependent on his "hostage" to survive. I swear to God when I first saw glimpses of his character, I thought it was Brad Pitt. His rugged looks played fine tunes to his tough-guy persona on screen. One of the underrated Benicio Del Toro movies.
Read More: Best Katherine Waterson Movies
9. Snatch (2000)
This wasn't the first time he was playing a freaky, odd-ball character. It's just his versatility that allows him to float through characters with effortless ease. Here he brought to life Franky "Four Fingers", a textbook thief who intends to sell the piece de resistance, the biggest coup of his life: an 86-carat diamond, to a drug dealer. The shining filigree attracts a lot of eyes and admirers, who hatch plans to steal the thing. Toro unfortunately had limited screen time, which he adroitly made seem much longer, unraveling within the defined confines of his character with unmatched style and charisma.
Read More: Best Suriya Movies
8. Sin City (2005)
I don't have a clue as to why people and media don't discuss this gem of film more. I mean, I would keep it on the level of 'Goodfellas' and 'Mean Streets'. While definitely lacking the humor and satirical quotient (believe me), it stands out in ambition and execution. The unique color processing of the film, substantially rendered black and white, while the color retained for some objects, flabbergasted audiences and critics alike. He played the character of Jack Rafferty, in the Big Fat Kill part, a detective lieutenant, stylized as a local hero in the media. He masquerades himself as Jackie Boy, a crude and condescending brat, who tortures and harasses his girlfriend Sheila. We saw exuberance and menacing charisma from the thespian in abundance in the film. He actually made us ambivalently sing praise in his glory, and fatuously vitiate his very existence. A defining act of courage.
Read More: Best Ranbir Kapoor Movies
7. The Usual Suspects
I don't know why I always try and copy his way of speaking in the film. It's just so breezy and effortless. So colloquial in his way of going about things, which makes him stick out like a sore thumb, defeating and dwarfing the professionalism around him. The lanky frame added to the appeal, and made every word coming out his mouth like little pearls that made us burst with laughter. One scene that instantly strikes the mind is the line-up scene, which well, in all honesty, the highlight of the film. The quintessential utility man, Toro delved into the environs of his character and let loose his persona and image that he built so meticulous over the years.
Read More: Best Sarah Silverman Movies
6. Fear and Loathing in Las Vegas (1998)

Oh this one made me feel so small and unimportant. This is perhaps the only time I have seen two characters vying for the audience's attention, matched to closely, blow for blow. It was almost as if he was hooked on some seious blow for the duration of the help. While we can't possibly say if he was or wasn't, his twisted and inexplicably natural turn as Dr Gonzo stood out, and ensconced itself in our memories. Del Toro gained more than 45 pounds (18 kg) in nine weeks before filming began, and extensively researched Acosta's life, reading books, talking to relatives, and even spending a week with the man.
Read More: Daniel Craig Movies
5. Basquiat (1996)
Another supporting role that he made his own. Back then a relatively unknown commodity, Del Toro made the most of the opportunity provided and cemented the first brick of what would later become his image as an actor. Playing a delusioned and troubled young kid, he showed exemplary control and free-spirit to give us a tangible sense of the boy's vague mental space. His maturity in the role were a profound match for his carefree and youthful shenanigans. While Toro's burden of responsibility was shared in the film, he tortured himself during the filming, and remained in character through out. A stunning visualization of a celebrated graffiti artist.
Read More: Best Naga Chaithanya Movies
4. Traffic (2000)
Another film, and another character with a crazy animalistic rage, who shows restraint. Toro shone like the stars in van Gogh's Starry Night. He painted a sorry and helpless picture against the might and unethical attitude of the cartel. He championed the mood and the core of the character with much dexterity and skill. He again became a proud recipient of an Academy nomination, yet again bewildering people by not taking it home. The handheld camerawork was truly exquisite and apt in relaying chaos and hurriedness. A performance that lifts the film to a must-watch haven.
Read More: Best Heather Graham Movies
3. Che (2008)
There have been numerous renditions of the great revolutionary leader on screen. None have even come close to this visceral and scintillating piece of cinema, in particular its lead character. Toro incarnated the character with effortless ease and charm, and successfully managed to keep us engaged and terrified. For his role, Del Toro spent seven years "obsessively researching" Guevara's life, which made him feel like he "earned his stripes" to interpret the character. Preparation included looking at Guevara's photographs and reading his personal writings. Del Toro read Don Quixote, one of Guevara's favorites, and the first book published and given out free after the Cuban Revolution. Del Toro then personally met with people from different stages of Guevara's life, including Guevara's younger brother and childhood friends, traveling to Cuba where Del Toro met Guevara's widow, family, and "tons of people that loved this man". A stunning turn as the rebellious leader didn't get the attention it deserved. Just superb.
Read More: Best Shirley Maclaine Movies
2. 21 Grams (2003)
A role that required him to show blissful restraint, and erupt egregiously in a medley of corked fury truly showed what Benicio Del Toro was capable of as an actor. The film fetched him his first Academy nomination for Best Actor, which in itself was surprising and deserved, and should have happened years ago. Del Toro plays a born-again Christian ex-convict whose faith is sorely tested in the aftermath of the accident. The film is brilliantly made by the prodigal Innaritu, who is swiftly becoming a benchmark to emulate. His reserved emotions and body language showed a stance of acceptance and preemptive defense mechanisms. I was captivated and held hostage by his supreme performance, for which I think he should have taken the Golden trophy home.
Read More: Best Swara Bhaskar Movies
1. Sicario (2015)

How did he not win for this film is incomprehensible to my dismayed mind. It was some of the best acting I have seen in years, a role that I would rate to be the best of recent times. Playing a grieving lawyer, who is hired by the CIA to track down and terminate the kingpin of the drug cartel, Toro showed so little yet told so much. His intensity in the movie absolutely blew me away, and made me question the prudence of the Academy's mandate. He played the part with the precision of a surgeon, and the heart of a five year old. The biggest achievement of his was the attaining of the character's indignant and bereaved being, which made him insouciant to the existence of others. He made us privy to the fact that emotions are at the best of times not expressed, but felt. The best work of his and of the decade. (excluding Daniel Day Lewis' performance in 'There Will Be Blood')
Read More: Marion Cotillard Movies