When Kim Williams met Eric Williams for the first time, she believed he was the man of her dreams. It did not take long for the couple to grow comfortable with each other, and they tied the knot on May 13, 1998, before settling in Kaufman County, Texas. However, unbeknown to Kim, Eric had a bad temper, and his real personality emerged when the County convicted him of a felony for stealing computer monitors. 'Dateline: Bad Intentions' chronicles how Eric Williams carried out a horrifying triple homicide in 2013 while being assisted by Kim. Well, if you are intrigued to know more and want to find out where Kim is at present, we have you covered.
Who Is Kim Williams?
A native of Dallas, Texas, Kim Willams is an alum of the Southern Methodist University and the University of Texas at Arlington. Moreover, reports even say that Kim was known for her incredible beauty, which prompted her friends to call her "Barbie." Interestingly, she met Eric Williams, a graduate of the Texas Christian University, towards the end of the 1990s, and it did not take long for them to start dating. Besides, the two decided to exchange vows on May 13, 1998, before easing into their life in Kaufman County, Texas.
Once in Kaufman County, Eric tried his hand at various jobs until he landed the position of justice of the peace. However, much to his disappointment, he soon realized that his office's technology was highly outdated. On top of it, Kaufman County turned down several of his petitions for an upgrade, and Eric could not set up a videoconferencing network for remote work. Interestingly, once Eric learned that the County had updated machines in another department, he took matters into his own hands and stole three computer monitors.
The act was, however, caught red-handed on CCTV cameras, and the then-district attorney Michael McLelland asked him to plead guilty to a misdemeanor. Eric was not ready to acknowledge his guilt, which made Michael ask prosecutor Mark Hasse to charge the suspect with a felony. Hence, when convicted in 2013, Eric lost his job as a justice of the peace and was subjected to a lot of ridicule in the community. In fact, Kim Williams later insisted that Eric sought revenge from the day the judge read out his sentence, and they would often discuss strategies over which person to kill first.
Eventually, Eric acted on his revenge plot when he disguised himself and shot Mark Hasse to death on January 31, 2013. Although Mark was murdered in broad daylight while walking in public, none of the onlookers could provide a helpful description of the killer. Subsequently, on March 30, 2013, just two months after Mark's murder, Eric broke into Michael McLelland's home before shooting him and Cynthia McLelland, his wife, dead. Once authorities realized that Eric Williams was the link between all three victims, they brought in his wife, Kim, for questioning.
Kim immediately admitted to her role in the crimes but insisted that she had a painkiller addiction at the time of the murders, which made her agree blindly with her husband's point of view. Nevertheless, she did implicate her husband in all three homicides and confessed to helping Eric escape the scene after killing Mark. On top of it, the police also found one of Eric's storage units, which had a lot of firearms as well as the car used as the getaway vehicle in Mark's murder. Hence, convinced of Eric and Kim's guilt, the police arrested and charged them with murder.
Where Is Kim Williams Now?
Although Eric insisted on his innocence even after his arrest, Kim decided to come clean by detailing the situation to the cops. She revealed how they both discussed the murders secretly and insisted that Eric planned on killing others, including the judge who read out his conviction and sentence. On top of it, she even testified against her husband in court.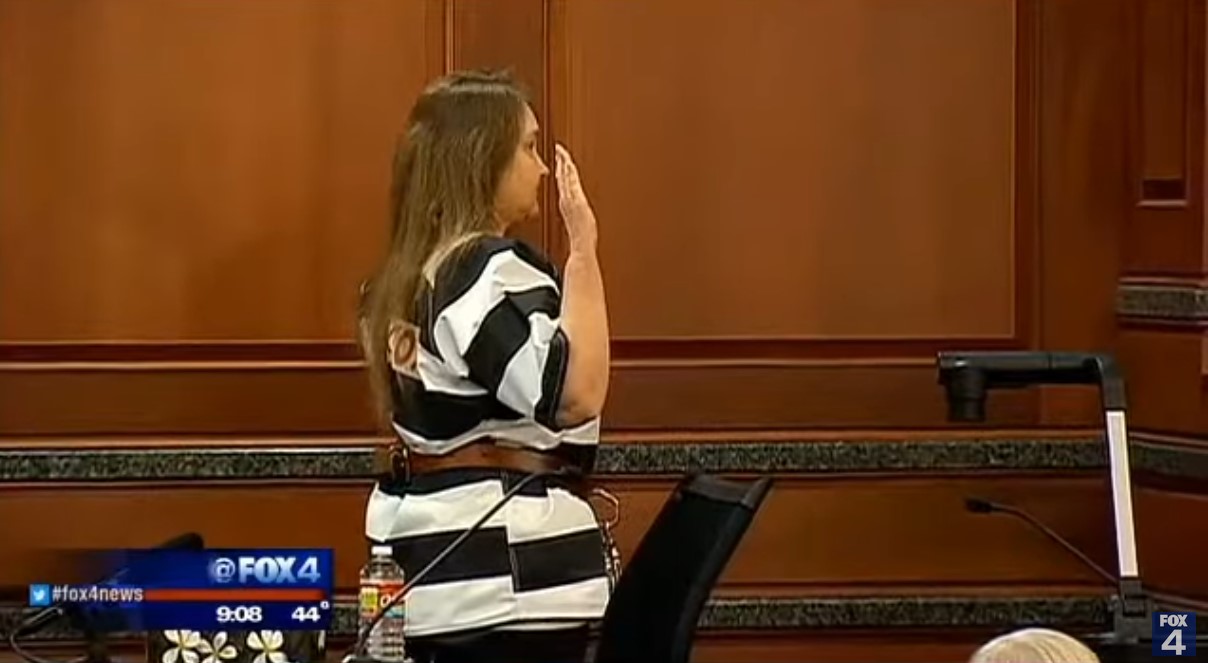 When presented in court, Kim pled guilty to being an accessory after the fact while also admitting to her role as a getaway driver. As a result, the judge sentenced her to 40 years in prison in 2014, with a chance at parole after 20 years. Unfortunately, Kim's current whereabouts aren't documented in the Texas inmate records, although her compulsory sentence of 20 years indicates that she is still behind bars in Texas.
Read More: Eric Lyle Williams: Where is the Killer Now?