In 'KonoSuba: An Explosion on This Wonderful World' episode 4 titled 'The Crimson-Eyed Lonely Master,' Megumin and her classmates learn that the villagers will be doing a ritual to seal the Dark God. Meanwhile, Yunyun has her own worries and tells Megumin that she is conflicted about giving money to Funifera who asked for help. Megumin helps Funifera by giving her an illness potion for her sick brother and takes back the money she took from Yunyun. While returning home that day, Megumin and Yunyun end up having an altercation. Here's everything you need to know about the ending of 'KonoSuba: An Explosion on This Wonderful World' episode 4. SPOILERS AHEAD!
KonoSuba: An Explosion on This Wonderful World Episode 4 Recap
One ordinary day at the Red Prison magic academy, Megumin and her classmates are told by their teacher that monsters who are believed to be minions of the Dark God were spotted around the village. This means that the situation is getting serious and must be dealt with as soon as possible. In order to secure peace, the villagers now plan to do a ritual that would seal the Dark God again. After that announcement that the teacher gives Megumin and two other toppers of the class skill-up potions which bring them one step closer to graduation.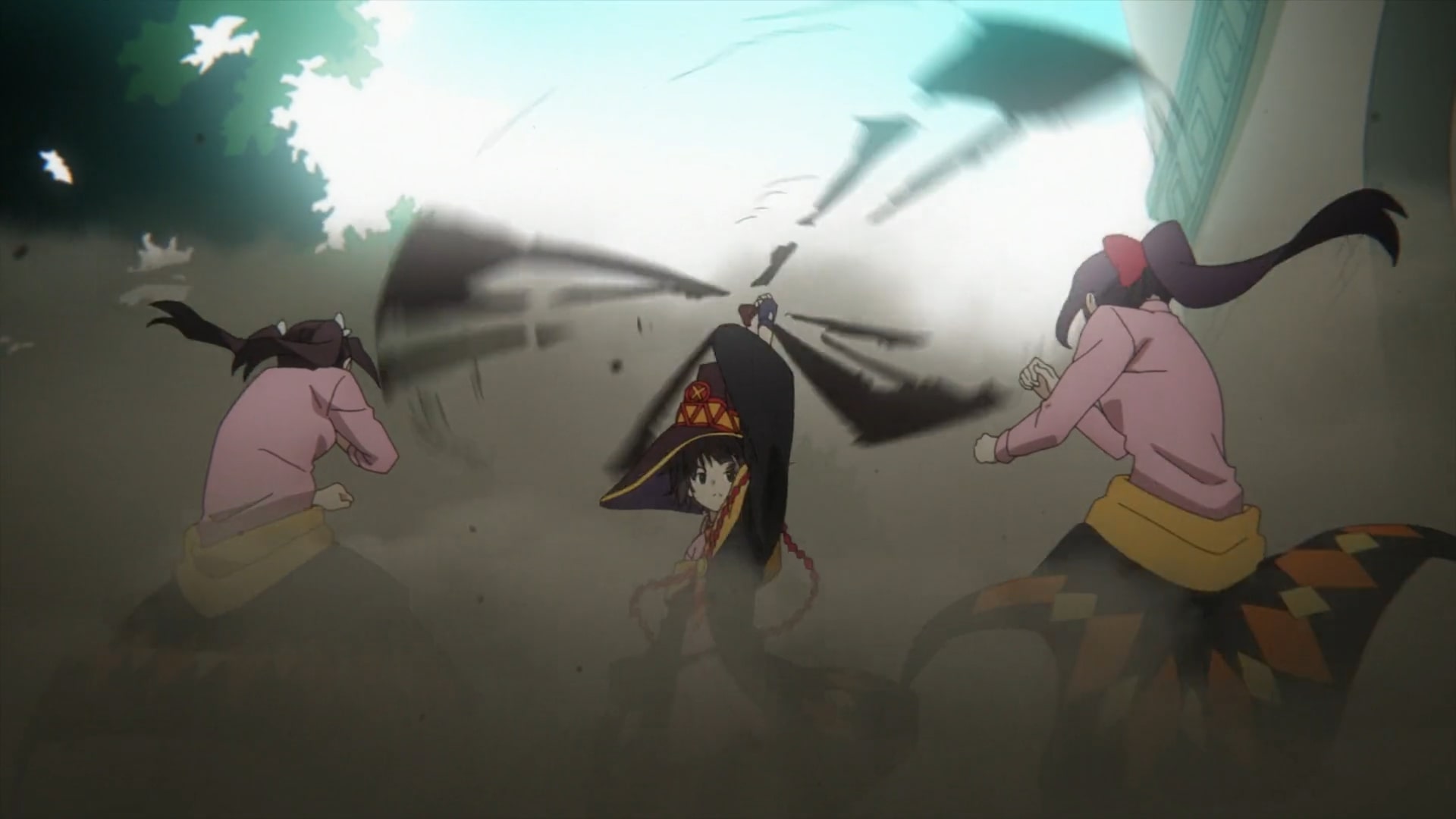 Megumin notices that Yunyun looks sad and later learns that she was asked for monetary help by Funifura and Dodonko as the former's brother is not well. Yunyun is conflicted and Megumin suggests helping in other ways. Eventually, Yunyun ends up paying Funifura the money she needs. Behind Yunyun's back, Megumin confronts Funifure and later gives her an illness potion that she made during one of her classes. She then takes Yunyun's money and gives it back to her.
KonoSuba: An Explosion on This Wonderful World Episode 4 Ending: Why Does Megumin Want to Learn Explosion Magic? What Does She Plan to Do After Graduation?
After sitting down in the park with Yunyun, Megumin mentions that she just needs one more skill-up potion to graduate. This shocks her frenemy who had assumed that she was still three points short. But it turns out that Megumin had earlier earned two skill points thanks to the duxion earlier that day. Yunyun expresses disappointment as she was deliberately matching her skill points with Megumin so that the two of them can graduate together.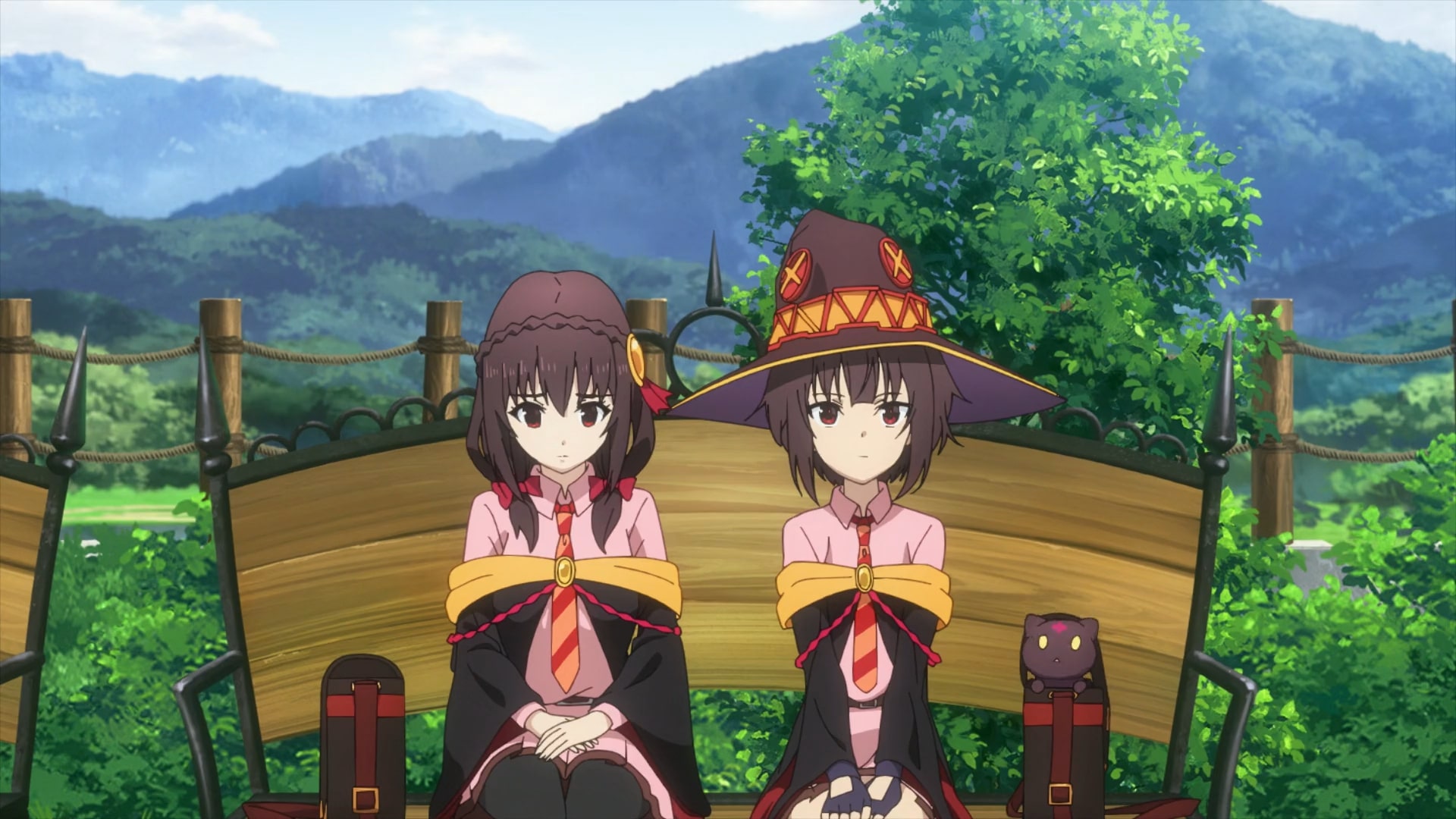 This infuriates Megumin who scolds Yunyun for deliberately getting poor marks in the exam. The two friends have a brief altercation in which Megumin mentions that she has earned enough points to learn advanced magic but she only plans to learn the powerful surefire form of magic. Yunyun inquires whether her classmate is talking about Explosion magic and then starts pointing out all its drawbacks.
Megumin reminds her that there is no one who is more knowledgeable about the good and bad of magic she is talking about, but she is still willing to learn it. She then tells her about the childhood incident in which she was saved by an Explosion magic user and opens up about her desire to eventually meet and tell the mage that she had inspired her. Since Explosion magic users cannot use their powerful frequently, it leaves them vulnerable. Yunyun tells Megumin that she would like to join her at some point and help her in her adventures.
What Happens to Komekko?
Moments after Yunyun offers to be Megumin's travel companion, they are shocked to notice a horde of monsters flying toward them. But simply continue flying and leaving the two friends puzzled and bewildered. All of a sudden Megumin also runs in their direction while Yunyun follows her. She does not stop until she reaches her home and is shocked to learn that Komekko is missing. Earlier in the episode, Komekko was seen leaving the house just moments after Megumin headed to the Red Prison magic academy.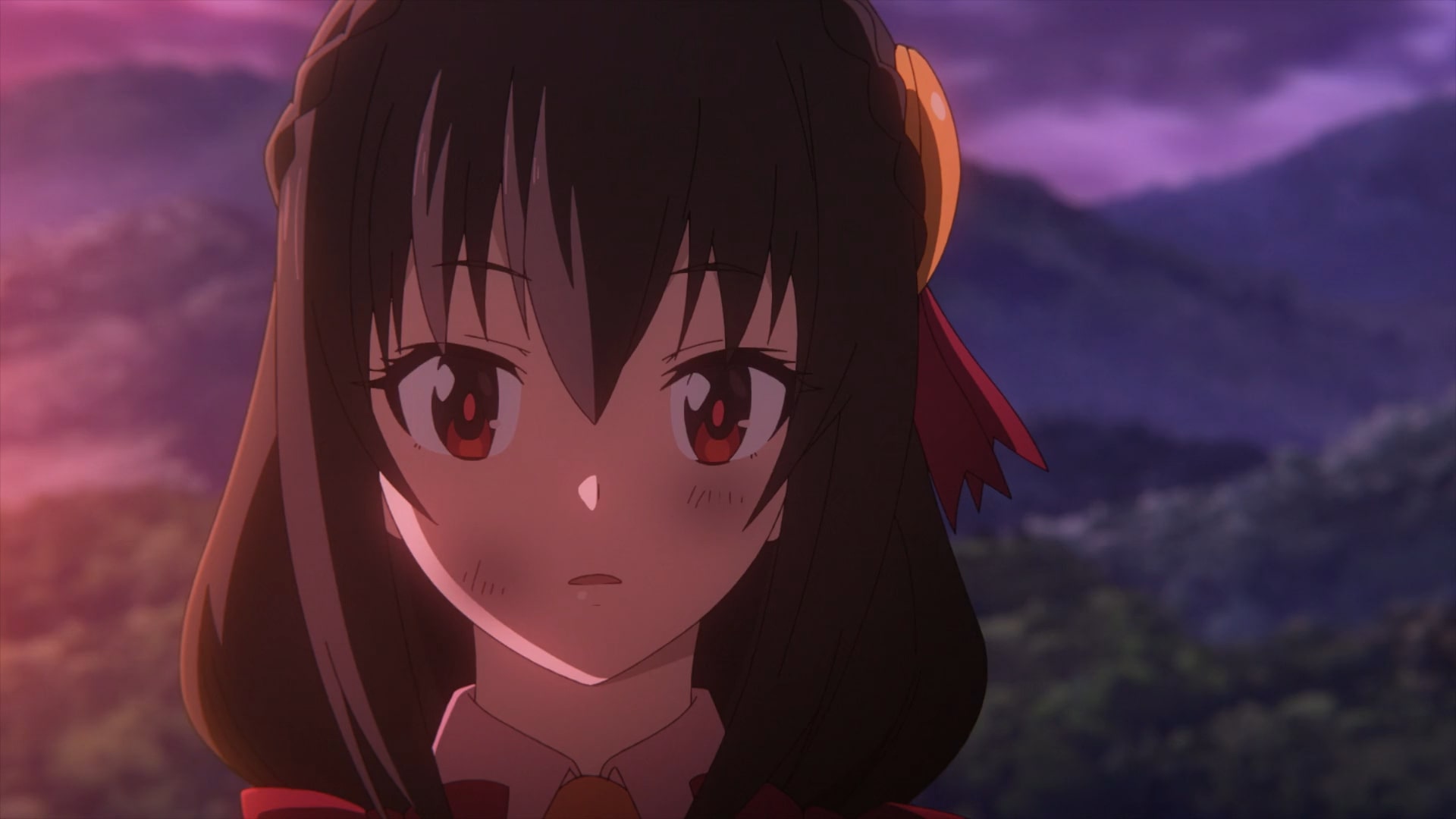 Therefore, the fact that she was not at her home was not something surprising or allusion to anything bad. Furthermore, the preview of the next episode in the post-credits scene clearly shows Komekko unharmed although she may not be in a safe spot. The upcoming episode is likely to share more light on her current predicament or what happened to her.
Read More: KonoSuba: An Explosion on This Wonderful World Episode 3 Recap and Ending, Explained