The art of prosthetic makeup is truly a transforming one, given just how drastically it can change one's appearance. The ability to make extraordinary a reality is something that is well-celebrated in Syfy's 'Face Off.' While the show has featured many phenomenal artists, few have shined as bright as season 5 (2013) winner Laura Tyler, who had already wowed the viewers when she appeared in the third installment (2012) of the series as well. Almost a decade later, the world is highly eager to know about the latest developments in the life of the woman we admire so much.
Laura Tyler's Face Off Journey
Laura Tyler's first association with the SyFy series was in season 3, where she had quite an impressive run. In fact, in the very first Spotlight Challenge, the depiction of Dagobah created by her and Sarah Miller was one of the top looks. Laura also stood out in the second, fourth, and fifth Spotlight Challenge. Ultimately, it was the seventh Spotlight Challenge that allowed her to bag the title of winner, thanks to her creation of a vampire-dragon hybrid.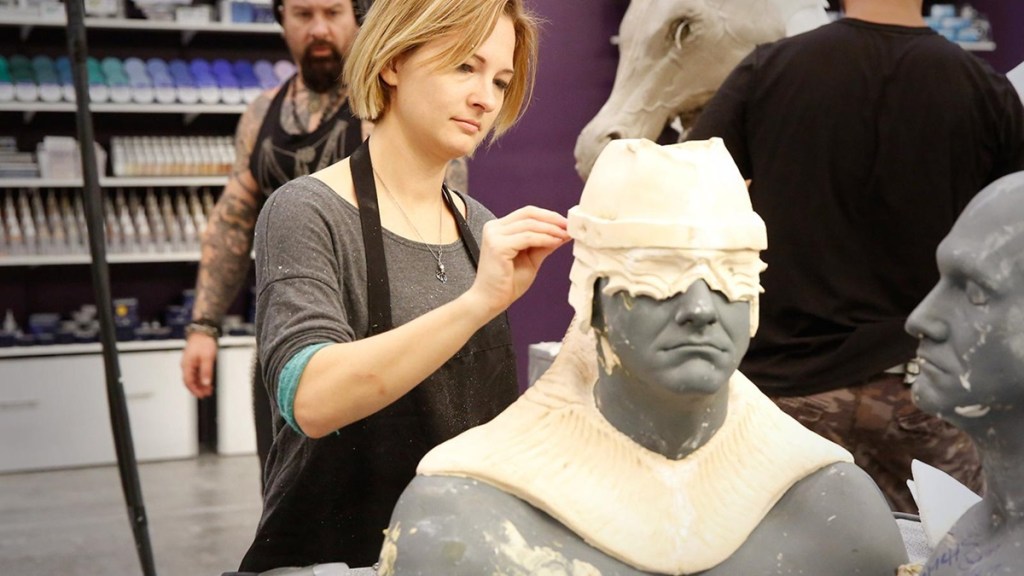 In the eighth Spotlight Challenge, Laura was once again one of the top performers, and she followed up with a victory in the tenth Spotlight Challenge. Thanks to her consistently good performance, Laura won a place in the finals and had to compete against Nicole Chilelli and Derek Garcia. For the challenge, she was teamed up with Thomas "Tommy" Pietch and Rod Maxwell, but unfortunately, she was not able to bag the ultimate prize.
Season 5 of 'Face Off' welcomed eight new faces and an equal number of old ones, including Laura. The lady in question started off strong by giving impressive performances in the first Foundation Challenge as well as the first Spotlight Challenge of the season. While she once again shined brightly in the second Spotlight Challenge, the third one saw her as a part of the bottom three teams, though she was able to evade the eliminations.
However, as the fourth Spotlight Challenge rolled around, Laura was once again a top contender. In fact, she ended up winning the fifth and seventh Spotlight Challenges. She also won the season's fifth Foundation Challenge. Thanks to her continued good work, Laura was once again in the finals of the show and was determined to win this time. Pairing up with Eddie Holecko and Miranda Jory, she added an Italian Renaissance flair to the popular story of 'Swan Lake,' which indeed secured her victory.
Where is Laura Tyler Now?
In season 8 of 'Face Off,' Laura returned to the show as one of the returning champions to coach the contestants. She now goes by Laura Dandridge and has been a professional makeup artist for several well-known movies and TV shows. In fact, you may have seen her work in 'Avengers: Infinity War,' 'Zombieland: Double Tap,' 'Insidious: The Red Door,' 'The Conjuring: The Devil Made Me Do It,' etc.
Having been a part of 798 Makeup Union since 2013, Laura is more determined than ever to keep giving her best to those who enjoy her work. Based in Atlanta, Georgia, she also enjoys oil painting and digital designing. The artist also enjoys imparting words about her knowledge and experience to others, having recently spent some quality time at the Barcelona Academy of Art to talk about her work as an FX makeup artist.
Laura also has an Etsy shop called The Morbid Mirth, through which she sells tank tops, stickers, and mugs in different designs. Her social media is also a place where she often shares her work, often thanking those who collaborated with her for said work. Despite having achieved much success, Laura is only looking forward in life and is determined to ensure that she remains a respected figure in the world of prosthetic makeup.
Read More: Anthony Kosar: Face Off Season 4 Winner is Now An Emmy Nominated Artist