Netflix's 'The Witcher' is the latest entrant in the burgeoning epic fantasy franchise craze that was initiated after the success of 'Game of Thrones.' Like most epic fantasy stories, it relies heavily on world-building and fictional fantasy universes are often based on medieval history and folklore. Hence, their reliance on certain customs and traditions forms an integral component in the way that a certain fantasy set-up functions. Viewers were introduced to one such belief in the first season of 'The Witcher' called the Law of Surprise and it forms a critical part of the plot.
What is the Law of Surprise?

In the continent (most of the known world in 'The Witcher,' similar to Westeros in 'Game of Thrones'), the Law of Surprise is depicted to have existed since the existence of humanity itself. It is a form of reward that is ensured by an agreement that ought to be honored due to custom, with superstition and belief being the primary safeguards of its completion. It is usually invoked when someone saves another man's life and the person whose life was saved wishes to reward his savior. However, if there is nothing that the latter can suitably offer his/her savior, the former often invokes the Law of Surprise by asking for "that which you possess, but do not yet know."
This generally means that the first thing that the person obtains unintentionally or unexpectedly is often considered to be the savior's reward. In 'The Witcher' folklore, this has usually resulted in a child being the reward. However, it can technically be anything that the person obtains unexpectedly, even a goat. To simplify, let's assume that the law of surprise were to be invoked in our time, for the sake of an example. In this case, after promising someone with a reward based on the law of surprise, if you were to find a surprise gift in your house, you would have to give that away to your savior.
In more extreme cases, this could involve discovering a new-born child that the person did not know of previously or finding a lover in one's wife's bed. And by the law of surprise, the child or the lover would belong to the savior. While this law does sound ridiculous, it ought to be remembered that it is a custom and customs are often baseless. It is only ever invoked in mostly life-saving situations when someone owes another person something huge (like their life) which they cannot put a material price on.
Moreover, the law of surprise is not really binding. The only thing that guarantees that the law of surprise will be honored is both the parties' belief in customs and tradition, apart from their honor in keeping their promise.
There is also a variation in the law of surprise that is often cited which would seem to result in the reward being a person more logically. Often, a savior makes the request for "the first thing that comes to greet you when you return home." Now, this could be any family member or pet animal too. It could also be your virtual assistant if the law of surprise were to be followed and invoked in our world, in which case, you would have to give your Alexa away.
When is the Law of Surprise invoked in 'The Witcher'?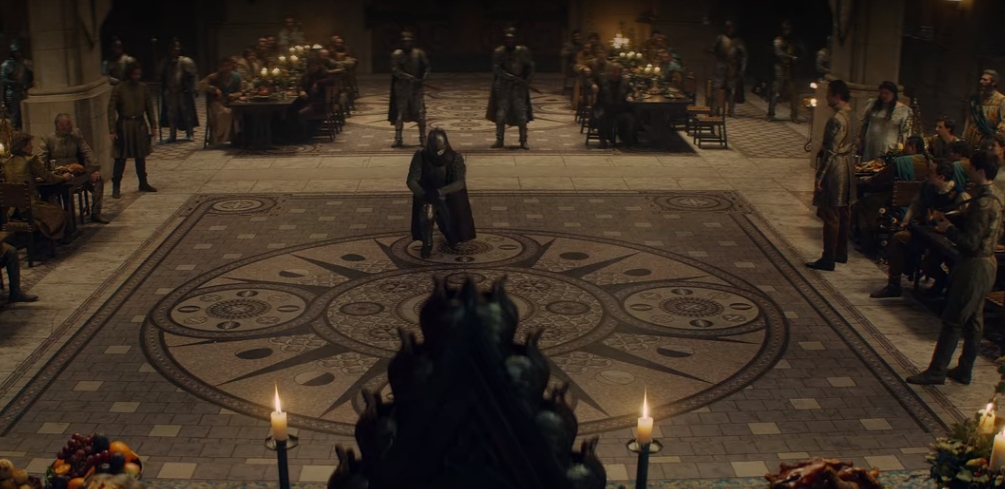 The Law of Surprise, as a well-respected tradition, is first observed in the fourth episode, 'Of Banquets and Bastards.' In this episode, Jaskier takes the Witcher to a feast organised by Queen Calanthe, in order to get her daughter, Pavetta betrothed for political gains. However, her plans are greatly foiled when a mysterious knight, Urcheon (also known as Duny) storms into the Cintran palace demanding Pavetta's hand in marriage. He had saved King Roegner's (Calanthe's former husband and Pavetta's father) life, Urcheon explains and the king had asked him to choose a suitable reward for his noble deed.
Urcheon had chosen the Law of Surprise and the first thing that Roegner discovered upon returning home was the birth of Pavetta. However, Calanthe does not wish to honor the tradition which results in a fight between Urcheon and several men present at the hall. Geralt saves Urcheon's life by fighting alongside him till the brawl is broken off. When Urcheon asks Geralt for a reward, The Witcher invokes the law of surprise too, not knowing what to ask of Urcheon, and out of some form of humor. However, this results in Ciri being sworn to Geralt after Pavetta announces her pregnancy. You can read our detailed recap and review of the episode for a better understanding.
This is quite different from the original stories by Andrzej Sapkowski. In his short story, 'A Question of Price,' Geralt is officially invited by Calanthe for unknown reasons. He is asked to take disguise as a lord and is fully aware of Pavetta's pregnancy before invoking the Law of Surprise. This makes his intents much clearer, unlike the television series.
Regardless of that, the central idea of Geralt and Ciri's fates being interconnected remains to be the same. The Law of Surprise, whether any character believes in it or not, seems to be an extremely powerful force that connects people by destiny and has actual consequences.
For instance, when Duny/Urcheon first arrives at the Cintran palace, he has a ghastly hedgehog-like appearance. However, when Pavetta is officially given to him by the reluctant blessings of Calanthe, his curse is lifted and his face returns to a normal appearance. So, whether you consider it to be a superstition or a custom, the television series makes it pretty clear that destiny and the Law of Surprise are pretty powerful forces that affect the lives of the characters significantly.
Read More: The Witcher Map, Explained