Residents in Denver, Colorado, witnessed a terrifying incident in October 1930 when 10-year-old Leona O'Loughlin went missing from her house. Although the police initially treated it as a typical missing person case, the discovery of Leona's body in a lake soon triggered a homicide investigation. Investigation Discovery's 'A Crime to Remember: A Woman's Place' chronicles the heinous murder and follows the investigation that revealed a sinister secret close to home. Let's delve into the details surrounding the crime and find out more, shall we?
How Did Leona O'Loughlin Die?
At the time of her murder, 10-year-old Leona was residing in Denver, Colorado, with her father, Leo, stepmother, Pearl, and half-brother, Douglas Millican. While Douglas was Pearl's son from another relationship, Leo's brother, Frank, would also stay with the family from time to time. Being a 10-year-old, Leona was described as a lively and happy-go-lucky individual who loved going to school and spending time with her friends. Besides, Leona shared a wonderful bond with her father, and according to sources, the whole family appeared quite happy together. Hence, nothing could have prepared the neighbors for the tragedy that followed.
On October 14, 1930, Leo had gone to work as usual, and Leona was at her school. Once both returned, the family sat down for lunch, and Pearl served them rice. While Leo and Leona both had rice, Douglas was surprisingly denied the dish when he asked for some. Nevertheless, Leo went to work the following morning but soon felt an unbearable pain in his stomach, which forced him to return home. At home, further tragedy awaited him as Pearl mentioned that Leona had gone missing shortly after he left and was nowhere to be seen. Since Leo worked as a detective, he got his contacts down to the house and triggered a search, but there was no news about the missing girl.
Eventually, on October 17, a citizen noticed a body floating on a lake inside a city park and alerted authorities. Once the police recovered the body, they identified it as Leona O'Loughlin and declared her dead. Moreover, while she was drowned, an autopsy determined that she had suffered blunt force trauma to the back of her head, which caused a concussion.
Who Killed Leona O'Loughlin?
When the police began investigating Leona's murder, they did not have a lot of leads or witnesses at their disposal. While the 10-year-old's family appeared devastated at their loss, Pearl indicated that Frank might be behind the murder. However, further investigation and an interview with Frank's father, Dennis O'Loughlin, ruled him out. In the meantime, Leo was diagnosed with influenza, and the doctor's believed that he was suffering from food poisoning. Realizing that Leo's sickness and Leona's murder might be linked, the police asked medical investigators to pump the 10-year-old's stomach, only to find crushed glass mixed with the rice she had ingested. On the other hand, pumping Leo's stomach also revealed quite a bit of crushed glass, indicating a connection.
Further information came to light once the police interviewed Dennis O'Loughlin, who claimed he had gone over to Leo's place for dinner shortly before Leona's murder. After dinner, Dennis still had a sweet craving, and he decided to take a spoonful of sugar from the sugar jar. However, as soon as he put the spoonful in his mouth, he had to spit it out as the texture tasted weird. Later, Dennis realized that someone had mixed crushed glass with the sugar. Such a revelation made Pearl a person of interest in the investigation, and once the police searched her car, they found a tire iron that had blood on it. The tire iron was also consistent with the injuries the ten-year-old had suffered on the back of her head, which made the police arrest Pearl before charging her with her stepdaughter's murder.
What Happened to Pearl O'Loughlin?
After Pearl's arrest, Leo agreed to interrogate her, and although he talked to her for hours, she initially confessed to the murder but later recanted it. Nevertheless, when presented in court, the jury convicted Pearl of first-degree murder, and she was sentenced to life in prison with hard labor in December 1930. While incarcerated, Pearl was singled out for her excellent behavior, and sources claim that a warden named Roy Best showed her empathy and had her work as his personal housekeeper.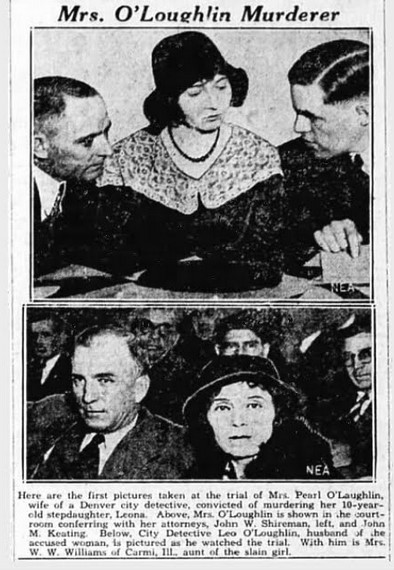 Pearl even developed a close relationship with most of Roy's family while serving at their house. Eventually, in 1950, Pearl came forward and claimed that Leona had died in the car and insisted that she wasn't responsible for her murder. However, she panicked and disposed of her body in the lake. By that time, she had gotten into the good books of the warden, and by June 1951, Pearl managed to earn parole, provided she took up residence in another state. Hence, Pearl shifted to California and made a living as a housekeeper before dying of natural conditions in 1987 at 88 years of age.
Read More: Connie Dabate Murder: How Did She Die? Who Killed Her?