Seen in Netflix's 'It Ain't Over,' Lindsay Berra is perhaps one of the biggest fans of her grandfather, the baseball legend Lawrence "Yogi" Berra. Determined not to let his legacy die, she has worked hard over the years to keep his name in the memories of the masses and not let any of Yogi's accomplishments be taken for granted. Her love and care for her grandfather certainly earned Lindsay many fans, who are quite eager to know what she has been up to these days. Well, let's explore it all together, shall we?
Who is Lindsay Berra?
The oldest grandchild of Yogi and Carmen Berra, Lindsay Berra's interest in sports is not that surprising. While a student at Livingston High School, she took part in sports like softball, soccer, and ice hockey. In 1995, she joined the University of North Carolina at Chapel Hill and graduated with a Bachelor of Arts degree in Journalism in 1999. In October of her graduating year, she joined ESPN as a Senior Writer and remained a part of the sports organization until September 2012.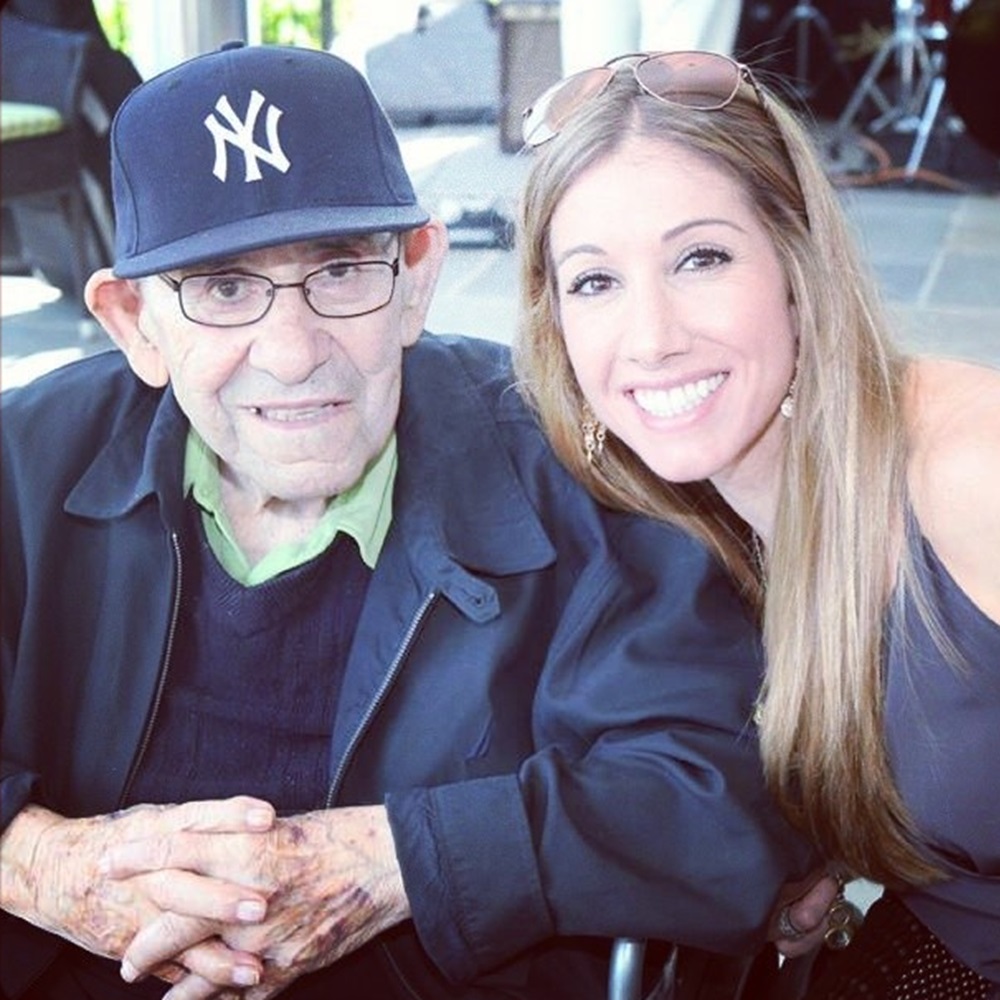 Following her time with ESPN, Lindsay joined Major League Baseball (MLB) as a National Correspondent, getting the chance to be a huge part of the sport that her grandfather had become a legend of. Additionally, she became a Freelance writer for The Box Magazine in May 2013, retaining the role until May 2016. In January 2018, Lindsay left MLB and started working as a freelance journalist. However, in March 2022, she joined Tonal as a Senior Strength and Sports Editor, though she did leave the company in July of the same year.
Writing is far from the only skill that Lindsay boasts. This is especially evident by the fact that she held the freelance post of Host of Food of the Gods Podcast from June 2021 to December 2022. Her own experience in various sports as a player, as well as her long-time coverage of the same, has made her a respectable figure in the field of journalism. She was also the driving force behind getting her grandfather, Yogi, the Presidential Medal of Freedom in November 2015, two months after the baseball icon passed away on September 22, 2015.
Where is Lindsay Berra Now?
Lindsay Berra has continued her work as a journalist and is still one of the strongest supporters of the legacy of her grandfather, Yogi Berra. In fact, since January 2006, she has been a Board Member for the Yogi Berra Museum and Learning Center, located in Little Falls, New Jersey. Her prominent presence in 'It Ain't Over' is also a testament to just how dedicated she is towards helping others and ensuring that her grandfather is not forgotten by the world of sports.
Presently, Lindsay is also the Head of Content for Mustard, a freelance position she has retained since June 2020. When not working hard, the reputed journalist enjoys gyming, hiking, and traveling. In fact, in September 2023, she had a fantastic time while exploring the beauty of Zermatt, Switzerland. For most of her hiking trips, Lindsay is accompanied by her long-time partner, Peter Elias, whom she seems to adore. The happy couple can often be seen together on the ex-ESPN writer's social media.
Read More: Larry, Tim, and Dale Berra: Where Are Yogi Berra's Sons Now?