Director Kitty Green's 'The Royal Hotel' is a thriller movie set in a remote mining town in the Australian Outback. The movie follows the story of Hanna and Liv, two backpackers on a trip to Australia who are forced to accept a job as barmaids in a small town pub. However, after arriving at the pub, Hanna and Liv are quickly appalled by the unsavory behavior of the bar patrons. Given the hardships the women face in the film and the grueling reality of their circumstances, viewers must be curious to find out whether Hanna and Liv are based on real people. In that case, here is everything you need to know about the inspiration behind the characters!
Are Liv and Hanna Based on Real People?
Liv and Haan are the protagonists of 'The Royal Hotel' who find themselves in a grave situation after accepting a job at a remote pub in Australia. In the movie, actress Julia Garner plays the role of Hanna, and Jessica Henwick portrays Liv. The characters are loosely based on real women who found themselves in similar circumstances during their trip to Australia. Liv and Hanna are based on Nicolina, aka Lina, and Stephanie, aka Steph, the main subjects of the 2016 documentary 'Hotel Coolgardie,' which serves as an inspiration for the film. While the real-life figures and their story serve as an outline for Hanna and Liv's characters, the latter have entirely different backgrounds and physical appearances compared to Steph and Lina.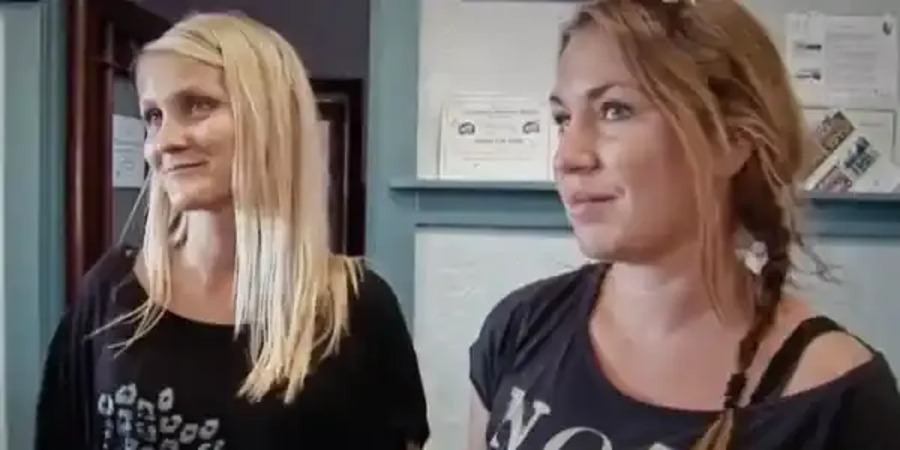 In 2012, Steph and Lina, two backpackers from Finland, were robbed during their trip to Bali. As a result, they accepted a job as barmaids at the Denver City Hotel in the remote mining town of Coolgardie. However, in the movie, Liv and Hanna are depicted as Canadians. Moreover, the film counterparts are not robbed and simply run out of money, forcing them to take the job. In the film, Liv and Hanna leave the pub of their own accord. However, in reality, Steph and Liv were asked to leave by the bar manager. As a result, the characters deviate from their real-life counterparts to a great degree. Director and co-writer Kitty Green has stated that she wrote the screenplay drawing from personal experience and had Garner in mind while writing the character of Hanna. Hence, it is safe to say that Liv and Hanna are an amalgamation of real women and fiction.
Where Are Steph and Lina Now?
According to reports, Lina has diabetes and became gravely ill during her time in Western Australia. While she was hospitalized, the bar manager asked Steph to pack their stuff and leave. As a result, Steph and Lina likely returned to their native Finland circa 2012 following their harrowing experiences in Western Australia. However, the women have maintained a low profile ever since and refused to divulge details of their personal lives or whereabouts.
The documentary movie was released in 2016, and Lina was interviewed by The Guardian in 2017. While Lina did not share details of her or Steph's personal life, she seemed to have moved on from the incident. "It was filmed several years ago, and I had forgotten a lot of what happened. Then, when I saw it, all those feelings came back. I was crying, and I was angry. I was also laughing a lot," Lina said about her experience of watching the documentary.
Read More: Is The Royal Hotel Based on a True Story?