The third episode of AMC's drama series 'Lucky Hank,' titled 'Escape,' revolves around William Henry "Hank" Devereaux, Jr.'s efforts to stop his father William Henry Devereaux from coming to Railton. Hank unravels a startling secret about his mother Laurel and father Henry. Dean Jacob Rose asks Hank to make a list of professors he can risk losing as part of the new budget cuts. Meg asks Hank for a recommendation so that she can get into academia upon leaving her bartender job. The entertaining episode ends with several nuanced developments concerning Hank's future and his relationship with his father! SPOILERS AHEAD.
Hanks Wants to Escape From His Father
'Escape' begins with an enormous metal box, filled with Henry's office materials, getting dropped right in front of Hank's garage. Although Hank asks the delivery agent to take the same away from his driveway, he dismisses the request and leaves. At Railton College, Dean Rose asks Hank to make a list of professors he can accept losing due to the budget cuts. The rumors concerning the supposedly impending firings create panic among the professors of the English department. They demand clarity from Hank, who loses his control and reveals that whatever they have heard is true and that he is going to make a list. Gracie calls Rose and makes it clear that if anyone's getting fired, it should be Paul Rourke since she is the superior poetry professor.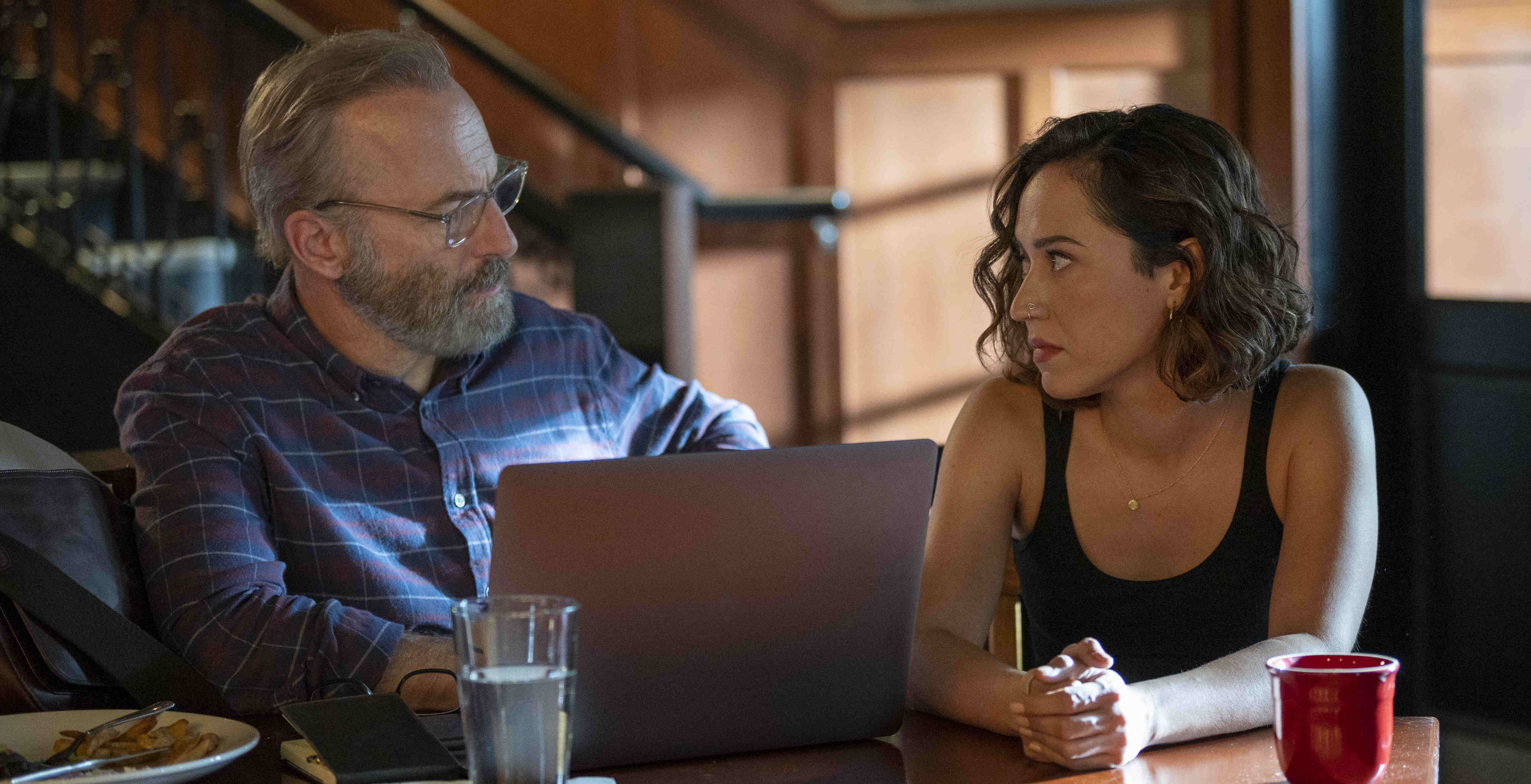 Hank goes through Henry's office materials and finds a set of letters Laurel had written to him. He reads the same and realizes that his mother had made amends with the man who abandoned her and him twenty years ago. Paul meets Hank along with his union rep to make sure that his job is not threatened. Emma Wheemer breaks down thinking that Hank will name her on the list since her expertise isn't an essential part of the English department's syllabuses. Teddy Washington-Chen and June Washington-Chen meet Rose, who guides them to the "Excellence" committee co-founded by Bartow Williams-Stevens. Teddy and June want Bartow's group to help them deal with the possible firings.
Meg Quigley makes it clear to Hank that she needs to find a way to join Railton College. Hank tries to discourage her saying Railton isn't a place to stay and nurture one's career. Meg, however, doesn't want to leave the city. Hank promises to sign a recommendation letter and asks her to write the same, which gives the latter enough freedom to write whatever she wants. After a while, Hank changes his mind. He tells Meg that there won't be any openings in the college in the foreseeable future due to the budget cuts. He also lies to her that the classes he could give her are cut.
Hank lies believing that the same will motivate Meg to leave Railton and pursue deserving job opportunities at better places. Meg and Hank get drunk and the latter takes her to her home. Meg tries to seduce him by being naked but the professor ignores her and bids goodbye to her for the night.
Lucky Hank Episode 3 Ending: Will Hank's Father Henry Come to Railton? Why?
Henry abandoned Hank and Laurel twenty years ago. He went on to share his life with several other women, marrying twice more. He decides to move to Railton from New York City after his retirement and separation from his third wife. The renowned professor is old and weak enough to seek the support of someone to survive every single day. Upon separating from his third wife, Henry has been expecting Hank to look after him but Hank calls his father and tells him that he shouldn't come to Railton. Hank and Henry haven't even talked in fifteen years and the former doesn't want the latter to hurt him after disappearing from his life two decades ago.
Still, Henry may come to Railton. First of all, Henry is a highly arrogant and stubborn man. He may really want to come to the town when his son is trying his best to stop him. "Defeating" his son can even be the father's agenda. That can be the reason why he made arrangements to transfer his office materials to Railton without even consulting with his son. Henry doesn't need the permission of his son to move to where he wants to move. The only thing Hank can do is that avoiding meeting or helping his father. Even if the college professor makes such a decision, it may not affect Henry's plans to come to Railton since he will be staying with Laurel.
Through her letters to Henry, Laurel already made amends with her ex-husband. She even offered to look after the retired professor and that's the reason why Henry wants to move to Railton. Laurel also takes a stand in front of Hank by making it clear that she doesn't need his permission to look after anyone she wants to, even if it is the person who abandoned her. By asking Henry to come to Railton, Laurel has chosen her ex-partner over her son. Therefore, there isn't much Hank can do to avoid Henry's arrival.
Will Hank and Lily Move to New York?
Lily gets tired of her life in Railton when one of her students urinates on the lockers in the school hall. The janitor at the place tells her that he wouldn't clean his urine and the principal doesn't even reimburse her for the cleaning supplies she buys to clean the hall despite being the vice-principal. She tells the principal that she is leaving for New York to attend a job interview. If she gets the job, Lily and Hank have a significant decision to make. Lily is not expected to turn down the job she gets after putting in a lot of effort. Since Hank absolutely hates Railton, Lily must be expecting her husband to follow her without hesitation.
Since Henry is coming to Railton, Hank moving to New York makes sense in Lily's eyes. But it may not happen that easily. If there's a decision to be made, Hank is the worst person to turn into. He doesn't like to put in the effort to make changes, which is why he stays in Railton after hating the town and the college he lives and teaches respectively. We may see Hank getting stuck if Lily gets the job, most likely paving the way for a fight between the two. If Henry really moves to Railton, Hank may want to spend his time with him despite hating him for abandoning him. If that's the case, it may not be a surprise if Lily moves to New York alone.
Read More: Is George Saunders in Lucky Hank Based on the Real Writer?